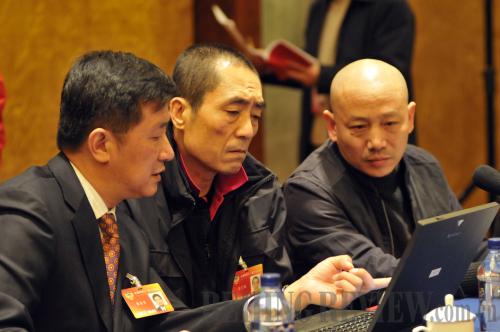 TALKING OVER PROPOSALS: CPPCC member and famousfilm director Zhang Yimou (center) discusses proposals with other members on March 5 (SU LU)
During the Third Session of the 11th National Committee of the Chinese People's Political Consultative Conference (CPPCC) from March 3 to 13, members put forward 5,430 motions, offering suggestions on the country's major economic and social issues.
Proposal summaries follow:
Higher Incomes for Low-income Groups
(The Central Committee of China National Democratic Construction Association)
The proposal suggested a steady increase in farmers' incomes. It said that the government should set minimum purchasing prices for agricultural products and ensure the incomes of grain-growing farmers were not lower than those of people in non-agricultural sectors. In the meantime, the government should also accelerate the urbanization process, expand employment channels for rural workers and improve their employability.
The proposal called for a mechanism to regularly increase the salaries of enterprises' staff and workers. As to extraordinarily high income levels in monopolized industries, the proposal said that effective measures should be taken to oversee income distribution in those industries and introduce competition to break those monopolies.
A Joint Committee on "The World Expo and Taiwan"
(The Central Committee of the Taiwan Democratic Self-Government League (TSL))
The TSL proposed a cross-Straits joint working committee on "the World Expo and Taiwan" and suggested allowing the Straits Exchange Foundation to set up a "World Expo Taiwan Compatriot Service Station" in Shanghai, to better engage Taiwanese compatriots in the Shanghai World Expo.
The proposal suggested inviting well-known people from all walks of life in Taiwan to visit the Expo and to take part in various cross-Straits activities such as forums and seminars. It suggested various facilities to serve Taiwanese compatriots during the World Expo, such as setting up a currency exchange station, opening direct flights between Shanghai and Taipei, using both simplified and traditional Chinese in Expo venues and tourism information; and recruiting Taiwanese working or studying in Shanghai as Expo volunteers.
Officials Accountable for Information Transparency
(The Central Committee of the Jiu San Society)
The proposal called for more detailed rules regarding government information disclosure. Government's administrative expenditure should be transparent, particularly spending on business car use, meals, trips and meetings. Government information should be disclosed appropriately and effectively so it was understandable to the public, the proposal said.
The proposal suggested quantifiable criteria measuring the openness of public information should be used to evaluate the performance of government officials. Administrative, civil or criminal punishments should be imposed on actions such as withholding information, delaying or obstructing information disclosure or disclosing false information. Government information disclosure should be overseen by the National People's Congress, the public and the media. A citizen should be able to sue the government and request compensation if the government failed to release required information. A judicial assistance system on government information disclosure should be set up, the proposal said.
Handwriting Lessons in Schools
(The Central Committee of Chinese Peasants' and the Workers' Democratic Party)
The proposal said schools should offer handwriting lessons and set strict requirements on class hours for the lessons. Students' homework must be handwritten, and not typed on a computer. Their handwriting should be evaluated. Those who did not amass enough hours or reach a required level should not be able to graduate. Students' handwriting levels should also be used to evaluate the educative quality of teachers and schools.
Stronger Support for University Graduates
(Yue Changhai, Vice President of Toshiba Medical Systems (China) Co. Ltd.)
The proposal suggested boosting government support for university graduates in starting their own businesses. The government should facilitate business registrations; provide financial support, tax incentives and consulting services; and deliver relevant training to graduates.
The government should enact policies and take relevant measures, including preferential tax treatment, to reward employers recruiting a certain number of university graduates.
Cracking Down on Rights Infringement on the Internet
(Liu Hongyu, Senior Associate, Jincheng Tongda & Neal)
The proposal suggested enacting an Internet security law. China has more than 30 laws and regulations on Internet security, yet more than 20 of those were administrative regulations. Therefore, a systematic and practical law to tackle Internet crimes was necessary. It was suggested computer expertise be boosted and close cooperation with foreign governmental organizations be boosted.