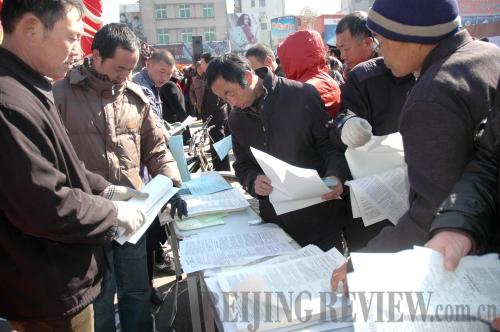 USEFUL INFO: Citizens in Changchun, Jilin Province, take booklets that inform them of the Labor Contract Law on March 11, 2009 (WANG XIAOMING)
China's Labor Contract Law, which has been in effect since January 1, 2008, has had significant positive impacts on the labor market, but there are still many difficulties facing workers and employers.
In April 2009, Beijing's Transition Institute conducted labor research in textile enterprises in the Pearl River Delta cities of Guangzhou, Foshan, Dongguan, Jiangmen and Zhongshan. The institute found that labor contract signing rate in the local labor market was 94.3 percent in 2008, up by 32.3 percentage points from 2007.
A large-scale investigation of Beijing, Shanghai, Henan, Shenzhen, Quanzhou, Ningbo and Shaoxing by Peking University's Department of Sociology showed that labor rights such as social security benefits were not implemented in labor contracts. The participation rate of medical insurance was 45 percent, retirement insurance was 29 percent, occupational injury insurance was 36 percent and unemployment insurance was 17 percent.
"In the two years after the implementation of the law, there is no apparent improvement to the participation rates of social insurances," said Professor Liu Aiyu.
New workers
There are few conditions in which workers may cancel labor contracts unilaterally according to the Labor Contract Law. For that reason, after the law became active, more workers chose to leave their employers without informing them in advance. Employers responded by cutting training to reduce losses brought about by leaving workers.
"Under such situations, skilled workers will have more chances than new workers to get good jobs," said Xia Nan, a Transition Institute researcher.
Many employers promised to raise salaries to keep skilled employees but such promises turned out to be empty under the current recession.
Some employers chose to collect so-called training fees from workers to reduce losses produced by quitting workers. They deducted money from workers' salaries each month for the fees. When the contracts expired, they would return the money to workers but if they canceled their contracts early, the employers would keep the training fees.
"The so-called training fees act as guarantee money," Xia said.
Some employers said the Labor Contract Law specifies that workers may cancel contracts if they inform their employers in writing 30 days in advance and pay the losses employers incur by the early separation. The Labor Contract Law had practically no restraint on some employees, the employers said.
When the Labor Contract Law was first implemented, many scholars, including Xia, thought it would be hard for the law to be brought into practice due to it being inflexible and unrealistic. But after carrying out research, Xia changed his mind. "In fact, the law has created some positive effects in the Pearl River Delta region," he said.
He said all kinds of labor policies and regulations were not implemented properly after the earlier Labor Law was brought into effect in 1994. After the start of the 2008 Labor Contract Law, however, policies and regulations concerning labor started taking effect.
"The Labor Contract Law itself will not increase employers' labor costs but it can increase their employment risk," Xia said. "However, companies must also take into consideration the conditions of their industries, industrywide salary levels and social insurance when assessing the risk of hiring new people," he said.