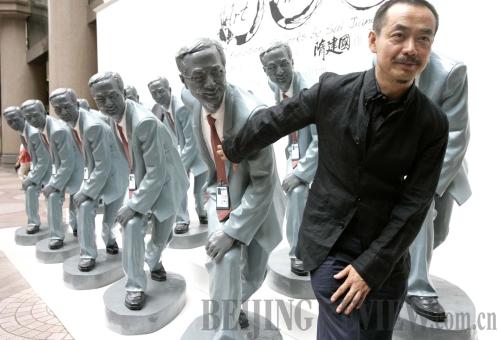 TOP TALENT: Sui Jianguo, Dean of the Sculpture Department of the Central Academy of Fine Arts, introduces his "New Disco-bolus" series. Sui is one of the foremost contemporary sculptors in China (XINHUA)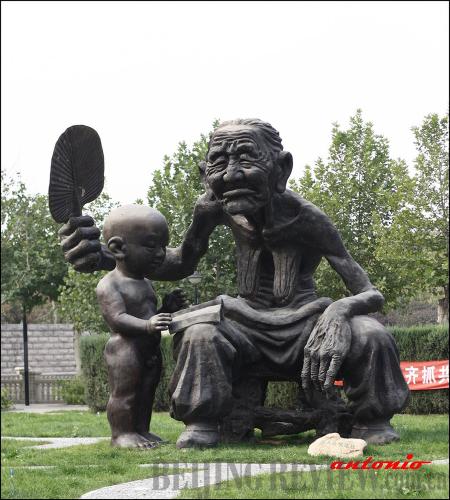 NOT EVERYBODY'S CUP OF TEA: A series of realistic statues in Beijing's Tiantongyuan aroused controversy (GOOGLE PICTURE)
As a sculptor and art educator, Qin often uses the Living Water Garden in Chengdu in Sichuan Province as a perfect example of public art. The green space, the first ecological water-themed city park in China, was designed by U.S. environmental artist Betsy Damon. It showcases a vivid exploration and explanation of how nature helps turn dead and polluted water into clean, living water through a natural purification system.
Its significance goes beyond being a piece of public landscape art. "What matters is the fact the park shows citizens and officials hope and offers them inspiration to creatively turn bad things into good," he said.
"A good artist is also someone who is able to promote ideas and behaviors beneficial to society," he said. "Artists cannot change the world, however, through what they do, artists can at least influence society."
Huang Zhuan, Director of the Shenzhen-based Overseas Chinese Town Contemporary Art Terminal (OCAT), is a well-known exhibition planner and art critic. The OCAT launched an ambitious project, a 10-year public arts plan for Pujiang, a satellite town in Shanghai. Huang and artists participating in the project hope to turn the town into a city of public art similar to Florence in Italy inside a decade.
Public art, said Huang, is contemporary art that reaches far and deep into activities of all citizens, who would cultivate habits for art appreciation through continued assimilation of art works in their daily lives. "Many public art projects fail in China not because of a lack of funding or a shortage of competent professionals, but because of a lack of continuity," he said.
Most Chinese contemporary artists did not have the capability to create successful public art and many art pieces for urban spaces have not been designed taking into account residents and their ideas, he said.
"Some citizens may have opinions about what kind of public art they want, but it's a pity that there is usually no way for them to have their views heard," he said.
The general public should have the right to appreciate or criticize public art. However, it could take decades or even longer for citizens to recognize one public art project's influence on a place's character, as was the case with Antonio Gaudi's architecture in Barcelona, he said.
Joint efforts demanded
As the planner of the 10-year Pujiang project, Huang said his main concern was not the completion of the project, but whether all the parties and interests involved would have the patience, tolerance and perseverance to see the project "grow up slowly."
Akin to many artists, Sui Jianguo, a sculptor and professor with CAFA's Department of Sculpture, has been exploring facility or installation, performance, video and other mediums of art to express his understanding and experience of space and time in recent years.
Sui's work Deviation 17°5 will link the whole project in Shanghai. He plans to place more than 10 monuments within the satellite town to mark the fact the town axis on blueprint deviated eastward by 17°5 from the Earth's north-south axis. The axis of Sui's work will deviate by the same amount.
Sui said he hoped in his work, by installing one monument a year, to allow citizens to "sense the fleeting nature of time."
In an ideal scenario, the installation of these square pillar monuments should not take place in transport facilities such as subway lines. But what happens if the location is inside a building or backyard? According to the design of the work, this situation is almost inevitable. The planner and the artist will have to negotiate with the property developer or owner in order to complete the project.
"That's why public art promotion in large cities needs planning as well as opportunities," Qin said. The administrators and decision-makers of a city should take public art as an indispensable part of a city's development blueprint, he said, citing a policy implemented in many cities worldwide. The policy requires a minimum percentage of all construction costs, usually 1 percent, to be set aside for public art in new buildings.
Artists could either tailor art works for certain public space based on their perceptions of the environment or, if they have established personal brands, use their works to reshape the place. "Either way, it's not an individual's decision or accomplishment, but a joint effort between the artist, the project planner, the citizens and the administrator in an endeavor to make the city better," Qin said.
Still, "in promoting public art, governments or companies should show due respect to artists of each individual piece of public art and give them attribution," said Fan Di'an, Curator of the National Art Museum of China. When sculptures and monuments were previously launched in China, the people knew which government sponsored it, but few of them knew who created it.
Also, he stressed protection of artists' copyrights, because public art could be easily replicated or damaged. "Otherwise, artists will not be as active in producing such an art genre," Fan said.