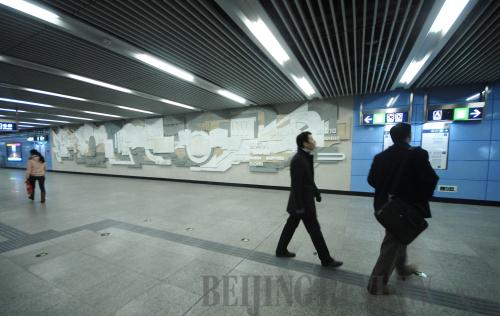 SEA OF BOOKS: The theme fresco at the National Library Station depicts the classical books of China (WEI YAO)
Art will soon imbue many subway stations and even trains in Beijing. The newest subway line in the capital city's mass transit network, Line 4, distinguishes itself from the rest with large decorative frescoes and bas-relief works at its eight major stations.
These paintings and sculptures are themed around the landscape, a cultural heritage or landmark building of each particular station. The National Library Station, for example, is "a sea of books," while the Old Summer Palace Station features the palace's Western-style buildings in ruins.
These works aim to present vivid expressions of "the city's historic and cultural heritage and the dynamics of its urban culture" related to each station's surrounding landmarks, said Line 4 operator, Beijing Jinggang Subway Co. Ltd., a joint venture between the Hong Kong MTR Corp. and two state-owned infrastructure construction enterprises.
In addition, two special trains, No. 37 and No. 38, which serve as art galleries on the move and showcase representative works of contemporary painters, were kicked into gear on October 22.
More than 100 paintings are exhibited in the two and in 10 bigger stations where there is heavy foot traffic. Information about the artists and the logo of the Line 4 gallery are presented at the bottom of each work.
"By decorating subways and trains with artworks of varied materials and styles, we hope to offer passengers more chances to enjoy art," said Huai, Art Director of Eryueshufang, the Beijing-based cultural communications company that designed and executed the project.
The project operator had been authorized to exhibit original paintings and sculptures, but instead offered to exhibit replicas because of the possibility of theft and difficulties in management, said Huai.
"The subway is a product of obsession with speed in the era of industrialization, but art works in subways will remind us of the importance of reflecting on speed and slowing down," said Huang Zhuan, an art critic and exhibition planner.
To many educators and artists, airports, subways and other crowded places are important venues for public art education. "It offers great chances for art to emerge from galleries and museums and connect with the public," said Wang Min, Dean of the Design School of the Central Academy of Arts.
The project operator will update the exhibitions regularly, at approximately six-week intervals, of each batch of works. They will also in the future design exhibitions featuring specific artists or art institutions for the two Line 4 galleries, Huai said.
Hong Haochang, one of the artists chosen to exhibit in the first series of works in the Line 4 art gallery, said it was not an easy decision for the subway operator to make because limited space for public art was widely perceived as ideal for advertising.
"It's great to have art in such noisy places. Everyone can feel a sense of connection to works carrying the temperature, heartbeats and emotions of the authors," Hong said.
Art, space interaction
The Line 4 gallery is the latest attempt to involve art with subways in public space, but it's no novelty to Chinese to see large frescoes on subway walls. Artists are debating if decorative fresco and bas-relief works alone will be enough to satisfy the public's ongoing changing tastes.
Wei Xiaoming, a professor of the Academy of Arts and Design of Tsinghua University, recommends multimedia solutions to make public spaces interact with passengers, including colorful and dynamic images projected onto the ground.
"As a majority of subway passengers are young, artists dedicated to art works for subways should experiment with new materials and new art forms, catering to the aesthetic tastes of young people, such as installation art, which describes a genre of site-specific, three-dimensional works designed to transform the perception of a space," Wei said.
Some even say a subway station as public space leaves artists great room for imagination. Sun Zhenhua, President of Shenzhen Sculpture Institute, said artists could explore varied art forms to suit different interfaces such as the station's ground and pillars as well as ceilings. In addition to permanent installations, replaceable works such as framed painting are also good alternatives to cater to the various and ever-changing tastes of passengers.
New forms and content of public art are now on show in Beijing's subway, but there was a lack of experience in correct placement from a passenger's perspective, Sun said.
He said the project operator should not be content with just installing the art works, but should allow pedestrians to see, feel or sense their existence.
"These public art pieces will not fulfill their intentions until they have positive influences on passengers' aesthetic tastes and their ability to appreciate art," Sun said. "In selecting works and artists, they should emphasize not only artistic quality but also the potential interaction of these pieces with the environment and the effects they have on the people while being exhibited."
A majority of art pieces in public spaces—including frescoes in subways—are "once and for all," Sun said. "Once a piece is placed, that's the end of it and few care about whether it serves its goal."
"This will give rise to profit-oriented and quantity-focused art creation, and at the same time have an effect on effective communication between art works and their audience."