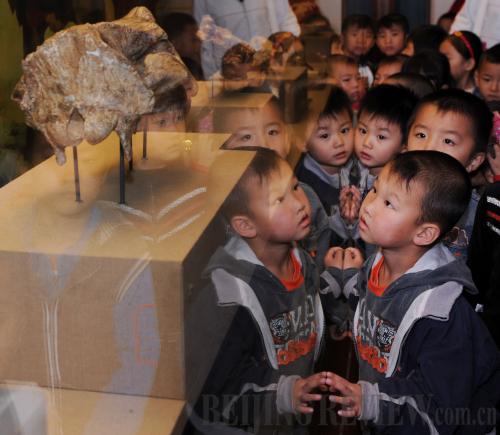 OBSERVING EVOLUTION: Children look at a dinosaur fossil at the Shanxi Museum (PENG YANG)
This year marks the 200th anniversary of Charles Darwin's birth and the 150th anniversary of the publication of his pioneering work on the theory of evolution, On the Origin of Species. Darwin's discoveries of evolutionary mechanisms and facts have made immeasurable contributions to the development of life sciences.
"He could not change nature, but he changed the whole world," said Zhang Xian'en, Director of the Department of Basic Research of the Ministry of Science and Technology.
Darwin never landed in China but his theory has risen in popularity across the country. It has deeply influenced China's social and natural sciences, political thoughts and philosophy of life.
Pathfinder to China
The name of Charles Darwin was mentioned for the first time in a Shanghai newspaper in 1873, but it was not until 1920 when On the Origin of Species, which was first printed in 1859, was translated into Chinese.
Yan Fu (1854-1921), a famous Chinese thinker, was the first to introduce Darwinian theories to China. He is well-known for his translation, first published in 1898, of Thomas Huxley's Evolution and Ethics, which not only initiated dissemination of the idea of biological evolution in China, but also had a far-reaching social impact on disseminating science, intellectual enlightenment and the ideas of reform and social revolutions.
In 1895, China was defeated in the Sino-Japanese War of 1894-95, launched by Japanese imperialists to annex Korea and invade China. The incident shocked the Chinese and many were anxious to find a way of salvation for China. Under such conditions, Yan, who studied at the Arsenal Academy in Fuzhou, southeast China's Fujian Province, and the Navy Academy in Greenwich, England, started his translating work, trying to find salvation in ideology and theory.
The harsh realities of the two Opium Wars (1840-42/1856-60), unequal treaties and the mid-century mass uprisings caused courtiers and officials of the Qing Dynasty (1644-1911) to recognize the need to strengthen China. Western science and languages were studied, special schools were opened in larger cities, and arsenals, factories and shipyards were established according to Western models. Western diplomatic practices were adopted and students were sent abroad by the government or community initiatives in the hope that national regeneration could be achieved through the application of practical Western methods.
Amid these activities came an attempt to slow dynastic decline. The efforts came to nothing 40 years later in the Sino-Japanese War in 1894-95. Some Chinese, including Yan, started to realize advanced technology from the West could not save China within the framework of traditional Chinese institutions.
The ideas of "natural selection" and "survival of the fittest" were introduced to Chinese readers through Huxley's work. But while Huxley was a steady supporter of bio-Darwinism, he was also a steady objector to social Darwinism. He opposed applying the rules of nature to human society.
In order to awake the Chinese, Yan deliberately neglected Huxley's opinion on differences between bio-Darwinism and social Darwinism when he translated Evolution and Ethics. "He was trying to find a basis for China's social revolution," said Han Yuhai, a professor with the Department of Chinese Language and Literature of Peking University.
"It was difficult for Yan to propose evolution and revolution during the late 19th century in China," he said. In a letter to the emperor of the Qing Dynasty, Yan set out China's dangerous situation and appealed for social reform.
"The final confirmation of the legality of Chinese revolution comes from the introduction of the theory of evolution," Han said.