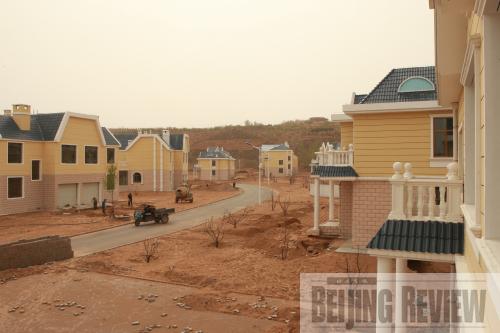 NEW LIFE: Farmers have started moving into Ulanmulun New Village from land that is caving in due to heavy coal extraction (WANG HAO) 
Wang Chao, head of the pilot project Ulanmulun New Village and a local government official for more than 30 years, said he has never seen anything like the modern residential community that he leads.
Ulanmulun New Village is a planned community featuring villas interspersed with apartment buildings, which is different from the structures of those villages around the area.
The new village is in Ordos' Ejin Horo Banner, Inner Mongolia Autonomous Region, and Ejin Horo Banner is considered an important energy base for China. Its fossil fuel reserves, estimated to be around 27.8 billion tons, have given it the name "underground sea of coal."
The 80-square-km old Ulanmulun Village, a large village including Ulanmulun New Village, is home to 11 coalmines with a yearly production capacity of 35 million tons. With that amount of production, the present yearly collective income of the village reached 12 million yuan ($1.76 million) in 2008, equaling 20,000 yuan ($2,928) per capita. That income represents a far higher amount than the average 4,761 yuan ($697.07) of other rural areas of China.
But the old Ulanmulun Village also paid a price for the money it pulled out of the ground. Because of over-exploitation, some parts of the village caved in, threatening the lives and property of villagers. This is why Ulanmulun New Village came into being.
Significance of warning
Ordos, in the southwest of Inner Mongolia, has been developing at high speed in recent years because of its rich resources. The city has been called a "dazzling pearl" on the Inner Mongolia Grassland. In 2008, Ordos realized its No.1 position among Chinese cities of the same size in the gross domestic product (GDP). The per-capita income of residents in urban and rural areas around the city is higher than the national average.
Resources, especially coal, make up the foundation of the rapid development. According to official data, Ordos has more than 50 sorts of mineral resources, among which 167.6 billion tons of coal reserves have been proved. That number accounts for one sixth of China's total reserves. Natural gas reserves totaling 800 billion cubic meters have also been found, which accounts for one third of China's total.
Separately, the area produces one third of China's and a quarter of the world's cashmere. Coal, chemical engineering, cashmere and power and silicon production account for 80 percent of local GDP, said an official of Economic Commission of Ordos.
Shenhua Energy Shareholding Wanli Coal Branch Co., with offices in Ordos, is the world's largest coal company. Its yearly output has reached 16 million tons and its production capacity is 25 million tons.
But the cave-ins and ecological damage from mineral extraction demanded that the local government act. In 2000, officials planned to relocate 900,000 farmers and herdsmen. So they came up with Ulanmulun New Village.
The new village, being constructed with 140 million yuan ($20.50 million) of investment, will hold 936 families. Already more than 170 families totaling 510 people have moved into the new village from three nearby villages, said Wang.
He told Beijing Review that the local government took the tack of "buying new houses with old ones," which means that residents can finance their new houses with their old ones.
Those families who move into the new village are eligible for many kinds of subsidies. For example, miners can receive 6,000-7,000 yuan ($878.48-1,024.89) yearly per person.
To help farmers and herdsmen find work after moving into the new village, the local government is trying to develop other industries, like catering services, countryside tourism and transportation, Wang said.
"The local government has taken many measures to slow down the exploitation of coal. The new village will be safe and farmers and herdsmen do not have to move to any other places," said Wang.
Industrial transformation
Since the early part of this decade, the local government has gradually realized that economic development based purely on extracting resources is unsustainable. It proposed a new development strategy to achieve industrial transformation.
The government put the industrial upgrading strategy into its agenda in 2005, said Chen Xi, the information officer of the Ordos Municipal Government. In 2008, the global financial crisis began to create not only a challenge but also an opportunity for the strategy's implementation.
"In 2008, the coal industry accounted for 49 percent of the total government taxes of Ordos. That proportion will decline to less than 10 percent in 2010," said Chen.
In 2000, Chen said, the local government shut down small coalmines producing less than 300,000 tons annually. The number of coalmines was reduced to about 1,900 and yearly output dropped to 20 million tons. In 2007, the government shut down coalmines producing less than 600,000 tons annually. The number of operational mines was again reduced to 276.
"Industrial upgrading is necessary for a resource-based city to further develop. We must implement the strategy in advance to prevent the coming of harsher consequences," said Du Zi, Secretary of the Ordos Municipal Committee of the Communist Party of China.