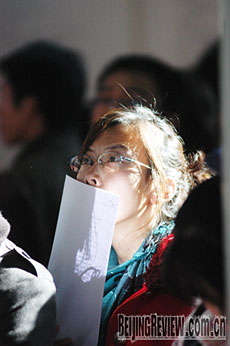 JOBLESS BUT EDUCATED: The country's escalating unemployment rate has made the prospect of landing a job dimmer for many college students who will graduate in July (WEI YAO)
China will enact an employment promotion policy in a couple of months, said Yu Faming, Director of the Employment Promotion Department at the Ministry of Human Resource and Social Security (MHRSS).
"The financial crisis has had further negative effects on employment in China," Yu said at a meeting in Beijing on December 23, where participants analyzed problems related to population, resources and the environment. "The situation is grim as a total of 24 million people will need a job in 2009."
In early December, the MHRSS issued the latest figures on the impact of the global financial crisis on China's employment situation. They indicate that by the end of last November, a total of 4.85 million migrant workers had returned to their hometowns in nine major provinces and autonomous regions of labor outflows, including Sichuan, Hebei, Anhui, Jiangxi, Henan, Hubei, Hunan, Guangxi and Gansu, as well as Chongqing Municipality. This figure was 5.4 percent of the number of migrant workers who left the countryside to find jobs in urban areas at the end of last September. Yu said more than 10 million migrant workers from these 10 regions had returned to their homes by the end of last December after being laid off from jobs in cities on the eastern seaboard.
Private companies in the country had suffered from a shortage of migrant workers before 2008. The shortage eased when factors such as shrinking exports and the appreciation of the Chinese currency forced many companies to close down or reduce their workforces in the first half of last year. A large number of labor-intensive companies have had to close their doors because of the fallout from the global financial crisis last September-an event that has aggravated China's unemployment situation.
The unemployed population includes not only migrant workers but also workers in foreign companies and state-owned enterprises as well as white-collar workers in the hi-tech industry. Anemic domestic demand for workers has swept from the developed coastal region to the less developed central and western regions, from export-oriented manufacturing companies to domestic-oriented companies, and from small and medium-sized labor-intensive companies to large companies generating more than 5 million yuan ($726,700) in revenue. It also has affected rural laborers and new college graduates.
"Employers are increasingly reluctant to offer jobs, making it even harder for college graduates to find a job," Yu said at the meeting. "As they are continuing to cut jobs, we will see an increase in the number of unemployed individuals as well as unemployed families. The deteriorating situation will also make living much more difficult for those who have lost jobs for quite a while and disabled people."