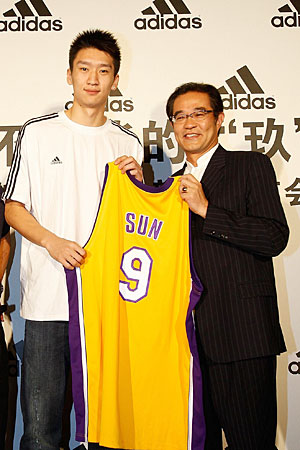 File photo of Sun Yue (L) (Xinhua)
Los Angeles Lakers' Chinese rookie guard Sun Yue made his training camp debut on October 3, three days later than initially scheduled due to being laid low by mononucleosis (viral infection). Though the disease usually needs several weeks of recovery time, doctors concluded that Sun was already ready for practice.
Sun, 23, a second-round pick (40th overall) in 2007, is the fifth Chinese player to enter the National Basketball Association (NBA), following Wang Zhizhi, Mengke Bateer, Yao Ming and Yi Jianlian. Before formally joining the Lakers in August, the 6-foot-9-inch (2.06-meter) guard had played in the American Basketball Association, a low-level U.S. professional league, for three seasons since 2005 as part of the Beijing Aoshen Olympians. He also helped the Chinese national team reach eighth place in the Olympic basketball competition in Beijing in August, averaging 6.8 points and 2.5 assists per game.
Though a lack of experience to compete in top-level games may prevent Sun from playing an important role in the Lakers during his maiden season, basketball insiders in China and the United States believe he has a promising future.
"I think he (Sun) has great size, great length, a good shooting touch, good ball handling, good vision and good pace," said Lakers' superstar Kobe Bryant, after the two had been in direct competition at the Beijing Olympics.