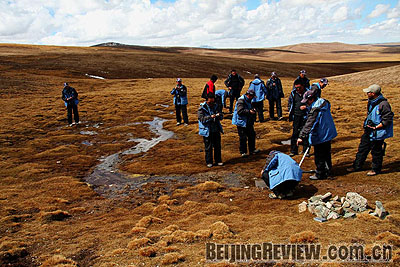 REN XIAOGANG: DRYING UP: A Chinese scientific research team works at the source of the Yellow River, where the glacier that provides its water has shrunk dramatically
China recently issued its first-ever white paper on global warming-China's Policies and Actions for Addressing Climate Change-detailing the country's principles and strategies for decelerating or adapting to climate change and reviewing the action taken so far.
It admitted that China is one of the countries most susceptible to the adverse effects of climate change. Over the past century the average temperature of the Earth's surface in China has risen by 1.1 degrees Celsius and from 1986 to 2007 the country experienced 21 warm winters. Climate warming will negatively impact China's agriculture, livestock breeding, forestry, natural ecosystems, water resources and coastal zones.
The white paper expounded on the government's six principles in addressing climate change, which are: to stay within the framework of sustainable development, to uphold the principle of common but differentiated responsibilities, to place equal emphasis on both deceleration and adaptation, to participate in international programs such as the Kyoto Protocol and to rely on the advancement and innovation of science and technology and on mass participation and extensive international cooperation.
In June 2007, China unveiled a National Climate Change Program, another significant government document addressing climate change. The national program stated China's targets, including plans to cut energy consumption per unit of GDP by 20 percent by 2010 compared to that of 2005. The white paper enumerated specific actions taken to meet these goals.
With a large population and a relatively low-level economy, China's ongoing industrialization process and its coal-dominated energy mix determine that controlling greenhouse gas emissions a tough task.
While pledging that China will "adopt more powerful policies and measures to strengthen the ability to deal with climate change in an all-round way" in the future, the white paper also called on developed countries to take the lead in reducing emissions, in addition to providing financial support and transferring technologies to developing countries.
At a press conference held shortly after the release of the white paper, Xie Zhenhua, Vice Minister of the National Development and Reform Commission, said that from 1904 to 2004, China's emissions accounted for 8 percent of the global total. Currently, China is at the low end of the global production chain, and about 20 percent of carbon dioxide emission in China is generated to produce exports to other countries, Xie said.
When asked to comment on the white paper, Lim Haw Kuang, Executive Chairman of Shell China told Beijing Review on November 16 that he had been over it three times, and thought that "the policies and actions make a lot of sense, and are relevant for a country with a large population and under pressure to develop." Lim also said that by bringing air conditioners and refrigerators in China to the energy-efficiency standard of OECD (Organization for Economic Co-operation and Development) countries by 2020, "China can save energy that is equivalent to that generated by a Three Gorges Project."
Speaking on November 16 at a panel session on climate change and the financial industry during the fifth Beijing International Finance Forum, Wang Jinnan, Vice President of the Chinese Academy for Environmental Planning under the Ministry of Environmental Protection, said, "China's climate-change policy is down-to-earth, and China is doing what it can step by step to mitigate and adapt to climate change."
At the same event Chan Han Meng, Director of UK-based Climate Change Capital, stressed the need for all nations to deal with climate change. Policy is necessary to support the private sector to respond to climate change, and without policies such as tax incentives, some environmental technologies will not be developed, he said.
"China's policy response to climate change is enormously positive," he said.
Inside the White Paper
The document comprised a foreword, a conclusion and eight chapters including Climate Change and China's Situation, Impact of Climate Change on China, Strategies and Objectives for Addressing Climate Change, Policies and Actions to Decelerate Climate Change, Policies and Actions to Adapt to Climate Change, Enhancing Public Awareness in Addressing Climate Change, Enhancing International Cooperation on Climate Change and Institution and Mechanism Building for Coping with Climate Change.