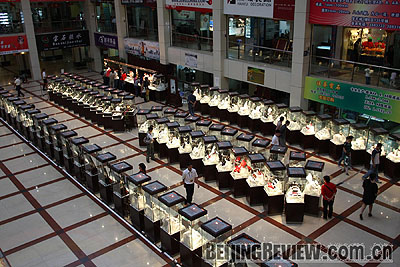 DAZZLING CITY: A corner of Wuzhou Jewel City
Mention the name Wuzhou and few people outside of China will know where, or even what you are talking about. The city, in south China's Guangxi Zhuang Autonomous Region, is little known beyond the borders of the world's most populous country. However, chances are that in almost every city across the world someone is wearing something made there, as Wuzhou produces 70 percent of the world's artificial jewels.
Over the past 26 years, this ancient city, with a population of about 3 million, has grown into the world capital of artificial jewels, and that equates to a major amount of production.
"In 2007, the number of gemstones sold in Wuzhou for the whole year reached 12 billion, occupying 80 percent of the whole market share of the country, and 70 percent of the production of the whole world.
The annual output value of artificial gemstones has reached 2.5 billion yuan ($366 million), and the industry has grown into a pillar industry of Wuzhou," said Huang Dongming, Director of the Wuzhou Economic Commission.
From January to September this year, 8 billion gemstones were sold. "So far, the global financial crisis has not influenced Wuzhou much, added Huang.
With a history of more than 2,000 years, Wuzhou, geographically, is the Guangxi city closest to Hong Kong. Because of this geographic advantage, Wuzhou used to be very prosperous and was known as "little Hong Kong."
With the introduction of China's reform and opening-up policy 30 years ago, the neighboring province of Guangdong seized the opportunity and developed faster than Guangxi, causing Wuzhou to gradually lose its position. However, its geographical advantage remains a significant factor in the development of the local economy.
In 1982, a Hong Kong businessman opened the first gem-processing plant in Wuzhou, as the Chinese Government had issued preferential policies to attract foreign investment and more importantly, China had a large and cheap labor force. After the success of the Hong Kong company, businessmen from other countries, such as Thailand and Italy, came to Wuzhou to open artificial gem firms.
Most of the early foreign jewelers took a small number of technical workers with them to China and purchased raw materials from Thailand. They processed artificial gems on China's mainland for sale abroad. These technical workers contributed a lot to the development of the artificial jewelry industry in Wuzhou.
Located in Wuzhou's Dieshan District, Bufu Road, known as Gem Road, is an artificial jewel market. In the early days, every shop on the street, including grocery shops, was involved in the gem trade. In the late 1990s, the first batch of local gem businessmen appeared and established their own trade network.