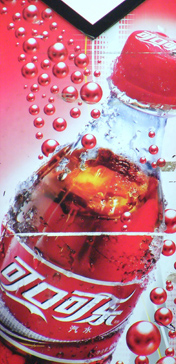 THE REAL THING: Coca-Cola is making inroads in non-carbonated drink markets overseas by buying major local competitors.
The Coca-Cola Co. has mountainous obstacles to overcome in order to ensure its $2.4-billion acquisition of China's top juice maker, Huiyuan Juice Group Ltd.
The proposed deal has received negative public sentiment about the possible loss of a well-known national brand as well as met opposition from other Chinese vegetable and fruit juice groups. These companies argue that the takeover, if successful, could give Coca-Cola a dominant share of the market and threaten their survival. Together they have offered three alternative deals to thwart Coca-Cola's acquisition of Huiyuan, the Beijing Morning Post reported.
The only substantial obstacle to the deal, however, is China's new Anti-Monopoly Law, which came into force last month. It is unclear how long it will take for the Ministry of Commerce to review the proposed acquisition and reach a conclusion, because the law lacks comprehensive details about its implementation. Because of this, the U.S. private equity firm The Carlyle Group, for example, stopped its three-year effort to acquire Xuzhou Construction Machinery Group Co. Ltd. in July.
Now, Coca-Cola must be patient and perseverant enough to swallow the juicy deal. Such a significant acquisition could take at least 210 days to obtain antitrust clearance, Mei Xinyu, a researcher at a think tank affiliated with China's Ministry of Commerce told the 21st Century Business Herald.
A sweet deal
On September 3, the world's biggest beverage maker proposed a cash bid of HK$17.9 billion ($2.4 billion), or HK$12.2 per share for the Hong Kong-listed Chinese juice maker-almost triple Huiyuan's closing price of HK$4.14 on August 29.
With this deal, the American beverage company is aiming to make inroads into China's pure juice market as part of its global efforts to expand its portfolio of non-carbonated drinks. The company launched its Minute Maid juice brand in China last year as part of its expansion into the nation's fruit and vegetable drinks business.
Chinese consumers have started drinking more vegetable and fruit drinks in the last couple of years as their incomes have risen and healthier lifestyles have become a trend. The country's market for non-alcoholic beverages has increased by 82 percent in the last five years and accounted for $32.7 billion in sales by the end of 2007. Juice sales alone in the country soared by 160 percent, according to a report on the Chinese website of the U.K.-based Financial Times.
According to market research firm ACNielsen Co. Inc., Huiyuan is the leader in China's pure juice and nectar sales on the mainland, accounting for 42.6 percent and 39.6 percent of the markets, respectively. Meanwhile, sales of Coca-Cola's juice products accounted for 9.7 percent of the country's juice market last year, according to research firm Euromonitor International Inc.
"Huiyuan is a long-established and successful juice brand in China and is highly complementary to the Coca-Cola China business," said Coca-Cola's President Muhtar Kent in a printed statement. "We are strongly committed to building on the Huiyuan business' current brand, improving the utilization of its fixed assets and enhancing opportunities for employees of the Huiyuan business."