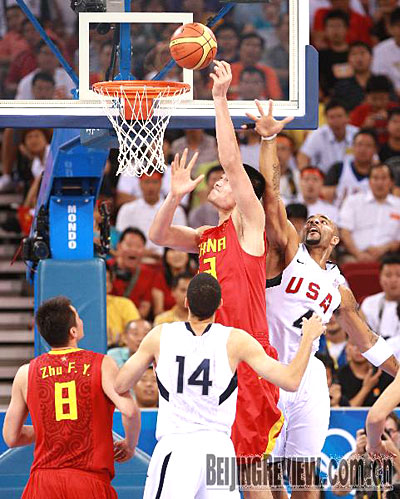 MY BALL: Yao Ming reaches for the sky as he scores in the highly publicized encounter between China and Team USA during the Beijing Olympics (MENG YONGMIN)
Thousands of spectators cheered when Yao Ming left the court with 4:41 minutes left in China's 70-101 loss to the United States at the basketball highlight of the Beijing Olympic Games. From the roar of the Wukesong Stadium crowd on August 10, it was as if China had romped home winners.
The home side was brilliant in the first half and were level at 29 all four minutes into the second quarter after a long-range shot from Sun Yue, who is expected to join Los Angeles Lakers in the 2009-10 Season. The United States then put their foot on the gas in a 20-8 spurt for a half-time lead of 49-37. China managed to stay in touch but the United States closed the third 74-48 before racing away to a memorable 31-point victory.
With President George W. Bush and his father, former President George Bush, looking on from the stands, the Chinese applauded their team but were also very enthusiastic about the NBA superstars in what was probably the most-watched sporting event in China's history.
Dream team
Inspired by a game he played as a child called "Duck on a Rock," James Naismith came up with the basketball game on December 14, 1891, in Massachusetts. He didn't know then he had invented one of the most popular sports in the world, and that 117 years later, in Beijing, China, his game would be the focus of world attention.
Basketball has been as an official medal event since its first appearance at the 1936 Berlin Olympics. During the next 36 years, the U.S. Team dominated the sport. The big question surrounding the men's Olympic basketball at that time was not who would win the gold medal, but who would be the runner-up. NBA players started to be allowed to play at the Olympics from the 1992 Barcelona Olympics, after which the U.S Team was dubbed the "Dream Team." But others have been catching up in recent years. Argentina, former Yugoslavia and Spain pulled off victories that used to be considered nearly impossible, defeating the United States in the 2002 World Championships. And in the 2004 Athens Olympic Games, the U.S Team lost three games on its way to a bronze medal.