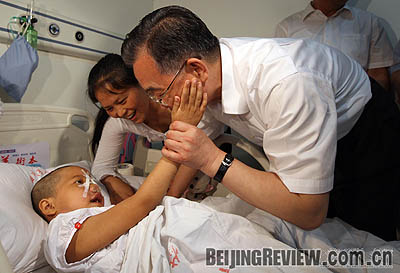 YOU MADE IT: Premier Wen Jiabao visits seven-year-old Wang Jiaqi in hospital, who was comforted by Wen when she was rescued from debris of collapsed building on May 13
Despite a six-hour operation for a pelvic fracture and the prospect of three months on his back, Zhong Yi is in good spirits. Injured when his workplace collapsed during the Wenchuan earthquake, he is now cared for in a hospital in neighboring Chongqing, a municipality that has led the way in helping victims of the disaster.
Looking back on the events of May 12, when the quake hit, Zhong joked that it could have been punishment from God for his childhood naivety, when a much smaller quake hit the region.
In 1976, people in Zhong's township, Hanwang in Mianzhu City, were warned of an imminent quake following an earthquake that flattened Tangshan in north China and killed 242,000 residents. Worried about the possibility of a deadly earthquake, Zhong's parents started to stock bread. Zhong, who was then only four years old and considered bread a delicacy, asked his mother each day, "Why hasn't the earthquake come? Only then can I eat bread, right?"
An earthquake did come to Zhong's township later in the year, but according to Zhong's mother, it was a weak one and no house in the neighborhood collapsed.
An earthquake of the magnitude Zhong imagined as a child did eventually come to his hometown on May 12 this year, almost killing him. Buried in the debris of the collapsed buildings of his company for 10 hours, he was finally dug out by a rescue team using their bare hands. Zhong, a salesman of a mining company, had survived, but his apartment and possessions were destroyed.
What gives him optimism now about his near-death experience is both the resilient nature of Sichuan people and the quality of medical care he has received.
After a check-up at a hospital in Deyang, one of the worst-hit cities during the earthquake, he was assured that he had no life-threatening injuries. As the hospital in Deyang was flooded with patients from the earthquake and focusing all its medical resources on saving lives, Zhong was transferred to Southwest Hospital under No.3 Military Medical University, a military hospital and one of the best hospitals in Sichuan's neighboring Chongqing Municipality. Arriving in Chongqing with another 61 injured people after a five-hour ambulance trip on May 16, they were the first government organized transfer of patients out of Sichuan Province.
"I felt happy when told that they wanted to transfer me to a military hospital. Soldiers from the air force saved my life and I was sure a military hospital would also treat me well," Zhong told Beijing Review.
Zhong is satisfied with the medical treatment he has received so far and is particularly happy that his elder sister and his mother, who are helping to take care of him, have been given free accommodation at a hotel near the hospital compound. The hospital has also arranged for the children of patients to attend the hospital kindergarten. To help a small number of injured people who lost contact with their families in Sichuan, the hospital published the personal information of new patients on its website and in some local newspapers every day.