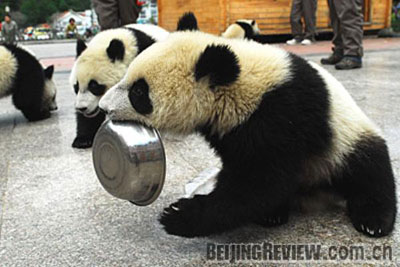 On the afternoon of May 12, 63 giant pandas were lolling about in their home, the China Giant Panda Protection and Research Center in Wolong in southwest China's Sichuan Province. And then the earthquake struck. They were a mere 30 km from the epicenter.
"All the roads at the Center were damaged in the quake," recalls Heng Yi, a staff member. "14 panda houses were razed to the ground. We were really worried because their screams could be heard from afar."
The situation became worse when Heng and his colleagues realized that 39 foreign tourists, volunteers, migrant workers and policemen were stranded at the Center as well.
An emergency solution was soon introduced and implemented. At 3 p.m., Huang Yan, head of rescue operations, called up staff members in the kitchen, a relatively safe place, to arrange tasks -- taking care of the pandas and visitors on the one hand, and exploring safe access routes to the outside on the other.
"Fortunately, there were no injured or dead among the people or animals," said Heng. "As the landslides continued, we had to transfer everyone to a safe zone as soon as possible.
"To be honest, it was a bit harder for us to transfer the frightened pandas. The female staff took care of the babies, for they were lighter and much more docile than the adults. The male staff took care of the rest. At dusk, we carried 14 baby pandas to the Wolong Township, after relocating the adults."
The next morning, the male staff returned to the Center to search for the missing ones. The 7-km journey back was fraught with danger of aftershocks and landslides. Communication between Wolong and the outside world was not restored until May 16, when a disaster-relief helicopter landed successfully after airdropping supplies two days previously. The roads to Wolong were finally accessible on May 17.
Presently 61 out of 63 giant pandas at the Center are safe, and two remain missing, according to Heng. Eight "Olympic pandas" (chosen by votes to debut during the upcoming Beijing Olympic Games) were transferred to Beijing Zoo on May 24, by chartered flights; six were transferred to Bifengxia in Ya'an, another panda base in Sichuan specially designed for panda releasing into the wild (distinguished from artificial raising in Wolong). The remaining 47 pandas will stay at the Center, including the pair that will be sent to Taiwan as goodwill ambassadors in the near future -- Tuan Tuan and Yuan Yuan (literally "reunion as a family").
The search and rescue operation will continue until the two missing pandas are found, said Heng.