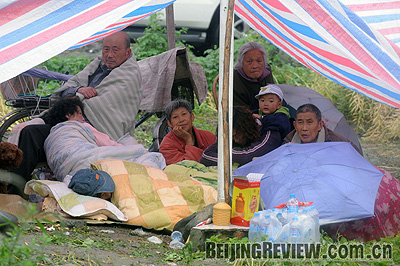 MAKESHIFT SHELTER: People in quake-stricken areas use nylon tents as they wait for shelter
One of the first tasks of central and local governments after the collapse of infrastructure following the May 12 quake has been to devise a plan to settle the victims by mobilizing all resources and setting up relief centers in safe areas. These centers aim to provide the homeless with meals, drinking water and basic medical services.
"We are trying our best to ensure that homeless people who have lost houses to the quake have basic shelter. When they have moved into shelters, we are trying to offer them food, drinking water and necessary working materials," said Jiang Li, Vice Minister of Civil Affairs.
Jiang made the remarks at a press conference in Beijing on May 20. She said that the Ministry of Civil Affairs and the Ministry of Finance were also planning to provide each homeless quake victim with daily food supplies of 0.5 kg for three months, starting from late May.
Tents needed most
All the affected people are living in some sort of shelters. Because of the shortage of tents, most can only have tents made of nylon and metal poles. Many families share one tent, with each family having a small section.
According to Vice Minister Jiang, 280,000 tents had been sent to disaster areas as of May 20, but that's far from enough.
The Ministry of Civil Affairs has ordered 700,000 tents, and factories are working around the clock to complete the task.
"The Central Government demanded that 700,000 tents be made ready within one month, but the raw materials for tents are scarce, and the production period for tents runs from seven to 15 days," said Pang Chengming, Deputy Director of the Disaster and Social Relief Division of the Ministry of Civil Affairs. He revealed that the Ministry of Civil Affairs and the Ministry of Commerce were negotiating to temporarily halt tent exports to ensure that disaster areas have sufficient supplies.
According to statistics from the Ministry of Civil Affairs, by 9 p.m. on May 19, the Chinese Government had already relocated 12.35 million quake-hit people. Still there were 5 million homeless people. If they have no relatives or friends to turn to, their only option is to stay in temporary shelters provided by the government.
Government funds
On May 20, in order for people in disaster areas have safe drinking water, the Central Government allocated 160 million yuan ($23 million) for seriously devastated villages to purchase emergency water supply facilities. On the same day, the central finance allocated another 2.5 billion yuan ($360 million) for subsidies for those affected by the earthquake.
The State Council has decided that each homeless quake victim who lacks an income will be provided with a daily living allowance of 10 yuan ($1.4). Orphans, widowed adults with no children and handicapped people who lost families in the earthquake will each receive 600 yuan ($86) per month for basic living expenses over the next three months.
According to Vice Minister Jiang, volunteers and professionals also have been mobilized to offer psychological consultations to these three affected groups. Psychologists have already been sent to the quake zone to help counsel victims, and efforts were proceeding to help them find relatives, where possible, she said.
"All those in these three categories are to be settled," Jiang said. "Another urgent task is to identify these people and help them to find their relatives. For those who were confirmed to be orphans, the government encourages family adoption. The ministry was receiving hundreds of inquiries every day, she added.
Although road conditions have been improved, it's still difficult for the large amounts of relief supplies to be transported into all affected areas.
"Many roads leading to the quake zone, which were reopened, are blocked again by frequent aftershocks, making it difficult for victims, especially those in remote townships and villages, to get sufficient relief supplies," said Pang.