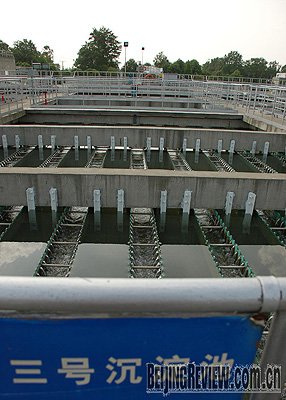 RUNNING WELL: Chengdu's No. 3 Waterworks is in good condition and operating well after the earthquake (JING XIAOLEI)
The 8.0-magnitude earthquake in Wenchuan County, Sichuan Province, had caused little damage to water supplies in major cities affected, according to an official in Chengdu.
Water supplies in the urban areas of Chengdu, the provincial capital, were barely affected by the quake on May 12, said Liu Jiping, Deputy Director of the city's Water Supplies Bureau.
Only two water pipes in urban Chengdu were broken in the quake, but they were fixed immediately afterwards, he said.
The quake resulted in power interruptions in Dujiangyan and a water supply was cut after inlet facilities were damaged. Liu and other experts visited the city to inspect the problem the following day. Measures were taken to provide emergency water supplies, including setting up mobile water stations and laying supplementary pipes. On May 15, water supplies in the city were nearly back to normal.
Water supplies in Pengzhou were halted for a while due to an electricity shutdown, but they were resumed later, according to Liu.
Normal water supplies in these cities are of great help to rescue efforts in quake-affected areas, including the remote counties, townships and villages, Liu said.
On May 14, there was a short water disturbance due to a sudden peak in water usage because people gathered water for storage. This happened as the result of a rumor that a chemical plant explosion had polluted some rivers in Chengdu. The panic storing stopped soon after the rumor proved untrue.
Beijing Review reporters visited water facilities at Chengdu's No.6 Waterworks and found everything in good condition.
Water authorities would enhance the monitoring and testing of water quality to ensure its safety, said Liu.