COLLECTIVE HOME: The 10,000 residents in the resettlement camp for earthquake survivors at the Nanhe Stadium in Mianyang City, Sichuan Province, are provided with suficient food supplies (JING XIAOLEI)
The old woman, carrying a baby on her back, wandered around a sports field among long rows of tents built to shelter earthquake survivors. "I just had a bowl of porridge for breakfast and I'm taking my grandson out of the tent for a morning walk," she said. She was an evacuee from Anxian County, close to one of the worst-hit areas of Beichuan County, Sichuan Province.
"I miss my home so much, but I cannot go back there as the houses were torn down during the quake. Living here is OK, though I'm feeling a little uncomfortable sleeping in the tent," the woman told Beijing Review. She was one of the 10,000 quake survivors in a resettlement camp in the Nanhe Stadium in Mianyang City.
"We have sufficient goods and materials for the refugees so far," said Yuan Rong, an information official with the camp. She was confident that the supplies there could ensure the residents are well fed and clothed.
"Fruits after dinner are served once every day," Yuan added.
The supplies basically have two sources-donations and government appropriations, according to Yuan. At the gate of the stadium, desks were set up to receive donations and trucks carrying relief materials came and went in a continuous stream.
"Donations can last us for a while, but in the long run, the government will be the one to bear the responsibility," Yuan said, explaining that donations would gradually decrease and volunteers would eventually return to their schools or jobs.
Inside the camp, big TV sets broadcast non-stop coverage of earthquake rescue progress. In one corner were hung sandbags for children to play with.
"We are trying our best to provide home-like living conditions for these displaced people," Yuan said.
More important than providing comfort, the camp also faces the challenge of disease control. According to Yuan, the camp is sterilized several times a day to prevent epidemic outbreaks. The frequency of sterilization depends on the weather. Sterilization is carried out more often in fine weather than on cloudy or rainy days. In addition to this, cleaners collect domestic garbage every hour.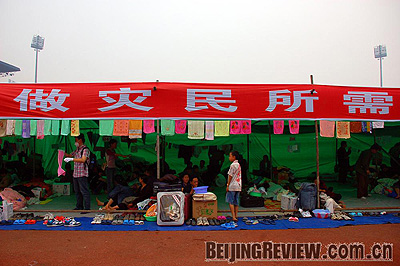 WELL SHELTERED: Refugees from the earthquake are settled in a temporary home in Nanhe Sports Center in Mianyang (JING XIAOLEI)
"The toilets here are OK," said a child who had just used one. Though more than 10,000 people in the stadium, there was no sign of people lining up waiting to go to the bathroom.
"We have opened all the 13 toilets in the stadium, and maintaining their hygiene is not a problem for us," said Yuan, who added that not a single epidemic case had been reported in the camp.
"I know most of them bear great pain from losing their homes, families and friends, so I choose a few encouraging songs to play in the hope of comforting them, to help them get rid of the grief," said Huang Chun, anchor of a temporary radio station in the Nanhe Stadium resettlement camp.
In the camp, laptops with access to the Internet and toll-free telephone services are available for the survivors to contact their friends and relatives.
"The government will decide how to relocate them once the situation stabilizes," Yuan said. Widowed elders will be transferred to elderly homes, and orphans will be brought up in orphanages. Those who want to return to their original villages, if possible, can get help to rebuild their homes, while others may be relocated elsewhere.
Tangshan City in north China's Hebei Province, where more than 200,000 people were killed in a 7.8-magnitude temblor in July 1976, has offered to adopt orphans from regions hit by the recent earthquake. Sichuan Vice Governor Li Chengyun said, "The government has made a commitment to raise all parentless children into adulthood."
"We are taking measures to let the residents in the camp manage themselves, before the government has a further plan for them," Yuan said.
The program has been implemented step by step. Currently, several volunteers have joined the camp's administrative team. More volunteers will be divided into several groups to undertake different responsibilities such as security or sanitation.
In Mianyang, there are two other major settlement camps for quake survivors in the Jiuzhou Stadium and former warehouses of the Sichuan Changhong Electric Co. The latter one houses 1,200 pupils from collapsed schools in Beichuan.
The Mianyang Government has built more resettlement camps in safe villages and townships to disperse the dense population in big camps, in order to reduce the risk of epidemics, according to local official Zhang Minggui.
(Reporting from Mianyang)