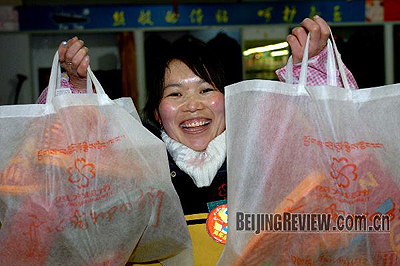 While environment-conscious people identify themselves as non-users of plastic bags, Guo Geng, working at a nature reserve of deers in Beijing's suburbs, stands out as a fighter against plastic bags.
Since he started to work in 1998, Guo has seen David's deer in his care dying from devouring waste plastic bags blown over walls from a nearby garbage dump. The innocent herbivores, native to China and under first-level state protection, have taken the bags as grass before indigestion tortured them to death. In one extreme case, an autopsy on a dead dear discovered 4 kg of plastic bags in its stomach. Although workers in the nature reserve tried to pick up every plastic bag they saw, a gale at night could destroy their efforts, covering the pastures for deer with a layer of plastic bags by daylight.
Guo has sought media coverage of the problem by giving speeches at journalist seminars. As a member of the Beijing Municipal Committee of the Chinese People's Political Consultative Conference, he put forward a proposal to the Beijing Municipal Government in 2005, advocating that a new consumption tax on plastic bags should be introduced and the tax income used for the recycling of waste plastic bags and to reduce white pollution.
Guo's efforts have paid off. The dumping ground has been abandoned and indigestion deaths have ceased. Moreover, on January 8, 2008, the State Council ordered a ban on the production, sale and use of ultra-thin bags (defined as less than 0.025 mm thick) as of June 1. Further, supermarkets and shops will be banned from giving free plastic bags to customers as of that date. This is an effort to create a greener society through curbing white pollution. "The environment for deer will get better and better," Guo told Beijing Review.
A solution to white pollution
According to statistics from the China Plastics Processing Industry Association, Chinese consumers use about 1 billion plastic bags every day. That equals plastic consumption of 400,000 to 500,000 tons a year, production of which costs at least 1 million tons of oil. According to a Xinhua report, Beijing's 15 million people discard about 2.3 billion plastic bags and produce plastic packaging garbage of 140,000 tons every year. The annual plastic packaging garbage of Shanghai is 190,000 tons and Tianjin over 100,000 tons.
The ubiquitous face of this huge amount of plastic trash in China includes plastic film residues on farmland, plastic bags sticking to the stems of trees like colorful leaves in the wind and mountains of disposable dishware on garbage dumping grounds. A more grotesque face of plastic pollution is small plastic items that are eaten by mistake by animals on farms, in zoos or in the wilderness and eventually kill them.
One way to dispose of plastic garbage is to bury it in the earth. Yet buried plastic takes about 200 years to degrade, during which time the land can no longer be used for farmland since plastic stops plants from absorbing water and nutrition from soil.
A large amount of plastic waste is burnt in dumping grounds, which has been proved by scientists from many countries to be extremely hazardous to human health. A report in British newspaper The Guardian in 2006 revealed that studies made by scientists from the Tanzania-based University of Dar es Salaam concluded that inhaling toxic gases emitted by burning plastic materials, dioxins and furans, could cause hormonal imbalances in new-born children, as well as cancer, impotence, asthma and a myriad other allergies.