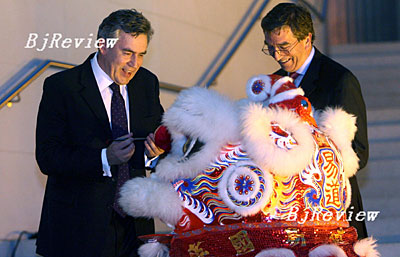 China and Britain have been enhancing their cooperation in the areas of science and technological innovation ever since they set up a Sino-British comprehensive strategic partnership in May 2004. They are now about to step up their teamwork in these fields.
When British Prime Minister Gordon Brown visited China in mid-January, he said that collaborating in science and innovation was an important part of the two countries' greater bilateral relationship, and that both had agreed to take further steps to boost their cooperation efforts. Significantly, this included a new £4 million (about $7.82 million) commitment from Britain to fund science collaboration with China.
At present, the two countries work together on multiple levels in these areas in the form of government communication, co-authorship of papers, commercialization of scientific research achievement and exchanges among colleges and universities that specialize in science.
Chinese and British scientists have a long history of working together. For example, British X-ray crystallographer and Nobel laureate Dorothy Hodgkin visited China in 1959 to initiate collaboration with Chinese scientists in her field. British neuroscientist Colin Blakemore, until recently head of Britain's Medical Research Council, conducted neuroscience research with Chinese collaborators in the 1970s.
China and the UK started their diplomatic relations in science and technology in 1978 when they signed a scientific and technological cooperation agreement. The two countries will celebrate the 30th anniversary of that agreement later this year, said David Concar, Science Counselor at the British Embassy in Beijing.
The two governments serve as a bridge that links scientific researchers and their cooperation activities. Jin Xiaoming, Director General of International Cooperation at China's Ministry of Science and Technology (MOST), said science and innovation are high on the bilateral cooperation agenda.
"Across the board, UK-China relations have never been stronger," said William Ehrman, Britain's Ambassador to China. He suggested that the growing scientific cooperation has come about in part from a Partners in Science initiative that has enabled more Chinese and British researchers to meet and work together over the past three years. The initiative has resulted in the UK's Research Councils, setting up a permanent office in Beijing, which will bring the scientific communities of both countries together to explore partnerships in basic research, Concar said.
The scientists themselves initiate most of the China-Britain research projects. Jin of MOST said the most recent interactions between Chinese and British scientists have taken place at the individual level. The scientists jointly published more than 5,000 scientific papers between 2001 and 2005. According to the British Embassy, Britain is China's most frequent co-author among all EU countries, and produces joint papers with China in many fields. By volume, their co-authorship of research papers is the greatest in the physical sciences, medicine, engineering, materials and mathematics.
Some projects, particularly larger ones, are initiated by government-to-government agreements, Concar said. A good example is a collaborative study on the feasibility of building a "near zero emissions" coal-burning power plant. China's MOST and Britain's Department for Environment and Rural Affairs, the government agency responsible for studying the effects of climate change, are in charge of the effort.
Scientific collaboration is a new focus of their bilateral cooperation in these areas. Last November, Chinese and British governments agreed to work together on a joint research program called Innovation China-UK (ICUK) to fund the commercialization of their research.
"It's very exciting because it breaks new ground," Concar told Beijing Review. "So far most international research collaboration programs have been focused on jointly creating new knowledge."
The ICUK program attempts to develop a way in which countries like China and Britain can work together to jointly exploit knowledge that has already been created, Concar said.
"As China and the UK get better at creating new scientific knowledge, we need to improve our ability to make use of this knowledge," he said.
The ICUK also will expand bilateral cooperation between famous Chinese colleges and universities and world-renowned British universities in the future.
Concar said the British Embassy would cooperate with MOST by continuing to work with Chinese and British experts in specific areas, including infectious diseases, energy and climate change. It also would work with Chinese partners to build up China-UK collaboration on innovation policy and practices, he said.
"We see this as the key next step in our relationship," Concar said.