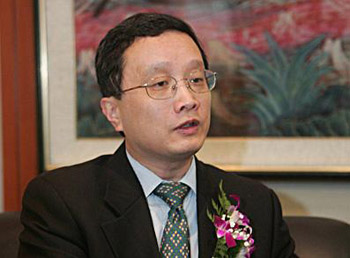 The Chinese economy is growing at a staggering rate, with the first quarter gross domestic product (GDP) increasing 11.1 percent and the trade surplus soaring to $46.44 billion despite a sharp drop in March.
With the first quarter having drawn to an end, the world is left wondering how China has performed in, or rather endured, the three months following the end of its World Trade Organization (WTO) transitional period in December.
To provide a comprehensive overview of first-quarter economic performance, Beijing Review conducted an exclusive interview with Tao Dong, Chief Economist of Credit Suisse First Boston (CSFB), to get his insights into the Chinese economy.
Dealing with a muscular GDP
Gross domestic product, the leading economic index, has gained momentum since the end of 2003, when China joined the WTO. For three years running, China's GDP has climbed steadily. By the end of 2006, China's GDP growth had reached 10.7 percent, while that of 2003 was 9.1 percent.
Tao revised CSFB's forecast for China's 2007 GDP growth up to 11 percent from his previous forecast of 10.4 percent, noting that the economy is reaccelerating and expecting rebounds in fixed asset investments. "This projection is made based on expected [government] restraints and tightening measures later this summer," said Tao.
The Chinese Government has been talking about an 8-percent GDP growth for four years now, but it never comes to fruition. The actual growth rate has exceeded 9 percent with ever-increasing speed year on year. Concerning China's economic performance over the next quarter, Tao said timing is the essence.
"The growth outlook for the second quarter this year depends on when and how Beijing launches the next round of tightening measures," he said. Tao expects two interest rate hikes (54 basic points), as well as another two of the reserve requirement ratio (100 basic points) in the coming months.
According to Tao, these rate hikes are only mild measures. He expects the tightening policy to escalate in mid-year, when the consumer price index (CPI) exceeds 3 percent, as the stock market becomes more speculative, and as bank deposits continue to flee amid negative interest rates. Tao said the ratio would have to jump to 11-11.5 percent in order for Chinese monetary policy to escape the liquidity trap.
Tao said, "We have also revised our year-average CPI forecast to 3.2 percent from 3 percent." But he added, "We assume the domestic A-share stock market and the (uncertainty of) U.S. housing sector are the two biggest risks to our growth forecast this year."
First quarter CPI surged to 2.7 percent, just as experts had predicted. In 2006, the average CPI grew a mild 1.5 percent compared with the 2005 rate. However, CPI growth has increased recently, up 1.9 percent since last November, with its largest surge of 2.8 percent last December.
Turning to 2007, CPI doesn't show signs of cooling down. It jumped 2.2 percent in January and 2.7 percent in February. Experts warn the rapid increase in CPI could possibly lead to inflation, though growth rates below 5 percent are tolerable.
Tao contended that the inflation pressure of the global economy will grow, and central banks of all countries will increase interest rates more often than what is widely suspected.