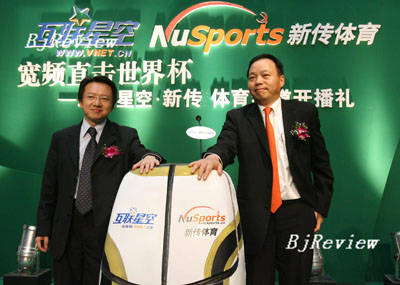 If you've never heard of TMT, you're not the only one. But if you're a user of 3G, digital TV, mobile video, online shopping and a variety of recent information innovations, you're probably intimately familiar with TMT in practice, if not in words. Industry insiders, especially venture capitalists, are champing at the bit to get in on the emerging field--TMT--a convergent trend of technology, media and telecommunications.
While development of the industry is based on combined technological support from information technology (IT), media and telecommunications, Wang Jin, an analyst from Analysys International, one of the leading Internet-based business information service providers for the Chinese TMT industry, says it really isn't that simple.
According to Wang, each of the industries influences one another. The lines between them have blurred, a development that can be traced back to the Internet heydays of the early 1990s, when structural changes began rippling through the separate industries. Those changes will bind the industries even more tightly in the future.
Take telecom for example, Wang said. People generally consider telecom as simply meaning communication. In the future it won't mean the same as it used to be, he said. The industry will provide more services to consumers, things such as media content and entertaining products. This isn't your 1990s telecom anymore--it is branching out into sectors such as new media and new entertainment to offer a much more diversified product.
"In the TMT sector, the Internet provides technological support for media, while telecom offers channels for selling products, and media and information are the backbone," said Wang Jin. "In the future, information will weigh heavily in technology-oriented industries."
Wang added that IT and telecom in China are transforming to focus on information, service and entertainment--a sure sign that TMT is developing toward maturity in the country.
Favored by VC
Although just one letter different from TNT--a powerful explosive--TMT shows its effect on the venture capital market no less than a big bomb.
Li Wei, a senior consultant from the China World Trade Corp., said 80 percent of global venture capital investment takes place within the TMT industry. In China, a whopping 90 percent of overseas listed companies operate in TMT fields. Foreign investors believe there is a huge potential in the Chinese TMT market.
According to Li, China is ripe for TMT development. The number of Chinese subscribers to mobile phones, fixed telephones and cable TVs ranks first in the world. The number of Internet and personal computer users in China comes second and third worldwide, respectively. It doesn't take the brightest bulb to realize how attractive the market is for venture capitalists looking to cash in--they're coming in droves from across the globe.
And the numbers are beginning to support the anecdotes. Venture capital investment in China last year was equal to one quarter of the investment in Silicon Valley during the same period, according to Zhang Fan, Founding Managing Partner of Sequoia Capital China.
According to statistics from a 2006 research report on China's venture capital market released by the China Venture Capital Research Institute (Hong Kong), venture capital investment hit a record high in the country last year, totaling 14.36 billion yuan. Annual growth last year of over 50 percent was only second to the United States. Foreign venture capitalists dominated the market, accounting for 74.2 percent, while purely domestic investments only grabbed 18.3 percent.
However, the industry has made progress compared to five years ago. Statistics from Ernst & Young China showed that five years ago China's venture capital investments were only one-fifth that of Germany, one-seventh that of Israel, and one-73rd that of the United States.
Yet the tides are turning. Last year, venture capital investment in China was equal to that in Israel, twice as much as that in Germany, and one-20th that in the United States.
According to Mark Heesen, President of the U.S. National Venture Capital Association (NVCA), with improvement in China's accounting systems and protection of intellectual property rights and the emergence of more sharp-minded investors, the Chinese market will be more attractive for U.S. venture capital institutions in the years to come.
Heesen said his prediction is not just based on the fact that China has a huge market--it is also based on the key role the country plays in the global industrial chain.
In China's burgeoning venture capital market last year, TMT kept the same dominant domestic role it had played in its nascent stage a few years ago.