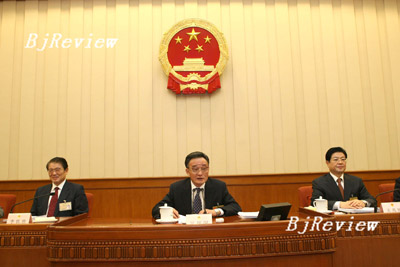 Chinese philosopher Mencius, who lived over 2,200 years ago, once said, "People can have a long-term life plan only after knowing their private properties are secured."
This teaching deeply influenced China for more than 2,000 years, but after the People's Republic was founded in 1949, public ownership gradually played a dominant role.
Since China began to embrace the market economy in the early 1980s, private property rights and ownership have been increasing, but they remain an unfamiliar concept for many in the country.
Following a revision to China's Constitution to include private property rights protection, the country is now expected to adopt the Property Law this March. If passed at the annual session of China's parliament, the National People's Congress (NPC), that law would define and regulate property rights across China for the first time.
A draft property law had its first reading in China's legislature in 2002 as part of a civil code. Since then it has been deliberated on for seven times. During those deliberations the full text of the draft law was also released to the general public to solicit opinion. At the 25th session of the 10th NPC Standing Committee held last December, lawmakers reached a consensus on the draft law.
Land rights
Beijing's real estate market is bubbling as a result of China's surging economic development, rising incomes, and the Olympic Games, due to take place in the capital in 2008. According to a report released by the Web portal Sina.com and New Real Estate magazine, in January, real estate prices in Beijing have increased by 42 percent over the past three years.
While real estate booms are common in cosmopolitan capital cities around the world, what Beijing's property investors have been paying for is slightly different from most. In Beijing house buyers are not buying their property outright. According to Chinese law, land cannot be owned by any individual as urban land belongs to the state and rural land is collectively owned.
These government land ownership rules have proved a contentious issue in China. In some cases, both in rural and urban areas, the government has been accused of expropriating land for lucrative real estate development or infrastructure construction in the name of public interests without adequately compensating the people that development has displaced.
When dislocated farmers or rural residents fail to get sufficient resettlement compensation from local governments, they find it difficult to use the law as a weapon to protect their interests. The grievances of farmers who have lost their livelihood, or city residents who have lost their homes to demolition in the name of development, have become a serious social issue, which causes increasing concern for China's leaders.
Land expropriation is the most frequent subject of petitions made by Chinese farmers, said Chen Xiwen, an official involved in the rural work of China's Central Government, at a recent press conference in Beijing. He warned that if the government fails to address farmers' issues in a timely and efficient manner, a single petition could lead to "a mass incident" involving public protests or even a riot.
Making a speech at a central conference on rural work in December 2005, Premier Wen Jiabao raised the issue of loss of farmland to urbanization. He said the rapid development of many cities relies on capital and land resources expropriated from rural areas. The result is that the prosperity of urban areas is often at the expense of rural ones, and farmers are rarely adequately compensated for their losses.
He warned that seizing rural land without offering farmers resettlement or adequate compensation was leading to growing anger and instability in rural areas, and added, "We must absolutely avoid committing an historic error over land problems."
During discussions about the Property Law draft, a passage that read "the expropriation of land from collectives and property from individuals and entities can be allowed only when public interests demand it" was hotly debated. Some people argued that in order to check the abuse of this concept by local government a clear definition of "public interests" had to be established.
Although a definition of "public interests" remains absent from the latest version of the drafted law, it does devote considerable space to ensuring adequate compensation for people who lose their homes as a result of government expropriation. One section of the draft reads, "Nobody or no entity is allowed to pocket, embezzle or delay the payment of compensation."