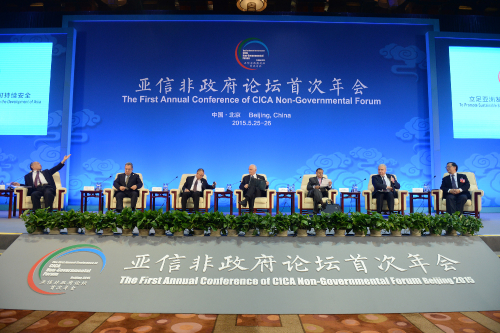 Panelists participate in a discussion on security and development issues of Asia at the First Annual Conference of the CICA Non-Governmental Forum in Beijing on May 25 (CFP)
For all intents and purposes, the 21st century should be a golden age for Asia. Home to 67 percent of the world's population, Asia presently accounts for one third of the global economy. However, the present security situation in Asia is unstable, compared to its economic status, as emerging security threats stemming from international terrorism, religious extremism, sovereignty disputes and nationalism erode the continent and prevent it from reaching its full potential.
To truly move away these obstacles that hinder regional peace and development, observers from Asian nations suggested regional countries make full use of the Conference on Interaction and Confidence-Building Measures in Asia (CICA) mechanism at the First Annual Conference of the CICA Non-Governmental Forum recently held in Beijing. More than 400 representatives from CICA member and observer states, including political dignitaries, think tank scholars, senior journalists and diplomats, attended.
Key to regional security
With Asia in the Next Decade--Security and Development as its theme, the two-day meeting has harvested constructive deliberation over Asia's peace and development under new global conditions. Participants reached the consensus that development and security are symbiotic concepts; both are needed to help Asia reach its full potential.
Participants appealed that the existing platforms in Asia--particularly the CICA--should be employed to safeguard regional security.
Li Fenglin, former Chinese Ambassador to Russia, said that the purpose of the CICA is safeguarding peace in Asia. As Asia has no continent-wide security organization, he suggested the CICA should serve such a role as security is achieved on the basis of trust and confidence building.
The idea of CICA was first proposed by Kazakh President Nursultan Nazarbayev in October 1992 at the 47th Session of the UN General Assembly. It now has 26 member states, the largest and most representative regional security platform in Asia. It serves as a forum for dialogue and consultation among member states on security and development issues and the promotion of confidence-building measures.
Li claimed that the CICA by far is still a dialogue platform, member states should consider to strengthen its law enforcement capacity, particularly in combating terrorism, secessionism and extremism.
Norodom Sirivudh, Chairman of the Cambodian Institute for Cooperation and Peace, said that state and government leaders of CICA members have committed to promote peace, stability and prosperity in Asia. However, they need to develop a concrete action plan to deliver tangible results for Asian people.
"For Asia to stay secure, we need to invent our own security concepts. Asians are able to deal with problems they face," Sirivudh said. "We need a mechanism and institution to guide and direct our cooperation on security matters. The CICA should play such a role."
Sirivudh also point out that the new security concept proposed by China is constructive and valuable.
Last year, at the Fourth Summit of the CICA, Chinese President Xi Jinping put forth a new Asian security concept that features common, comprehensive, cooperative and sustainable security. At the summit, Xi said that the international community needs to keep pace with the changing circumstances and evolving times.
"One cannot live in the 21st century with the outdated thinking from the age of Cold War and zero-sum game," Xi said.
Xing Guangcheng, a researcher with the Chinese Academy of Social Sciences, noted that at the current era, all countries should give up the idea of seeking the so-called absolute security of itself at the expense of the security of others. Innovative thinking is needed to resolve such security issues.
The new security concept stands as testimony of China's new diplomatic strategy, indicative of its willingness to play a more proactive role in establishing a viable regional security order that will benefit everyone.
As an important step to implement the new Asian security concept, Xi proposed the CICA Non-Governmental Forum as a means to increase the influence of the security-focused CICA and deepen mutual trust between people among regional countries.
Bao Jianyun, a professor of international studies with Beijing-based Renmin University of China, said that the non-governmental forum aims to promote people-to-people exchanges on regional security issues and provide a new different angle for regional security cooperation. Through the platform, mutual trust between peoples can be enhanced, creating a good atmosphere for mutual understanding and trust for governmental exchange and cooperation on security issues.
Sirivudh said that trust is the backbone of peace and stability and the CICA Non-Governmental Forum definitely contributes to building this trust.
Through such broad dialogue and participation, regional countries can build their own Asian identity, he added.
Economic focus
China's initiative to build the Silk Road Economic Belt and the 21st-Century Maritime Silk Road (Belt and Road Initiative) is another hotly debated topic at the meeting.
"The international security situation takes on some new characteristics, while China's Belt and Road Initiative is looking forward to settle security problems the Eurasian region faces by promoting regional economic development," Xing said. "No absolute security can be achieved without development. The Chinese initiative can serve as a safeguard for the settlement of security problems of regional countries."
Put forward by President Xi in 2013, the Belt and Road Initiative is a systematic project that will be built with concerted efforts of countries along their routes. Centering on investment and trade facilitation and infrastructure connectivity, it will help participating countries integrate resources, policies and markets with each other so as to promote the common development.
Former President of Afghanistan Hamid Karzai expressed high praise for the initiative in enhancing regional security. In his speech at the opening ceremony of the meeting, Karzai said that when addressing domestic and regional security issues, poverty reduction should hold more importance. The effective cooperation between regional countries in the fields of transportation, trade and energy--also an important part advocated by the Belt and Road Initiative--can help create a virtuous circle for regional peace and development.
Yasar Yakis, former Turkish Foreign Minister, said that closer economic relations make considerable contributions to the interdependence among the countries and, from there, to political stability. The Chinese initiative is a great way to increase the interdependence of the countries in the region. To give substance to this project, the directly interested countries have to act in close coordination to improve their transport, communications and legislative infrastructures.
Former Israeli Prime Minister Ehud Barak shared similar views, saying that the Belt and Road Initiative as well as the China-proposed Asian Infrastructure Investment Bank have served as excellent tools for regional economic integration and energy cooperation.
Copyedited by Kieran Pringle
Comments to yulintao@bjreview.com