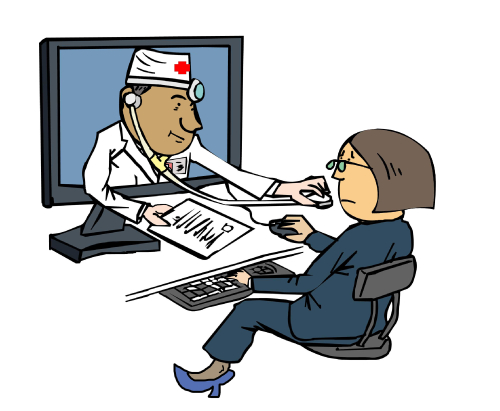 (LI SHIGONG)
Nowadays, many people turn to the Internet to solve a multitude of medical quandaries, extending even to the matters of how to find a doctor and access medical treatment. With the prevalence of online health care services in China, more and more cases have come to light concerning patients being defrauded of money and sometimes having their condition worsen owing to incorrect diagnoses.
The National Health and Family Planning Commission (NHFPC), the nation's health watchdog, has thus recently announced that medical diagnosis and treatment will be forbidden online, but that health consultation will remain legal. The hard stance taken by the NHFPC toward online hospitals has proved controversial. While the poor record of illegal hospitals with respect to diagnosis and treatment is an unavoidable fact, the popularity of using the Internet for medical treatment is also hard to ignore.
The virtue of prudence
Li Keji (People's Daily): In the era of the Internet, every area is being affected by new technology. People who are used to consulting on health issues online expect this new technology to counteract the problem of imbalanced distribution of medical resources across the country. The public has long complained about the high expenses in terms of time and money involved in getting registered at a hospital and seeing a doctor. The involvement of the Internet in the fields of medicine and healthcare has aided people in registration and makes it possible for them to communicate with doctors at the touch of the smartphone keypad. The NHFPC's announcement has been held to be out of step with Internet developments.
However, while the traditional medical system is probably overly elaborate and regulated, the Internet is an unknown quantity, carrying risks. Caution is a prerequisite in the process of employing the Internet in medical treatment.
Take the process of diagnosis in traditional Chinese medicine (TCM) for example. TCM particularly stresses the importance of patients having face-to-face interaction with doctors. Expecting optimum results with both sides at the end of a smartphone is unrealistic. In the Western medical system, patients in many cases need to undergo physical examination involving highly sophisticated medical equipment. This is also impossible through the Internet.
Every time the Internet enters a new area, it will pose challenges to the existing system of checks and balances. Even though development of the relevant legislation and the present supervision system should no doubt be accelerated, it would do no good to be overly rash. Certain elements of the industry have the potential to undo all the good that has been done.
The NHFPC means to steer online medical treatment toward accountability and transparency as well as enable it to progress stably. A well-developed online medical treatment system will be a great help to the ongoing medical reform. People's health is directly correlated with the quality of healthcare they receive, so prudence is a necessity. The NHFPC's cautious attitude toward Internet medical treatment is understandable and also in the interest of public health.
An irrevocable trend
Wang Junrong (www.gmw.cn): Surprisingly, in this day and age, the government is preventing the public from accessing medical treatment online. Surely the NHFPC should be standardizing and regulating online medical treatment, instead of banning it outright. Besides, it is not something you can easily ban. According to Guangzhou-based iiMedia Research, in 2012, the mobile health industry in China had an estimated worth of 1.86 billion yuan ($300 million). According to its predictions, this figure will reach 12.53 billion yuan ($2 billion) by 2017. Banning such a lucrative growth area will prove no easy feat. Also, isn't it necessary to first ask the patients whether it's OK to stop online medical treatment?
Contrary to popular belief, this field is nothing new. Since the late 1990s, some Western countries have operated online medical treatment systems on a trial basis. The practice was once also banned in Britain, but finally the government had to recognize medical treatment websites facing the rising tide of the Internet. Nowadays, online treatment is helping more and more patients in Western countries.
The Guangdong Online Hospital, the first online hospital to be authorized by the government, has been in operation for more than half a year. Every day, more than 500 people are treated in this hospital. Surveys show that patients are nearly 100 percent satisfied with the online medical treatment they've received. The online hospital, which is operated by the Guangdong No.2 Provincial People's Hospital, argued that the NHFPC allows established medical institutions to provide long-distance healthcare services, whereas non-medical institutions are permitted to offer only online health consultation.
Online hospitals will help optimize the distribution of excellent medical resources. A notable virtue of online hospitals is that they do not to the same extent depend on selling more medicine than the patients need in order to break even. Patients need to expend much less time and money than they would if attending a traditional hospital in person.
Of course, online medical treatment also has shortcomings. Sometimes patients need to have a thorough physical examination, which is near impossible to carry out online. However, if the medical treatment system is not well managed, problems may occur even when patients attend brick-and-mortar hospitals.
Online hospitals are still relatively new in China and thus many areas are in need of improvement. However, this does not justify a wholesale ban on online medical treatment. It should be the market that tests whether this "new product" is valid or not, rather than it being at the sole discretion of the NHFPC.
Mao Jianguo (Guangzhou Daily): It's natural to see deficiencies in newly born technologies. While there might exist various problems and worries in terms of online medical treatment, is it possible to eradicate all the problems by simply banning it? The NHFPC allows online consultation on health, but no medical treatment is allowed. How can you clearly discern medical consultation from medical treatment? What if the treatment is carried out under the guise of consultation?
A ban is certainly not the only way to solve the problems plaguing the sector. Concerns about online hospitals tend to center on the capability of doctors. Thus, if tougher regulations are put in place to punish online doctors who wrongly diagnose patients as is the case in the traditional profession, online hospitals will become much more reliable. Under these circumstances, a ban would not really be necessary.
Since online medical treatment is a seemingly irrevocable trend, it would be better to standardize this service than to ban it. A ban may help avoid some problems that patients might encounter online, but with a ban, people may be tempted to go down illicit routes in quest of treatment.
Wu Jie (www.people.com.cn): In many cases, so-called online medical practitioners are merely fronts for illegal hospitals and clinics. Online platforms for medical information have unfortunately become a marketplace in which such practitioners can hawk their wares. In this sense, the NHFPC's decision is eminently understandable.
Whether you care to admit it or not, since we've already entered the Internet era, it's perfectly natural for patients to ask for help online. Even the capital market has noticed the huge untapped potential in the online medical treatment model. A huge amount of capital has already been invested in mobile health apps, so that medical services will now be available online.
There are a number of questions that the authorities have to consider: Is it really possible to crack down on the illicit practices of some by simply issuing a ban? Will this ban really help the patients in their pursuit of qualified medical treatment?
But first, the health authorities need to ask why these illegal medical practitioners have in the first instance come to dominate the online platform.
The lack of efficient supervision and accreditation in quality terms as well as the absence of qualified and standardized online hospitals has provided huge space for illegal online hospitals and clinics to thrive. Gradually, the online medical treatment platform may become a paradise for illegal medical practitioners.
Therefore, warning the public against the perils associated with illegal online hospitals is not enough. Perhaps even more importantly, the public should be made more aware of quality medical resources available online. Standardized medical services and qualified doctors should make up the majority of healthcare professionals online, so that patients have access to legal online medical treatment, while illegal hospitals are squeezed out of the equation. 
Therefore, warning the public against the perils associated with illegal online hospitals is not enough. Perhaps even more importantly, the public should be made more aware of quality medical resources available online. Standardized medical services and qualified doctors should make up the majority of healthcare professionals online, so that patients have access to legal online medical treatment, while illegal hospitals are squeezed out of the equation.
Copyedited by Eric Daly