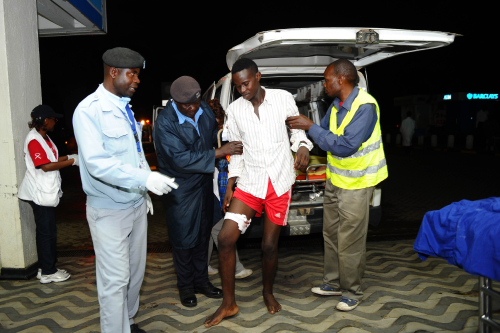 Paramedics attend to an injured student as he arrived at Kenyatta National Hospital in Nairobi on April 2, following an attack at Garissa University College in northeast Kenya (XINHUA/AFP)
The recent one-two punch of attacks of al-Shabaab and other terrorist groups on the African continent shows the land is rising to become another major battleground in the war against terrorism.
The al-Qaeda-linked group al-Shabaab has claimed responsibility for the killing of nearly 150 people at northeast Kenya's Garissa University College on April 2, saying it was retaliation for Kenya's role in military campaigns against them in neighboring Somalia since 2011.
Over the past few years, al-Shabaab has launched a string of attacks on targets in Kenya, with the tragic incident at Garissa University College being the deadliest to date. In the most notable one before the Garissa incident, al-Shabaab militants killed 61 people at Westgate shopping mall in Nairobi in September 2013.
Al-Shabaab emerged from war-torn Somalia and is the East African branch of al-Qaeda. It has been designated as a terrorist organization by many countries including the United States, Britain, Australia, Canada and the United Arab Emirates.
After the Somali Government collapsed in 1991 in a civil war, a number of Islamic groups in the country established the Union of Islamic Courts and controlled national capital Mogadishu in 2006. Al-Shabaab, established in 2004, was a radical faction of the Union of Islamic Courts. After the union was defeated by Ethiopian forces, al-Shabaab did not stop fighting and continued to recruit Islamic extremists from both home and abroad. When Ethiopian troops withdrew from Somalia in 2010, al-Shabaab already had 10,000 militants and controlled central and southern parts of Somalia.
However, since the African Union (AU) started fighting against the group in 2011, al-Shabaab has been retreating in defeat. Most notably, Somalia's peace process made significant progress in 2012. That year, a provisional constitution was enacted and a new federal government led by President Hassan Sheikh Mohamud was established, ending the 21 years of anarchy in Somalia.
Presently, al-Shabaab only controls some rural and remote areas in central and south Somalia. It mostly fights back international forces through terrorist attacks in AU countries such as Kenya whose troops are the main strength of AU forces fighting against al-Shabaab.
However, the attacks have incurred more retaliation from Kenya. For example, the Garissa attack has prompted immediate airstrikes against al-Shabaab targets by Kenyan Air Forces. The fight between Kenya and al-Shabaab will continue.
Threats of terror
In response to the AU-led military operations, al-Shabaab is attempting to seek internal support from Somalia, mainly from local tribes and Muslims. The group is well aware of the political leanings of clans and tribes in Somalia and often makes use of conflicts between local tribes and central authorities to achieve its objectives. It has also spared no effort to instigate extremist Islamic jihad, including opening Islamic schools and releasing information on the Internet and through social media platforms.
Apart from local Somali militants, the group has also been active in attracting foreign extremists. Muslims account for 10 percent of the Kenyan population. Military intervention in Somalia and fighting against al-Shabaab have resulted in criticism by Muslims in Kenya. Al-Shabaab is recruiting militants heavily in northeast Kenya bordering Somalia.
Worse still, the current Somali Government is too weak to control all the country. This situation has prompted fears that, once the AU forces end their mission in Somalia, al-Shabaab is likely to stage a comeback. Currently, the spillover of terrorism in war-torn areas of the Middle East has spread to Africa, resulting in worse security situation on the continent. Some local terrorist groups have declared their affiliation with al-Qaeda or the Islamic State, also known as ISIL or ISIS, expecting to receive support from the latter.
Al-Shabaab joined the global terrorist movement when it became a branch of the al-Qaeda in 2012 and has since received support from foreign terrorist groups. For example, al-Qaeda on the Arabian Peninsula, which was formed in January 2009 after a merger between the Yemeni and Saudi al-Qaeda branches, has often cooperated with al-Shabaab on intelligence sharing and personnel training. At present, Yemen is caught in a brutal civil war between Shiite Houthi rebels and forces loyal to Yemeni President Abd-Rabbo Mansour Hadi. Al-Qaeda on the Arabian Peninsula might use the opportunity to develop itself. If al-Qaeda on the Arabian Peninsula and al-Shabaab coordinate their efforts, they will pose a serious threat to security in the area spanning the Red Sea, the Gulf of Aden and the Arabian Sea.
Meanwhile, the Islamic State, which controls parts of north Iraq and east Syria, is also attempting to draw al-Shabaab over to its side. The Islamic State has also encouraged al-Shabaab to attack Kenya, Tanzania and Ethiopia. If al-Shabaab decides to ally with the Islamic State, terror will become an even more serious threat in Africa.
Heads of al-Shabaab have repeatedly expressed their intense intentions of attacking U.S. targets in Africa and even on U.S. territory. As early as in 1998, U.S. embassies in Kenya and Tanzania were bombed by terrorists, leaving over 200 dead. Today, a large number of U.S. citizens still live in Kenya, and the United States has its own significant investment in the country.
To some extent, al-Shabaab also threatens global trade. As part of the Horn of Africa, Somalia's geographical location is very important for maritime trade in the Gulf of Aden, which is the only passage between the Mediterranean and the Indian Ocean. The UN has labeled Somali waters as one of the most dangerous waters in the world due to rampant pirates. Many foreign ships have been hijacked by pirates when they passed on waters off the Somali coast. It is speculated that some pirate groups are closely linked to al-Shabaab. Authorized by the UN Security Council in 2008, a multinational naval fleet has been deployed on the waters to escort civilian ships using the route.
Currently, the international community focuses on combating the Islamic State and might overlook terrorist threats in Africa. Therefore, an international effort is needed to enhance coordination and intelligence sharing for counter-terrorism actions globally and improve regional security in Africa to contain the possible spillover of terrorism.
The author is an assistant researcher with the China Institutes of Contemporary International Relations
Copyedited by Kylee McIntyre
Comments to liuyunyun@bjreview.com