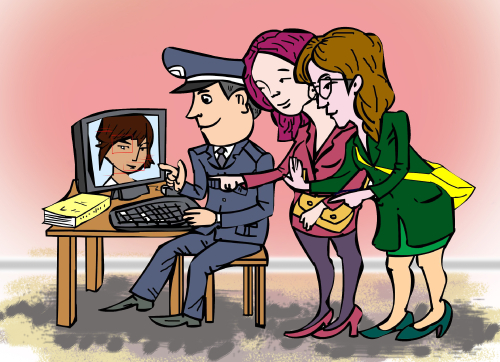 (LI SHIGONG)
Wang Yajun, a security guard at the Central Academy of Drama, one of China's top art institutions, from which many of the country's renowned actors and actresses have sprung, unveiled a book on people's outer appearances in April. The book, which sets out criteria for judging looks, points out that good-looking people tend to acquire more social resources and thus looks can help secure job promotions, wealth and increased social status.
In order to keep the specifics confidential, Wang opted not to publish the book, instead choosing to register the draft at the Copyright Protection Center of China. Wang alleged that he was forced to quit his job shortly after the news broke, saying that this may have had something to do with his new book.
At first, many were taken aback by the fact that a security guard was able to write a book and put forward his own theories. The debate has now moved on to the quality of his arguments. Some believe his ideas contravene mainstream thinking in society, which has long exalted inner beauty, namely high moral standards. He has also been blamed for misleading young people anxious for a taste of success. However, others maintain even a security guard has the freedom to write a book to express his ideas, and his claims are not completely groundless or without merit.
Misleading
Guan Dongke (www.jxntv.cn): Facial appearance influences a person in his or her work and life, to a lesser or greater extent. All other things being equal, a more attractive person tends to get more attention, which opens doors when applying for a job. However, without making the effort and attaining sufficient knowledge, people might find that their appearance can be a burden rather than virtue.
The popularization of the idea of classifying people according to their appearance actually implies the huge influence the eyeball effect wields nowadays. Wang's "appearance accreditation theory" is not a branch of advanced science. He has merely observed overemphasis on people's appearance in society. His conclusion that good looks can win people social favor does not, however, represent the normative outlook on social values. This conclusion may be an unspoken rule in certain professions, but he claims it as a de facto law across the whole of society.
Indeed, good looks are an advantage. Though many movie stars are physically beautiful, even they wish to have cosmetic surgery to bolster their God-given attributes. However, to exaggerate the importance of facial appearance is not good, let alone within the bounds of a so-called theory. This theory is groundless, given that so many among the successful elites range from mildly attractive to plain!
What we now need is not appearance accreditation, but the accreditation of a person's innate character. Apart from appearance, there are many other factors that come into play to decide whether a person emerges as a winner in the game of life, among them personalities, social skills and work ethics.
Bi Wenzhang (www.cnhubei.com): Wang was a security guard in the Central Academy of Drama, which is chockfull of pretty boys and girls. Given his line of work, it is only natural for him to draw conclusions based on people's outer appearance.
However, in daily life, it is important to note that people's wisdom and moral quality are more important than looks on balance. A handsome man will probably have more interview opportunities and will be instantaneously liked by strangers. However, this does not ensure that he will necessarily be more successful in his career as, say, a banker or an engineer (or for that matter, a security guard).
Cheng Zhenwei (www.cnhubei.com): In modern times, the distribution of social resources is based on three major factors: the possession of power, capital and knowledge. If a person's appearance does affect resource distribution, its influence is quite limited. How many of the global elites are influential simply because they are good-looking?
Often causation and correlation are intertwined, and thus deriving a catch-all formula is exceedingly difficult. For example, observe a handsome man who is at the same time successful in his career. From such an example, some may draw the hasty conclusion that good-looking people are more likely to achieve success. However, they might be overlooking some important factors underlying the surface of the situation. This man may have a successful father who was, in turn, more likely to marry a beautiful woman. Thus, the successful young man has inherited good looks from his mother and accrued great wealth from his father. To unlock the secrets of success we must probe deeper, instead of only taking into account superficial factors.
Understandably, many are eager to climb the social ladder and they are filled with anxiety as they fail to discern the real factors underlying success. Some of them think they'll manage to ascend to the top simply by undergoing cosmetic surgery to make themselves look more beautiful. For the younger generation, this is misleading--perhaps even dangerously so.
There might have been a few success stories where people have shot to fame because they made themselves more beautiful, but this is not true in general. Those elites know well what's most important but they seldom speak out. As a result, all kinds of so-called guides to being successful, most focusing on superficial factors, gain traction among the public, particularly within the lower socioeconomic echelons. Wang no doubt possesses canny timing, as many people from these backgrounds are crying out for simplified surefire formulas for success.
Looks do matter
Wu Shuigui (Anhui Business Daily): Outer appearance accreditation may not be accepted by the mainstream in society, but it does somewhat chime with reality. For example, when looking for girlfriends or boyfriends, people tend to choose good-looking significant others. Seldom do people deliberately take as their lover someone who looks like the back end of a horse!
Facial appearance is only part of the many important factors necessary for one to achieve success. Few people would posit that looks alone can decide a person's fate. Even Wang himself would not go so far.
Some are afraid that the appearance accreditation theory will reinforce the wrong values among the younger generation. This is a groundless fear. The theory neither breaches current laws, nor does it go against morality.
Qian Guilin (www.scol.com.cn): Many have expressed surprise at a security guard writing a book postulating a new theory, but anyone has the freedom to write books, as long as the publication is in accordance with the law.
To some extent, we have to admit that in real life, looks do matter. Experiments and studies have demonstrated that people's appearance will to varying extents affect their work, family and love life. Attractive people tend to get what they want more easily. Since the importance of appearance has already been established beyond doubt, why then do we approach the appearance accreditation theory with such hostility?
It would be improper to measure every social phenomenon using a strict moral yardstick and ignore other mindsets. Tolerating schools of thought that go against the grain like the appearance accreditation theory is necessary in an open society.
Wang Yuye (www.jxcn.cn): Whether or not a person is beautiful can be judged from two perspectives: inner and outer beauty. There is little argument on what constitutes inner beauty, which is defined by moral standards. However, when it comes to outer beauty, there exist differences in individual standards. Wang has attempted to create an objective standard for what is beautiful.
Mainstream values hold that inner beauty outweighs external beauty. Wang does not oppose this consensus. Focusing his book on outer beauty does not mean that he outright denies the importance of internal beauty.
Copyedited by Eric Daly