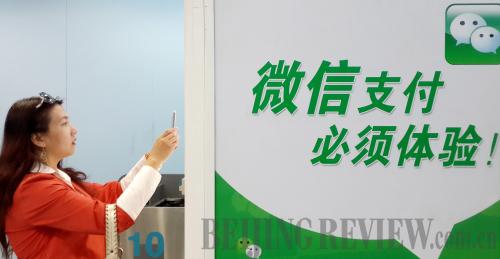 SHOPPING: A Beijing resident makes payment for a drink from a vending machine through WeChat at a Beijing subway station (LI XIN)
Fang Cheng, an office worker in Beijing, is a self-confessed addict of WeChat, a social media platform for smartphones. Today, she not only depends on it to chat with friends, but also to discuss work and make payments.
WeChat was launched for free to users on January 21, 2011, by Tencent Inc., the founder of QQ.com, one of China's largest Internet portals. Through WeChat, users can send text, graphics, voice messages and videos without any cost; beyond that, their service provider charges for data.
In the beginning, WeChat was merely a tool to send and receive messages and share photos, yet over the years it has continued to add more and more functions.
"Shake," "Look Around" and "Drift Bottle" are features that enable users to contact strangers at random.
"With its instant speed, interactivity, and high degree of engagement, WeChat has become an emerging communication channel. It is much more than a tool for chatting," said Fang.
"Whether WeChat is valuable or not depends on what people can use it for, and what services businesses can provide for users through their public accounts," said Shen Yan, Vice President and Chief Strategy Officer of Adsit Media Technology Co. Ltd.
WeChat now has more than 600 million registered users, becoming the most used mobile application in Asia, as reported by Xinhua News Agency. Of the total users, approximately 30 percent are located outside China.
Currently, WeChat is spreading from large cities into third- and fourth-tier cities as well as to rural areas. This has triggered a surge in the number of users.
Users are not limited to individuals either. WeChat public accounts enable organizations to push feeds to subscribers, interact with subscribers and provide them with services. Government, news media and companies have used WeChat as a service and promotion platform.
As of the end of 2014, governments at various levels in China had opened more than 40,000 public accounts, a sharp rise from the number of 3,600 at the end of 2013, according to a white paper on Internet and government WeChat accounts as well as people's livelihood released by Tencent Research Institute on April 22.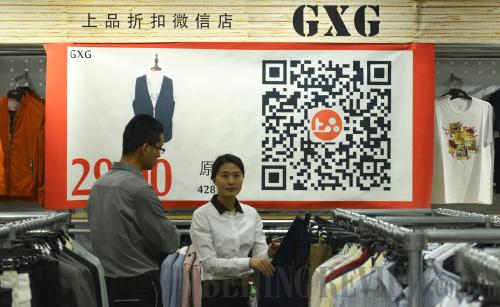 O2O SHOPPING: Customers try on clothes at a GXG fashion store in Hangzhou, Zhejiang Province, on May 4, 2014. They get coupons online and pay through WeChat either in or out of the store (LONG WEI)
Changing lifestyle
Tencent has put out a slogan WeChat is a lifestyle, with which Fang could not agree more.
In recent years, the Lucky Money application launched by Tencent on WeChat has become very popular in China. Distributing red envelopes containing money is part of tradition during the Chinese New Year. Now, through WeChat, relatives and friends can send virtual red envelopes to one another.
During the Chinese New Year celebrations of 2015, 1 million yuan ($16,129) worth of coupons to test-drive Nissan cars were distributed through WeChat. Users could get the coupons by shaking their smartphones while watching the popular Spring Festival Eve Gala of China Central Television on February 18, the Chinese New Year's eve.
Fang, from Beijing, was one of the lucky winners, winning not only a free test-drive but also 88 yuan ($14) of gift money.
She made an appointment with a Nissan dealer, went there, test drove a car, and then received the gift money.
The promotional campaign for Nissan was designed by Adsit Media Technology Co. Ltd., which also provided technical support for the initiative.
Founded in 2006, the company is a strategic partner of Tencent. Its mission is to create a total solution platform for e-commerce. During the 2015 Chinese New Year, the cloud software developed by the company has been used to distribute 378 million coupons, with a total worth of 3 billion yuan ($48.3 million).
To send or receive money on WeChat, a user must link his bank account to WeChat. A large percentage of those people distributing or grabbing red envelopes have linked their accounts to WeChat, as Fang has. Now, Fang usually makes payments with WeChat's mobile wallet feature.
Improving public service
WeChat has not only changed the life of ordinary citizens, but also the operation of the government.
On April 12, Beijing resident Ning Zifang was glad to see the launch of the Smoke-Free Beijing public account. It was 50 days before the implementation of the new tobacco control regulation in Beijing. After June 1, if anyone finds someone smoking in a non-smoking zone, he or she can lodge a complaint through the Smoke-Free Beijing WeChat public account or by dialing the number 12320.
The Smoke-Free Beijing public account features tobacco-control news and actions. In particular, it reminds smokers that smoking is not only banned at indoor public areas, but also the outdoor public areas of kindergartens, primary and middle schools, stadiums, children's hospitals, and work places. It also provides information to help smokers give up smoking.
After subscribing to the public account, Ning reminded her husband not to smoke any more. "Otherwise I will file a complaint against you," she joked.
"The number of government WeChat accounts has skyrocketed," said Zhang Zhian, dean and professor of the School of Communication and Design of Sun Yat-sen University, which is based in south China's Guangdong Province.
The province has more than 6,000 government WeChat public accounts, ranking it first among Chinese provinces and meaning the province accounts for 15 percent of the national total, according to the white paper newly released by Tencent Research Institute.
Zhejiang Province in east China trails closely behind Guangdong with 14.8 percent of the national total, while Jiangsu Province, also in east China, ranked third with about 3,000 WeChat public accounts run by government agencies.
As of the end of 2014, Guangdong had more than 159 government WeChat accounts offering various services such as medical insurance consulting, marriage registration and reporting corruptive cases. This enables the public to handle these affairs with their mobile phones.
Survey showed that in Guangdong, 46 percent of public accounts could respond to netizens' questions immediately or on the same day, according to Zhang.
Hou Zhaoxun, associate counsel of the State Internet Information Office, said that a relevant reward and punishment system should be established to ensure timely responses.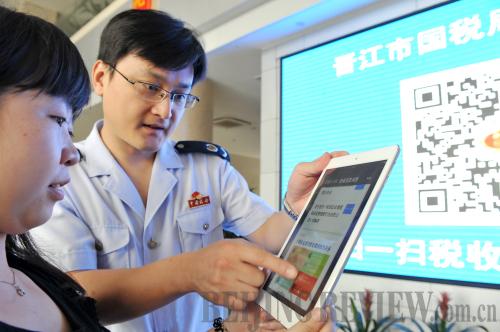 WETAX: Xu Lihui (right), an officer in Jinjiang's State Taxation Bureau helps a company employee access the bureau's public WeChat account, on June 7, 2014 (XU SHANCHUAN)
On August 7, 2014, the State Internet Information Office published the Provisional Regulations for the Development and Management of Instant Messaging Tools and Public Information Services. This circular has been colloquially dubbed as the "10 WeChat Articles." Back then, Peng Bo, Vice Minister of the office, pledged to vigorously promote government WeChat accounts in the next half of the year.
Social media platforms have mushroomed in China in recent years. WeChat is playing catch up with Weibo, a twitter-like microblogging platform offered by Sina.com.
In the end of April 2013, Luohu Court, the first WeChat account of the judicial system, was launched in Shenzhen, Guangdong Province. Through the account, smartphone users can make reservations to file and inquire about a case.
In May 2013, the Ministry of Foreign Affairs of China launched the first WeChat public account run by a government ministry.
Now, government WeChat accounts have become one of the three major channels for promoting the transparency of government work, in addition to the government spokesperson system and government official websites.
The white paper recently issued by Tencent Research Institute made a comprehensive analysis of government WeChat accounts, and found that these accounts have gradually been upgraded from simply releasing news to delivering services.
Nonetheless, the development of government WeChat accounts is uneven across regions, which reflects regional disparity in social economic development, local governments' service capability and attitude, as well as their ability to accept and apply new technology, the white paper revealed.
Among the top 10 provincial-level administrative units in terms of the number of government WeChat accounts, seven are located in east China, while six out of the bottom 10 are situated in west China, the white paper stated.
Provincial-level government agencies are the most proactive in launching WeChat accounts, and they run 84.7 percent of total government WeChat accounts, the white paper showed. Because of their high relevance to people's livelihood, public security and public health agencies are also forerunners in WeChat. Together, they own 36.7 percent of total government WeChat accounts.
At the end of 2014, Tencent's WeChat team began to integrate these government public accounts scattered here and there into one Urban Service interface for easy access. As of this April, the government public accounts of Guangzhou, Shenzhen, Foshan, Wuhan and Shanghai can be assessed through this interface. They cover more than 60 million users and have provided services to more than 11 million people.
Marketing platform
For businesses, WeChat is a new marketing platform. The service provides accounts that businesses can use to broadcast messages to users and engage their fans or followers. Once a user responds, the business can interact with him or her.
Businesses usually attract users by issuing e-coupons and other promotional offers. They can also engage customers by featuring their brands' QR codes in sales materials, and enticing users to scan the codes with discounts, lucky draws or souvenirs.
Distributing Lucky Money to users during the Chinese New Year is a typical marketing strategy for businesses to interact with consumers.
Issuing e-coupons is also a popular way for businesses to engage customers. These e-coupons are particularly viable for the Online to Offline (O2O) sales model. For instance, with the e-coupons they have received online, users can enjoy services in eateries, gyms, cinemas and beauty salons.
After receiving coupons issued by businesses through WeChat, when a user contacts businesses' public accounts, his or her behavior will be tagged so that companies can learn more about users and target them more precisely, said Xue Wenyi, Chief Operating Officer of Adsit Media Technology Co. Ltd.
Such information makes marketing more flexible. "When a user has browsed your online store for half a day without placing an order, that is probably out of concern about price. At this moment, a coupon can pop out of the system based on prior understanding of the user. Won't that convert the user into a buyer?" said Xue.
She gave other marketing examples. "You can have a salesperson hold Bluetooth device and ask users to shake their smartphones, then the coupons of your store can reach these users," she said. Staff members can also distribute coupons in their WeChat Moments, which represents free advertisement, she added.
On August 28, 2014, Tencent released WeChat smart-living solutions for industries in a bid to help traditional industries to transfer their business models onto the WeChat platform.
So far, Tencent's WeChat team has developed standard solutions in more than 10 fields such as healthcare, catering, hotel, transportation, post service, ticket service and scenic spots. WeChat has brought revolutionary changes to many companies.
For instance, a patient and his or her family members can make an appointment for a hospital visit, receive prescriptions and pay medical bills through WeChat. Medical examination results can also be delivered through WeChat.
In Tencent CEO Pony Ma's words, the purpose of Tencent, and WeChat as well, is to connect everything.
"WeChat has become a tool extending human functions, a piece of efficiency-boosting software and an entrance to smart living," said a core member of Tencent's WeChat team, WeChat will meet users' needs and its future will no doubt be full of pleasant surprises and high expectations.
Copyedited by Kieran Pringle
Comments to tangyuankai@bjreview.com