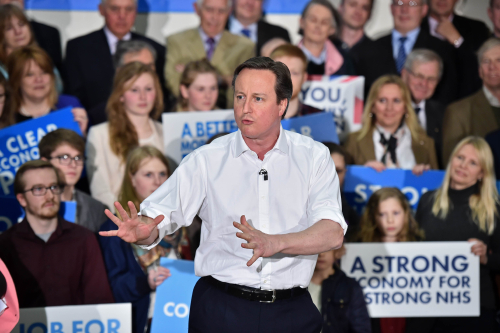 CAMPAIGNING: British Prime Minister and Conservative party leader David Cameron gives a speech at a general election rally at the Corsham School in Chippenham, southwest England, on March 30 (XINHUA/AFP)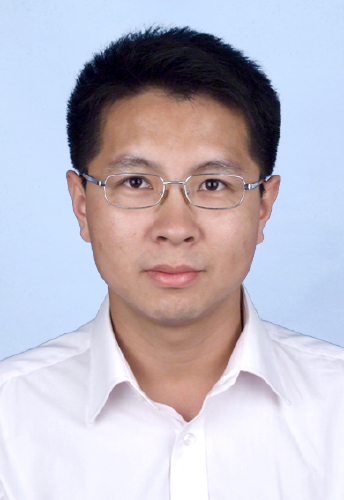 With no one party showing overwhelming odds of winning a majority in it, the British general election in May has been seen by many observers as the hardest one to predict the results of over the past seven decades.
Since the end of World War II, UK politics has generally oscillated between the Labor Party and the Conservatives holding power in parliament.
This pattern persisted until 2010, when the first coalition government to hold the House of Commons in recent history came into being, headed by the Conservative Party under David Cameron, the current Prime Minister. Optimistic observers heralded the change as an interim arrangement that imitated the European multi-party political system, especially since one of the parties in the coalition was the Liberal Democrats, the first time another party had held considerable power. However, the fierce and uncertain climate surrounding the upcoming election hints that coalition governments could become a more common sight for British politics this century.
The latest polls shows that the approval rates of the two traditional parties the Labor and the Conservative are close, hovering somewhere around 30-35 percent. The Liberal Democrats are polling below 10 percent, enough to potentially give them another chance to broker a deal for more power under a coalition.
Concurrently, non-traditional parties continue to see their support grow. Most notably, the approval that the comparatively fringe United Kingdom Independence Party (UKIP) has won with its populist right-wing policies that advocate stricter anti-immigration controls and for the UK to leave the EU--the same policies that won them nearly a third of the UK's seats in the European Parliament, though still too few for any real power. The Scottish Nationalist Party (SNP)--that only just last year lost a referendum on whether or not Scotland should split from the union and become independent--has also seen their support grow, though unsurprisingly only in Scotland. Though neither of these parties is likely to have a decisive role to play in the upcoming election, they are likely to be agitators in the parliament that does form as they bring issues not typically on the agenda to the table with them.
A shifting landscape
Recently, certain factions within the public and even the government have shown an increasing distaste for the UK's relationship with the EU. The political situation surrounding the self-proclaimed Eurosceptic movement--headed primarily by UKIP, though also finding support among some Conservative Party members--has reached a boiling point in recent years, with a number of defections by former and current politicians to UKIP. The most headline-grabbing of the defections happened in August and September last year, when Douglas Carswell and Mark Reckless, two sitting Conservative Members of Parliament (MPs), joined UKIP. Under the British political system, such a change in allegiance forces that politician to step down and compete for his or her seat anew in a by-election, in which all political parties have a chance to put forward a proposed candidate--including the politician's original party, who will appoint a replacement to run against its original candidate. Not only did Carswell and Reckless succeed in being reelected, but both received more votes than they did first time. These two minor victories gave UKIP their first two seats in the House of Commons, though this is a far cry from holding a majority among the 650 seats total in the legislature's lower house.
To pacify his party's own Eurosceptics--hopefully keeping them loyal in the process--and to compete for votes from UKIP, Prime Minister Cameron promised to hold a referendum on EU membership before the end of the 2017 if his party wins the upcoming election. The referendum will no doubt bring uncertainty to the British market, disturbing the country's business order and bringing instability to London's status as an international financial hub. Predictably, business circles both within the United Kingdom and of foreign investors with interests in the country have expressed concerns.
The election also brings much uncertainty to the country's other domestic policies such as its infrastructure construction projects. Chinese enterprises have shown a large amount of interest in Britain's infrastructure projects, though most of these have remained on paper so far. For example, the huge High Speed 2 project--which plans to first connect London to Birmingham then expand northward, potentially all the way to Scotland's central belt--has become mired in controversy.
Although phase one of the project has been already approved by the parliament, an environmental impact assessment must be carried out and construction may not begin till 2018 at the earliest. Phase two is yet to be approved, while phase three--which would extend the line up to Edinburgh and Glasgow--is still little more than conjecture. It seems that the answer can only be given when the new government is formed.
Sino-UK relations
Though the exact outcome is hard to predict, there are only two possible prime ministers--Conservative Party leader Cameron or Labor Party leader Ed Miliband. Their policies toward emerging powers are nearly the same, and their main differences focus on their domestic economic and social policies. Therefore, it should be certain that no matter who serves as the next prime minister, strengthening ties with China will continue to be one of the priorities of the UK's foreign policy.
Cooperation between China and the UK has a solid foundation. In 2004, the two countries established a comprehensive strategic partnership. The UK and China: A Framework for Engagement, which was released by the UK Government in early 2009, defined China as a significant priority in the country's future diplomatic work. When Cameron took office in 2010, he attached new importance to economic cooperation with China. Bilateral cooperation has seen continuous progress in fields of trade, investment, finance and nuclear power. In addition to their complementary economic interests, the two countries also maintained close communication and cooperation over issues like trade liberalization, aid to Africa, the Iranian nuclear program, public health and other global issues. Despite relations being impacted by the Dalai Lama's visit to the UK and comments over Hong Kong's elections, it returned to being cordial shortly thereafter.
It is worth mentioning that bilateral cooperation mechanisms such as an annual prime minister-level meeting, high-level strategic dialogue, economic and financial discussions, as well as a variety of people-to-people and cultural exchange programs have all provided institutional guarantees for relations to develop well.
All political parties of the UK seek to develop sound relations with China. Both Conservative and Labor parties see China's development as a huge opportunity instead of a threat. Holding firmly that national interests come first, both parties focus on the country's own economic development by framing China's development and growth as on opportunity.
Former Prime Minister Gordon Brown said in 2008 that relations between China and the UK will serve as a source of prosperity for the UK. When delivering a public speech at China's Peking University in 2010, Cameron said that China's rise is not a threat for other countries but an opportunity. Many British politicians also looked toward China's transformation of its growth model as a chance to vigorously encourage the UK's financial and healthcare services to enter the Chinese market.
China also places importance on Britain's unique advantages and seeks to actively develop bilateral cooperation. Britain has advantages in the technology and the financial sectors, and insists on free trade, thus their cooperation can serve as model for cooperation between China and other Western nations. Cameron also declared to make his country "China's strongest advocate in the West." Britain became the first within the G7 countries to sign a bilateral currency swap agreement, and the first Western country to issue treasury bonds denominated in the Chinese currency, the yuan. The UK is also the first European country that announced joining the China-led Asian Infrastructure Investment Bank.
During his visit to Britain in June 2014, Chinese Premier Li Keqiang proposed a cooperation model to combine British innovation with the Chinese market. The Silk Road Economic Belt and the 21st-Century Maritime Silk Road Initiative proposed by China provides a new historical opportunity for the two countries' cooperation. China has huge foreign exchange reserves and competitive equipment manufacturing, while Britain has well-developed financial system and advanced management experience in international organizations. These complementary advantages mean more opportunities for cooperation between the two sides. Their bilateral cooperation are not only mutually beneficial but can also contribute to global governance, if both sides take the opportunity to increase investment in infrastructure and advance the interconnectivity in the Eurasian region.
Surely, when considering relations with China, British decision-makers cannot avoid the impact of domestic politics. No matter which party comes out on top in the forthcoming election, Conservative or Labor, support from small parties will play a critical role. Therefore, the British Government's domestic and foreign policies will be affected by small parties in a certain extent. Relations with China may become bumpy over issues involving human rights and Hong Kong. British left-wing populist parties will present a barrier for China and Britain when cooperating on large infrastructure projects, due to their traditional opposition to these projects on environmental grounds.
Copyedited by Kieran Pringle