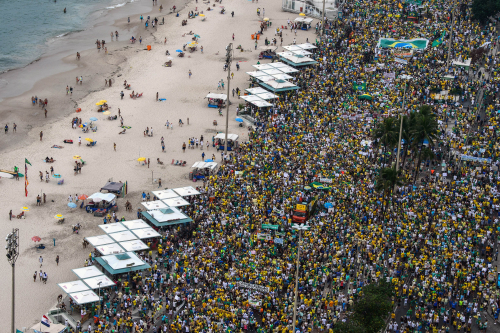 DISSATISFIED: Thousands of demonstrators wearing Brazil's national colors rally to protest against Brazilian President Dilma Rousseff who is facing a complex economic panorama in Copacabana Beach, Rio de Janeiro, on March 15 (XINHUA/AFP)
In recent years, the political and socioeconomic outlook for Brazil--a country so long associated with sun, sand, samba, prodigious ability in football and the vivacious spectacle of its annual Carnival festivities--has begun to look decidedly gloomy.
The populist Dilma Vana Rousseff, the country's first female president, was recently re-elected thanks to support from Brazil's lower socioeconomic echelons who benefited from her welfare programs. However, her public image is fast losing luster amid a corruption scandal involving the country's largest state-run oil company.
From bad to worse
Months into her second term, the issue has continued to dog Rousseff. In 2011, the newly elected president held Petrobras up as an example of how Brazil's oil companies would not fall prey to the corruption endemic in other oil-producing countries.
Then in 2014, a police investigation codenamed Operation Car Wash disastrously uncovered perhaps the largest case involving official bribery in Brazil's history. The company lost billions of dollars in value and Rousseff was forced to eat her words. In the run-up to the 2014 election, she was constantly slammed by her contender over the scandal.
Furthermore, the debt owed by the company--identified as the world's most indebted in a 2013 Merrill Lynch report published before the scandal's outbreak--has increased over the past two years with its situation deteriorating further owing to decline in the BRL/USD exchange rate.
In the scandal's fallout, the company has been downgraded by international rating agencies owing to its skyrocketing debt, making it more difficult to raise funds globally. The findings later this year of the independent tribunal investigating this case will therefore prove vital. Should the officials accused be deemed guilty, the ruling Workers' Party will be placed in even worse standing.
An unholy trinity
The Petrobras case can be seen as a microcosm of Brazil's no-less turbulent economic situation. "Stagflation," a term first coined by Nobel Prize-winning economist Milton Friedman to describe a situation where inflation counter-intuitively rises despite slow growth, is rampant in South America's largest economy. This was the issue that Rousseff originally ran on, and its nagging persistence together with the Petrobras scandal has seen people take to the streets countrywide in anti-government demonstrations. Aside from that, two other threats loom for Brazil's economy--twin deficits and the aforementioned depreciation of Brazil's currency, the real.
Growth-wise, the country has seen figures that lend credence to economics' reputation as "the dismal science." Statistics from the United Nations Economic Commission for Latin America and the Caribbean (CEPAL) Almanac indicate that Brazil's annual growth rate has been schizophrenic in nature, falling from a reasonable 2.7 percent in 2011 to 1 percent in 2012, before rebounding back to 2.5 percent in 2013.
After this encouraging comeback, the economy tanked last year with a distressingly low 0.1-percent growth rate, according to figures from the Brazilian Institute of Geography and Statistics. To make matters even worse, the corresponding inflation rate was 6.41 percent. The Central Bank of Brazil estimates that this year the economy will contract by 0.5 percent, while its runaway inflation will hit 7.8 percent, exceeding its 6.5-percent cap. If this continues, domestic consumption will inevitably be impeded.
In terms of foreign trade, the outlook is no less bleak. In 2014, the country was rocked by its first trade deficit since the year 2000. The London-based Economist Intelligence Unit (EIU) estimates the share of Brazil's current account deficit in GDP terms as 4.2 percent for 2014 and 4.3 percent for 2015, indicating that gap between goods and services imported and exported is fast widening.
It also appears the country is living slightly beyond its means: CEPAL estimates that Brazil's fiscal deficit in 2014 was 4.4 percent of GDP, up 1.5 percentage points from 2013. This means Brazil possesses twin deficits: one fiscal and the other in foreign trade. This not only puts pressure on debt management and balance of international payments, but also weakens investors' faith in the country.
Depreciation of the Brazilian real posits the third major threat, as the currency's value having plummeted since the beginning of 2015. In the first quarter, the currency hemorrhaged almost 20 percent of its value, which has fallen nearly 50 percent in total since only last June. Increasing depreciation will spur faster capital outflow and have a huge impact both on domestic financial markets and the real economy.
To extricate the country from its present mire, the government has attempted to tighten things fiscally and monetarily through increasing taxes, slashing spending and raising interest rates. However, this raft of measures has failed to achieve the desired results thus far. Dwindling international support, in addition to the economic factors cited have all conspired to trap Brazil in a policy dilemma. In the long run, there is perhaps only one feasible solution to reversing the country's fortunes: a package of reforms that address systemic contradictions existent in Brazil's governance and economy.
An unfavorable climate?
As well as addressing internal strife, Brazil's economic future depends on external factors such as changes in global macroeconomic policy, with that of the United States being especially relevant, and shifts in international commodity prices.
In the present international environment, two difficulties exist. Firstly, differentiation in growth between developed economies makes it tricky to coordinate global macroeconomic policy. Given the strengthening dollar and the fact that the United States looks set to enter its next rate hike cycle by yearend, the real will face persistent downward pressure. Thus, the regulator will have to decide whether coping with the aforementioned or increasing interest rates to contain capital outflow constitutes the more significant priority.
Secondly, continuously falling prices in energy and raw materials will undoubtedly hamper export-oriented emerging market economies. As a major exporter of soybeans, iron ore and oil, Brazil would be among those hit first and hardest by this trend and will face repeated annual current account deficits.
It is important to note, however, that not all recent international developments run against Brazil's interests. Indeed, the answer to many of Brazil's woes may lie in seeking closer trade ties with Asia and participating more in the region's value and industrial chains.
In July 2014, the BRICS countries--Brazil, Russia, India, China and South Africa--agreed to establish a BRICS Development Bank and a contingency reserve arrangement. In January, the first ministerial meeting of the Forum of China and the Community of Latin American and Caribbean States was held in Beijing. In March, Brazil applied to join the China-proposed Asia Infrastructure Investment Bank.
All of these measures demonstrate the country's willingness to enhance cooperation with Asia to boost growth. Regional integration measures, especially those pertaining to trade, infrastructure and finance, could unleash latent demand.
Closer to home
Examination of the supply-and-demand structure in Brazil reveals three distinct problem areas to be addressed for the country to switch growth models. Firstly, investment share relative to internal demand is too low. Consumption is important, but for it to serve as a main growth driver, residential income must be increased, and for that to happen, so too must labor productivity. Otherwise, when savings run out, the government will have to borrow money to stimulate consumption, thus potentially triggering another crisis. Therefore, it is necessary to increase the share and efficiency of investment.
Second, with regard to external demand, Brazil is overly reliant on the specialized manufacture and export of raw materials, leaving them vulnerable to cyclical fluctuations. Since 2007, the country has regressed back to exporting primary goods, a specialization inimical to technological advancement. De-industrialization has inevitably followed. Issues such as promoting a more diversified export portfolio, increasing the competitiveness of non-traditional exports, and leveraging the role of external demand in driving growth are now paramount.
Third, the neglect of agriculture and over-reliance on industry have frustrated industrial upgrading, resulting in a shrinking manufacturing sector. The 1973 oil crisis interrupted growth and strangled efforts toward an export-oriented economy. Since the Latin American debt crisis in the 1980s, the effects of de-industrialization have reverberated to the present: The manufacturing sector is still in recession, and contributing factors such as a heavy tax, poor infrastructure and high labor costs have remained unchanged.
For some small Latin American nations, an economy focused on a single sector may work. But for a large one like Brazil, a complete industrial system and an internationally competitive manufacturing industry are developmental prerequisites. As Brazil shifts its gaze to industry policy-wise, a reindustrialization strategy will doubtlessly create new growth engines. With structural reforms--and a measure of luck--it need not be all doom and gloom for this South American powerhouse.
The author is secretary general of the Brazilian Research Center under the Institute of Latin American Studies, Chinese Academy of Social Sciences
Copyedited by Eric Daly