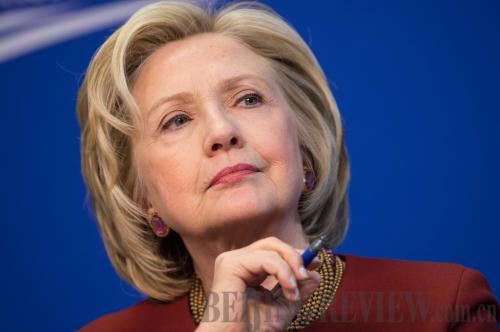 IRON LADY: Hillary Clinton listens carefully at a seminar in Washington D.C. on March 23 (XINHUA/AFP)
As U.S. presidential campaigns prepare to kick into high gear over the coming 19 months, a number of candidates are emerging into the spotlight.
Among those who have declared their bids for the White House, Hillary Clinton, the only female presidential candidate, has shaken up the voting pool. She has inhabited many notable roles, including former First Lady, New York senator and U.S. secretary of state. This is Clinton's second bid for president--she was defeated by her rival Barack Obama in a race for the Democratic Party nomination in 2008.
Clinton announced her run for the 2016 Democratic presidential nomination during an online video released on Facebook on April 12.
"I'm running for the president," Clinton said in the two-minute-long video, adding that "Everyday Americans need a champion, and I want to be that champion."
Clinton has her advantages and enjoys considerable support among swathes of voters. Participating in U.S. politics in different capacities has also given her a multitude of relevant experience.
According to Yu Wanli, research fellow of American studies at the Chinese non-governmental foreign relations think tank The Charhar Institute, however, recent scandals have forced Clinton to announce her run at such an early stage.
Clinton began her run wounded by the recent congressional investigation into her role in the deaths of the U.S. ambassador to Libya and three aides in Benghazi in 2012. The revelation that she used a private server throughout her tenure as U.S. Secretary of State has further crippled her support rate.
"Beginning a presidential campaign by way of a social network is a move that appeals to young voters and average people," said Diao Daming, assistant researcher of Institute of American Studies under the Chinese Academy of Social Sciences.
In Diao's opinion, Clinton's age leaves her wide open to attack from the Republican Party. At 67, Clinton is older than her potential Republican rivals. Jeb Bush, believed to be the frontrunner from the rival party, is 62, and his fellow Republican contenders, Rand Paul, Ted Cruz and Marco Rubio are at least 10 years his junior. One may remember that age played a significant role in the 2008 presidential election, when previous Republican candidate John McCain came under fire for his age.
Republicans are also likely to target Clinton for aligning herself with the weaknesses of the Obama administration while positioning themselves as a new force that will lead the American people into the future, Diao said.
Perhaps for the purpose of appealing to both conservative and liberal voters, Clinton's dress in the video combined shades of red and blue--the former being symbolic of the Republican Party, while the latter associated with the Democratic. According to Yu, this decision expresses Clinton's moderate central left political leaning and a desire for bipartisanship in the United States.
Though such a stance benefits Clinton owing to its intended mass appeal, it risks neglecting voters in both parties--particularly, her own.
Yu said that some domestic policies adopted by Obama, including large-scale quantitative easing and healthcare reform, are liberal causes, which Republicans, who currently hold the majority in the U.S. Congress, have fought hard against.
Under such circumstances, Clinton's moderate central approach might not be welcome in the presidential campaign, Yu said.
As the only Democratic candidate, Clinton, with her rich experience and high profile, sits in a position that no other potential Democratic candidates can challenge, Diao said.
However, no rival in the party does not necessarily mean good news, Diao said. Since the field of potential candidates is greater, a very public competition for the Republican nomination is likely to ensue and will likely pull media attention away from Clinton.
"Anyway, the election is still a year and a half away. It is too early to predict who has the overall advantage in the battle for the oval office," Yu said.
Copyedited by Kylee McIntyre
Comments to baishi@bjreview.com