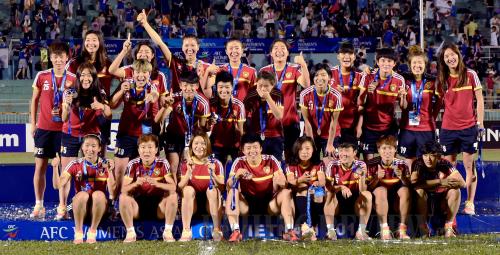 GO, GIRLS! Players of the Chinese Women's Football Team pose for a group photo after winning third place at the Asian Cup in Viet Nam on May 25, 2014 (XINHUA)
China may have the world's largest number of football fans, but the number of professional football players is tiny in comparison. A report by China Youth Daily said that the entire country has less than 30,000 registered teenage football players, while the number in Tokyo alone is more than 60,000.
"Success in football is directly correlated with the population of regular players," said Wang Jianlin, Chairman of Dalian Wanda Group, the owner of a former Chinese top-flight football club. "Maybe one out of every 10 kids involved in football has the caliber to become a professional player."
According to the reform plan, the total number of elementary and middle schools featuring football will increase from the current figure of around 5,000 to 20,000 in 2020 and 50,000 in 2025, with the goal of cultivating more than 100,000 youth players.
In fact, some local governments are already competing with one another to make their own ambitious plans for the development of football.
For example, central China's Hubei Province reportedly plans to establish 550 to 650 football schools in the next three years, while Beijing could build up to 200 such schools. East China's Jiangsu Province, even more ambitiously, plans to establish 1,000 such schools in five years.
On March 10, education authorities in Shanghai announced the launch of a new program to boost the popularity of football in schools.
The aim of the "campus football" initiative is to boost interest in the game among primary and high school students, while also building the necessary infrastructure to support its development, the Shanghai Education Commission revealed.
As well as nurturing talent, the program, which will run across 1,500 schools, will offer sports teachers and would-be referees the opportunity to go on professional coaching courses, and also provide encouragement for fan clubs and cheerleading squads.
"Applying more professional techniques and practices is bound to encourage more people to get involved in football," said Shao Bin, a physical education teacher at the No.2 Penglai Road Primary School in the city's Huangpu District.
Still, the lack of adequate football coaches and facilities is hampering the game's development on campuses, which require more support from the CFA, suggested Li Chunman, an Asian Football Confederation-licensed football lecturer.
"The CFA shouldn't be hands off. Instead, it should offer technical training to physical education teachers to guarantee that students are coached in the best way possible," Li said.
To that effect, a national program plans to train 6,000 school football coaches with help from the CFA by the end of 2015.
Meanwhile, a four-tier campus league system initiated by the Ministry of Education, which includes a broad range of ages from primary schools to colleges nationwide, will kick off its inaugural season this autumn to replace previous competitions organized by the CFA and regional sports bureaus to engage more children, said Wang Dengfeng, Director of the ministry's Physical Education, Health and Art Department.
Football courses have been added to primary and secondary schools' mandatory physical education programs in pilot areas such as Beijing and Jiangsu under a revised curriculum.
Students' football level as a specialty will be counted as part of their overall performance assessment and become an important reference in college admission, Wang Dengfeng said.
According to a regulation published by the Beijing Commission of Education last year, football skills will be included in the physical education test for senior high school entrance exams from 2016 in Beijing.
Han Zheng, a physical education teacher from the Middle School Attached to the Beijing University of Petroleum, was impressed by the curriculum's appeal to students.
"The core philosophy of the curriculum and the biggest advantage it has compared to other courses is that it aims to keep children on the field by getting them to enjoy themselves, not grueling workouts," he said.
"The plan is great for children to take part in the sport and give their parents confidence. The future of the sport will get better each day," said Sun Ke, a player with the Chinese National Football Team.
Japan-based Sankei Shimbun even cited a British poll to say 7,000 stars like Lionel Messi could emerge across China if the reform was properly implemented.
"The development of Chinese football must be a long process," said Cai with the CFA. "As the plan said, we should make efforts to let more people take to the sport and let the culture of football take root among the people."
In the plan, all organizations, from schools to corporations, are encouraged to set up their own football teams and to stage amateur games. A sports lottery will be used to increase investment in boosting football, and two more football training centers at the national level will be established, the plan said.
Major Goals of the Reform Plan
- Establishing an independent league council consisting of club owners and a Chinese Football Association representative to operate and manage all professional leagues outside the administration of state sports body
- Investing more in training; reward mechanisms, logistical support and medical rehabilitation for the national team; as well as building two more national training bases
- Increasing the number of football-specialty schools 10-fold from 5,000 to 50,000 by 2025 and building a four-tier school league system channeling primary schools to colleges
- Incorporating the construction of new football pitches into urban planning and making policies to support commercial football facilities in serving the public for free or at a low cost
- Hosting the FIFA World Cup in the future
(Source: Chinese Football Association)
Copyedited by Kieran Pringle
Comments to yinpumin@bjreview.com