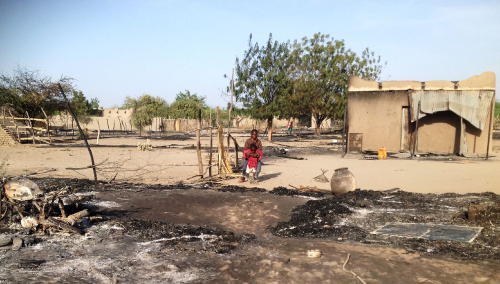 TERROR AND DEVASTATION: The border of Chad is attacked by Boko Haram militants on February 13 (XINHUA/AFP)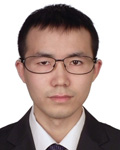 Nigeria's fearsome militant Islamist group Boko Haram has entrenched itself in northeastern states of the country for years and is now considered to be the most serious security threat to the region.
The extremist group has carried out bloody massacres of civilians and numerous attacks against military targets in Nigeria and its neighboring countries. In response, Nigeria and four other West African nations--including Cameroon, Niger, Chad and Benin--announced the launch of a joint military operation against the Islamist group on February 7.
The multinational team of 8,700 combat troops from the five abovementioned countries has gained consecutive victories since the fight against Boko Haram began. Nigeria's security forces announced on March 27 that Boko Haram's largest urban base Maiduguri in northeastern Nigeria had been recovered after a fierce battle.
Reeling from the strong offensive, remnants of the Islamic organization have retreated into hiding and will likely resume their typical guerilla war tactics. If so, eliminating terrorist targets will become even more difficult. Moreover, Boko Haram's head Abubakar Shekau pledged allegiance to ISIS in a video clip posted on Twitter on March 7. The head of ISIS Abu al-Baghdadi made a prompt response and accepted the support of the West African jihadist group.
Boko Haram and ISIS share similarities as both are Islamic jihadist groups with notorious reputations for carrying out terror attacks and brutal atrocities. They have each declared a caliphate in the areas under their respective control. But why has Boko Haram switched its allegiance from al Qaeda to the newly emerged ISIS? Can the two terror groups really join forces, or is Shekau's statement a mere publicity stunt?
Possible motives
Boko Haram could simply be seeking financial support from ISIS as the latter's influence continues to expand in Syria and Iraq. Apparently, ISIS has taken over al Qaeda's spot as the highest-profile extremist group in the world. Abu al-Baghdadi often encourages all jihadists to travel to the Middle East and fight for the ISIS cause.
In its early years, Boko Haram was financially supported by al Qaeda and held close ties with other African al Qaeda branches such as the Somali Youth Party. Militants of Boko Haram received training from al Qaeda in addition to launching attacks and smuggling weapons in coordination with the worldwide terrorist network. However, the rise of ISIS in the Middle East soon caught the attention of Boko Haram, with Shekau expressing his support of the organization last July. The Boko Haram leader then began introducing ISIS-inspired methods into his group. Meanwhile, as ISIS expands its influence in Central Asia and North Africa, it has become a more attractive option for would-be jihadists than al Qaeda.
In view of rampant atrocities by Boko Haram, the African Union decided at a summit meeting in January to build a multinational force to take on the extremism group. Their unprecedentedly strong military strikes that followed have greatly weakened the strength of Boko Haram, prompting the West African extremists to abandon urban bases that it controlled and retreat into the jungles of border areas, where they have urgently called for support from ISIS. The Nigerian Government, in order to better coordinate with the military operation, delayed its presidential election until the end of March.
ISIS now has an opportunity to open a front in Africa with the help of Boko Haram. Abu al-Baghdadi has also called on more Africans to join the cause of radical Islam.
A growing threat
Boko Haram poses a dangerous threat not only to Nigeria but to neighboring countries as well. This terrorist group has conducted a wide range of crimes including abductions, assassinations and suicide bombings since it was founded in 2002.
The jihadist group made a particularly provocative move last April when it kidnapped 276 school girls in northern Nigeria, causing outrage across the world. Most of the girls are still believed to be held captive. Additionally, at least 13,000 people have been killed in repeated massacres at the hands of Boko Haram.
Boko Haram harbors apparent ambitions to build a cross-border terrorist network in Africa. Its base in Nigeria is located near the borders of Cameroon, Niger and Chad, providing ideal conditions for smuggling weapons and drugs and for transporting militants into or out of neighboring countries. Cameroon's security forces have found several secret fortified compounds near borderlines. Boko Haram even kidnapped the wife of Cameroon's Vice Prime Minister Amadou Ali last July as retaliation for the country joining international efforts to combat the militants.
By enhancing connections with ISIS, Shekau is likely to imitate the strategy ISIS takes in the Middle East. If so, their resulting alliance will dramatically increase the terror threat in the region. For example, Boko Haram may bolster efforts to recruit more jihadists to join the ranks of its current crop of nearly 10,000 militants.
Religious conflicts are almost certain to intensify in Nigeria. The population of the country is nearly equally divided between Christians and Muslims. Boko Haram often uses religious conflict to worsen Nigeria's domestic problems. Furthermore, ISIS has unrivaled experience among jihadist groups in conducting cross-border combat operations, and could train the African jihadists to stage more cross-border crimes and attacks in retaliation against multinational forces' offenses.
International efforts
The U.S. Government officially designated Boko Haram as a terrorist organization in 2013. While the African extremist group first focused on opposing Western education, it has since sought to forbid anything not conforming to Islam and threatened to eliminate all non-believers. To this end, they aim to overthrow the Nigerian Government through radical measures.
The United States views Nigeria as an important partner and has long attempted to facilitate the democratization process of the African nation since the end of its military rule in 1999. The United States had wished to use Nigeria as a positive example to be promoted across the rest of Africa, but if Boko Haram succeeds in causing Nigeria to descend into chaos, then the U.S. experiment in exporting democracy to Africa will suffer severe damage.
In face of rampant attacks by Boko Haram, U.S. Secretary of State John Kerry expressed support for combating the terrorist group in late January. The United States has provided support to Chad in the form of military intelligence, equipment and training. In February, French Foreign Minister Laurent Fabius made a series of visits to Chad, Cameroon and Niger to discuss with local governments on how to coordinate international efforts to combat the jihadist group, during which he extended France's offer of necessary aid in the intelligence and technology fields.
But the United States and its European allies are unlikely to deploy ground troops to the battlefield, as U.S. counterterrorism policy is currently spread thin across the Middle East--even as the United States begins withdrawing troops from Afghanistan. Africa at the moment is nowhere near the top of U.S. national interests. Thus, rather than a full commitment, it appears more likely that the United States will limit its efforts in the fight against African terrorism to the drone program and other forms of aid.
The author is an assistant researcher with the China Institutes of Contemporary International Relations