VICTORY CELEBRATION: Confetti falls in front of a poster of reelected Israeli Prime Minister Benjamin Netanyahu as supporters take part in early celebrations while awaiting the first official results on March 17 in Tel Aviv (XINHUA/AFP)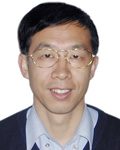 For the newly reelected Israeli Prime Minister Benjamin Netanyahu, it may appear that challenging conditions both at home and abroad will prevent the veteran leader from fulfilling his agenda. However, the leader may manage to surprise critics and successfully lead the country through difficult times ahead with his many years of experience.
The Likud Party led by Netanyahu won big in the country's latest general election on March 17, making it the largest fraction in Knesset with the task of forming the next government. In taking the first step of forming a new coalition government from a variety of parties, I believe that it is highly likely that a strong right-wing administration will result.
Israel's election law and party system state that a party must earn more than half of the 120 Knesset seats in order to form its own cabinet. Since Likud only won 30 seats, it is required to form a coalition government with another party. Of the 10 parties that won seats, five belong to the right-wing camp, taking 57 seats; four are left-wing, with 53 seats; and the remaining Kulanu Party, a split-off from Likud, represents 10 seats. Thus, Likud will likely choose a moderate party to form a new right-wing government, making it the first of the last three administrations to exclude a left-wing presence. Such an administration would be ideal for Likud, which was frequently impeded by opposition parties. With that obstacle removed, Netanyahu will have an easier time pushing his bold political agenda.
The second task for Netanyahu is to address domestic issues.
Netanyahu has developed a reputation among Israelis as a hardliner, especially in the foreign policy arena. As for domestic issues, his major opponents are from the center-left Zionist Union, a party newly established at the end of 2014 by Labor Party leader Isaac Herzog and Hatnuah leader Tzipi Livni.
The newcomer seized upon domestic political issues and accused Netanyahu of little achievement in improving people's livelihood or recovering the Israeli economy during his term in office. The approach worked for a while, and the Zionist Union commanded a solid early lead in the polling. But at the last minute, Netanyahu drew Israelis' attention back to the security front, which as always, lies at the very heart of the country's strategic concerns.
When it comes to national priorities, the Israelis have historically chosen security concerns over those related to socioeconomic issues. That sentiment prevailed only during the election period, after which the Israelis will shift their attention back to social and economic issues and put pressure on the new government. Thus, even with Netanyahu's reelection, the parties that find themselves out of power are bound to continue twisting the government's aim regarding those issues.
Beleaguered relations
Besides domestic issues, the relationship with the United States is still a major diplomatic concern for the reelected Israeli prime minister. Managing relations with the superpower proved to be the biggest challenge during Netanyahu's most recent term in office since 2009.
From Israel's point of view, its position in U.S. Middle East strategic policy has declined ever since Obama took office in 2009. The United States puts consistent pressure on Israel to solve the Palestine issue, urging a return to the negotiating table. It is worried that Israel will stir up trouble over the Iranian nuclear issue and sabotage its attempts to resolve the crisis. Israel has long stood against the international community's efforts to negotiate with Iran, believing that any compromise will only allow Iran to eventually develop nuclear weapons. Going so far as to interfere with U.S. party politics, Israel asked the Republicans to exert pressure on Democrats. In early March, Netanyahu accepted the invitation of Speaker of the U.S. House of Representatives John Boehner and gave a speech to the U.S. Congress, in which the Israeli prime minister strongly called on the Congress to prevent a U.S.-Iran nuclear deal. In response, 47 Republican Senators warned in a public letter to Iran's leader on March 9 that any deal with President Obama would expire as soon as he left office. The Obama administration and Democrats snubbed Netanyahu during his visit, and major officials declined to meet with him, but the damage was done.
While Netanyahu refuses to compromise on the Iran nuclear issue--even at the risk of creating difficulties with the United States--he understands the importance of Israel's relationship with the world's sole superpower as a means to ensure protection. In his new term, Israeli relations with the United States will continue to play a decisive role--perhaps not forming a perfect relationship, but one that can be repaired.
The Palestinian problem
Finally, restarting negotiations with the Palestinians poses a test of Netanyahu's political wisdom. His new cabinet is likely to be purely right-winged with a hardline stance on the Palestine issue. Netanyahu's right-wing government intends to signal to domestic Israelis that only with him as the leader can Israel ensure its security interests, upon which any dialogue with the Palestinians is a precondition.
Not long after the election, the Israel Defense Forces conducted a military drill near the Gaza Strip, sending a clear message--especially to Hamas, which is currently in control of the area--that Israel will react forcefully to any attempted attack that threatens Israel's national security. In the past five years, Israel conducted two military actions in the Gaza Strip to hamper Hamas' military strength, and it vowed to take revenge if the latter were to stir up trouble in the future.
In a rare signal of reconciliation, Netanyahu recently clarified his views toward the establishment of a Palestinian state. The attitude was an apparent reversal of that expressed during the election campaign, when he repeatedly announced his disavowal of any Palestinian state. Crafty politician that he is, Netanyahu said what it took to win--and now, the key is to remain adaptable to political developments.
In the current Middle Eastern environment, the talks between Israel and Palestine comprise one of the most urgent issues, dominating the agenda of major powers and regional countries along with the Iran nuclear issue and the Islamic State extremism. Therefore, any new moves by Netanyahu and his administration on Palestinian negotiations will draw widespread attention from the international community. A surprise move by Netanyahu cannot be ruled out, whether it aims to attract attention or simply to show that he and his administration alone can push ahead the talks and make the kind of peace that all parties need.
Even though the election has concluded, the wrestling match between Israeli political forces has not. A domestic coalition of center-right and right-wing forces will be further strengthened under Netanyahu--a leader who can best be described as "conservative" and "stiff," as evidenced by his past handling of domestic issues and increasingly complex regional circumstances. And on the cusp of his fourth term as prime minister, he has no time to lose if he is determined to leave political achievements worthy of being written into history.
The author is an associate researcher at Institute of West-Asian and African Studies, Chinese Academy of Social Sciences