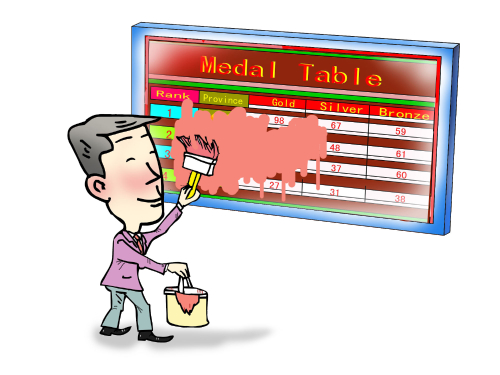 (LI SHIGONG)
On January 26, it was announced on the website of the General Administration of Sport of China (GAS), the country's top sporting authority, that it would no longer rank provincial teams by the number of medals earned at the National Games, the country's largest domestic sports event, nor would it any longer reward indirect contributors such as local sports officials or supporting crews for medal victories at the Olympic Games or Asian Games. The administration vowed to drop the gold-is-everything mentality in what was termed a "rectification report." This happened after a discipline inspection group affiliated to the CPC Central Commission for Discipline Inspection had finished its investigation into the administration as part of a national anti-corruption campaign, pointing out that the administration put too much emphasis on gold medals and this overemphasis has distorted the spirit of sporting activities.
Four days later, the GAS released a document on its website saying that a ranking of the number of medals by province will be published at the 13th National Games in 2017, inconsistent with its previous announcement. The GAS, however, apologized on February 6, asserting that the January 30 document was published without strict scrutiny and this had been done in error.
The furor surrounding this move seems to have died down in the public sphere, but it has nonetheless triggered a round of heated debates on the controversial topic of the fixation exhibited by Chinese sports authorities and athletes concerning gold medals and rankings. Medals may undoubtedly motivate athletes to train hard. But they also create incentives for carrying out illicit practices such as match fixing and the use of performance-enhancing drugs, given that the potential rewards for winning at the Olympics or National Games are so great.
A significant decision
Chun Hua (Guangzhou Daily): It would mean a lot to China if the GAS were to do away with the medal rankings of the National Games. To China's sports authorities at various levels, the significance of medal rankings goes beyond the sporting arena. For government officials, gold medals are something they can refer to as part of their achievements in the process of governance. As for the athletes, gold medals simply mean securing a viable income. As a result, for the pursuit of gold medals, scandals involving manipulation and fraudulent practices are frequently uncovered.
When the raison d'etre of sports is to accrue medals, and everyone concentrates on this objective, forgetting the real meaning of the venture and how it is supposed to work for the good of society, this cause can benefit only a small number of people. The Chinese Government has in recent years promoted national fitness as a national strategy. Making sure that this strategy is put into practice and that special funds for this national fitness program are not embezzled for other purposes is becoming an increasingly urgent task.
Zhang Yan (www.gmw.cn): Competitive sports are a huge market, so in China, we need to allow the market to play a greater role in how the sports industry develops. The state-run sports system, under which gold medals come first, has encroached upon the space in which the sports industry can develop freely and fully.
The time has come to downplay the significance of gold medals and to reform the state-run system, so that the market can play a bigger role. This does not mean the government should then merely sink into the shadows and play second fiddle to market forces. Conversely, it needs to do even more. It needs to make efforts to involve the whole of the nation in sports and fitness programs, provide the public with access to inexpensive and even free fitness facilities, and equip the public with a healthier attitude toward participating in sports and living in general.
Beyond rankings
Zhang Tianwei (Beijing Youth Daily): Recent years have seen provincial sports authorities demonstrate huge enthusiasm toward the fight for winning medals, particularly those of the gold variety. The bonuses awarded to medal winners have increased again and again, which means practices such as falsifying one's age or employing performance-enhancing substances have also been increasingly encountered.
As long as the primary focus of provincial sports authorities remains the winning of medals, the issue of whether to retain or cancel the medal ranking remains of relatively little importance.
The achievements scored with respect to the economy and in various aspects of social life are often used as indexes to measure a local government's political performance, indexes upon which local officials' hopes to get promoted and local governments' hopes to win favorable policies from higher-level governments rely. As part of the comprehensive social development goals, sporting competition has naturally become an index for provinces to compete upon. The number of the National Games medals is one of the simplest and most quantifiable ways to measure a local government's achievements in social life. As a result, local sports authorities understandably pay a lot of attention to these medals.
In the foreseeable future, competition in the economy, culture and sports around the country will continue. Medal rankings are on the one hand promoting the development of sports, but on the other, may distort the spirit of the undertaking. Against this background, even if the medal ranking for the National Games were to be abolished, the present distortions in our competitive mechanisms would nonetheless remain unchanged in nature.
He Yong (www.gmw.cn): Simply canceling medal rankings will not serve to fundamentally correct the gold-medal-or-nothing attitude. The key is to strip the medals of the many interests attached to them, and let gold medals just be medals. In simple terms, it would be necessary to cut the link between the assessment of officials' political achievements and athletes' sporting performance. Meanwhile, local governments should be forbidden to use taxpayers' money to reward athletes and coaches with extra prizes. Particularly, it would be important to prevent the government from awarding bonuses to athletes who have won gold medals in big sports events such as the Olympics and the Asian Games. Athletes and their coaches should be eligible to receive only bonuses provided by contest organizers.
Dong Chen (www.xhby.net): Decades ago, China was eager for the recognition of the rest of the world and at that time, a Chinese athlete's gold medal won at the Olympic Games meant much more than just a medal. The gold medal ranking was not a problem at the time of its inception. However, today, the situation is totally different--China is not lacking in gold medals. Sports authorities and athletes should therefore possess a greater variety of goals in sports, instead of focusing exclusively on gold medals.
Even if this system of ranking on the basis of gold medals is put to pasture, little will change in the current overall assessment system. Reforms need to address core issues. For instance, given their overemphasis on medal rankings, sports authorities at various levels often neglect public demand for getting involved in sports. They tend to develop prowess in sporting activities that can produce the greatest number of gold medals. Even if the sport in question is not that well developed in their local areas, the sports bureaus can still reach their goal by bringing in proficient athletes from other regions. In this case, sports seem to have little to do with the ordinary people.
The new sports development system should be based on local people's interests and strengths in certain activities. These activities will then be able to produce several able local athletes and they will develop into professional athletes who will in turn go on to compete for gold medals at the National Games on behalf of their regions. Contests are by their very nature competitive, and gold medals represent rewards for those athletes who have worked so hard to win victory. When people's attitudes toward medal rankings have changed, these rankings will no longer be so heavily criticized.
When that time eventually comes, government officials will not be overly interested in gold medal rankings and medals will simply be a record of an athlete's excellent performance. Under the new system, sports that were at first selected as a means of winning more gold medals at national and international games rather than on the basis of popularity may gradually disappear.
Gold medals should never represent the final end of sporting activities, or the sports industry at large. Compared with gold medals, the improvement of the nation's physical health is a far more pressing need.