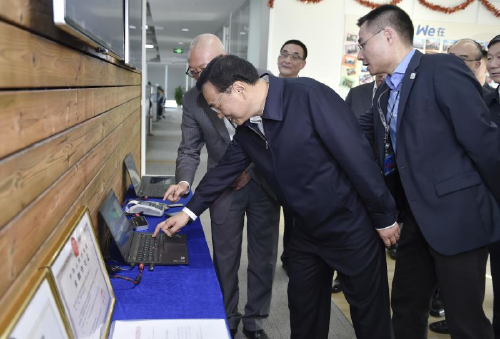 LET THE GAMES BEGIN: Chinese Premier Li Keqiang finalizes the first loan from WeBank in Shenzhen, south China's Guangdong Province, on January 4 (CNSPHOTO)
As Chinese Premier Li Keqiang pressed the "Enter" button on a computer on January 4, the first loan was issued by WeBank, a new Internet-based private bank located in Shenzhen, south China's Guangdong Province, and Xu Jun, a local truck driver, obtained a credit of 35,000 yuan ($5,640) .
Five banks entirely funded by private capital were given the green light by central authorities in 2014, and WeBank is the first of them to start operation. WeBank said it will start its soft opening on January 18 and will be officially operational in April or May this year at the earliest. The bank's official website was launched on December 28, 2014.
Tencent Holdings, which operates China's most popular online chatting services--QQ and WeChat--is the largest shareholder of WeBank. Other major shareholders include Shenzhen Baiyeyuan Investment and Shenzhen Liye Group.
Gu Min, Chairman of WeBank, said the bank will focus on financial services including deposit and loan services to individual consumers as well as small businesses and micro businesses, rather than courting large companies and people with high assets.
"We aim to cover 30 million small businesses and 300 million individual consumers in the upcoming decade," Gu said.
WeBank has been in the limelight after the premier's visit, raising high hopes among the top leadership and the general public to catalyze the country's financial reforms, but questions remain whether it can be an instant success.
High hopes
As distinct from traditional banks, WeBank doesn't plan to have brick-and-mortar banking outlets, and all services will be carried out through the Internet. Procedures for issuing loans will be simplified. WeBank said it will carry out financial innovations based on Internet technologies such as big data.
When applying for a loan in WeBank, the applicant uses the cellphone camera to scan faces, and the software recognizes the person after matching the face with data provided by the Ministry of Public Security. In the meantime, the software gives the applicant a credit rating based on data collected through the applicant's online activities--online shopping, activities on social network websites and games--and then decides the amount of credit the applicant can obtain.
China's banking assets totaled 167.9 trillion yuan ($27 trillion) as of the end of the third quarter of 2014, according to data from the China Banking Regulatory Commission, but the sector is dominated by state-owned banking behemoths.
Many people believe the tech-savvy Tencent will introduce new ideas and approaches to the banking sector through the newly formed WeBank, thus forcing traditional banks to carry out reforms in larger strides.
During his visit to WeBank, Premier Li pledged to provide a "warm and convenient" environment to boost the growth of private banks.
"The opening of WeBank signals a significant step in China's Internet finance and financial reforms at large," Li said, adding that he has pinned high hopes on private banks to reduce financing costs for small and micro businesses and to "force" state-owned banks to change their outdated business models.
Explicit support from top leadership has provided an adrenaline boost for the fledging private bank.
"Judging from the current situation, China's traditional banks haven't done enough to serve the country's real economy. Cash-strapped small and medium-sized enterprises (SMEs) have had trouble getting funded for years. The interest rate has yet to become market-based and desperate SMEs can only turn to loan sharks," said Du Xiaoxuan, an analyst with Guoxin Industry Research. "Private banks, with WeBank as a representative, will play a vital role in solving that problem."
Wang Tingting, a finance professor at the Central University of Finance and Economics, noted that Tencent's edge lies in its ocean of existent clients. "As Tencent expands its business in financial services and products, its enormous pool of clients will prop up its bank," said Wang.