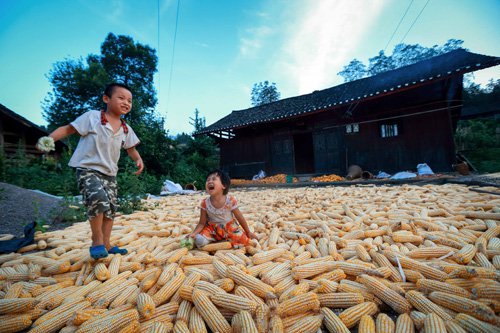 A HAPPY LIFE: Two children play in front of a local residential house of the Tujia ethnic group in Guzhang County, central China's Hunan Province, a listed poverty-stricken area, on September 2, 2014. The county aims to develop tourism based on their unique minority ethnic culture (XINHUA)
The global quest to eliminate poverty has reached a pivotal moment as the international community enters the final year of the UN Millennium Development Goals (MDGs).
The MDGs, which were agreed on by world leaders at a UN summit in 2000, set specific goals on poverty alleviation, education, gender equality, child and maternal health, environmental stability, HIV/AIDS reduction and a global partnership for development. The goal on poverty alleviation aimed to reduce by 2015 the proportion of people living below the international poverty line in 1990 by half.
Fortunately, the goal was achieved in China five years ahead the UN's 2015 deadline. According to the World Bank, China has reduced the proportion of its population living under the international poverty line of $1.25 per day from 43 percent of the world's total poor population in 1981 to 13 percent in 2010.
Figures from the State Council Leading Group Office of Poverty Alleviation and Development (LGOPAD), China's task force for poverty alleviation, show that China lifted around 660 million people out of poverty from 1978 to 2010.
The drop in individuals living below the poverty level in China since 1990 accounts for more than 70 percent of the global total relieved poverty population, according to statistics from the UN Development Program.
China is the first developing country to achieve the anti-poverty targets of the MDGs, and it has vowed to eliminate poverty and build a moderately prosperous society in all aspects by 2020, LGOPAD Director Liu Yongfu said at a conference on poverty alleviation in Beijing on December 24, 2014.
Great achievements
Since the initiation of reform and opening-up policies in the late 1970s, the Chinese Government has implemented extensive poverty alleviation efforts with the aim of securing subsistence, especially food and clothing, for poor rural residents.
In 1986, the country started implementing its anti-poverty program in an organized and large-scale manner, designating 273 counties as national-level poverty-stricken counties.
In 1994, 592 counties in 27 provinces, municipalities and autonomous regions were listed as the key poverty-stricken counties to be aided at that time. The number of counties listed in the poverty reduction program has been capped at 592 since then.
Over the past two decades, the list has undergone three major adjustments, with more than half of the counties replaced. In 2001, the Central Government decided to exclude all counties in relatively wealthy coastal areas from the list, leading to 33 such counties being dropped.
To be considered for the list, counties are evaluated by factors such as the population living below the poverty line, per-capita net income and per-capita government revenue.
Zhuang Jian, a senior economist with the Asian Development Bank, said that the program has played a significant role in poverty alleviation in China by providing fiscal and technical support to poverty-stricken regions.
"In many listed counties, we have seen an improvement in the local infrastructure as well as people's access to drinking water and electricity," Zhuang said.
Meanwhile, many rural poor have received government help to start their own businesses.
Gao Xinqiang is a farmer who was in poverty in Qinglong County in southwest China's Guizhou Province. In 2008, with the help of the local government, he became a shepherd breeding more than 20 sheep.
"Before I started to raise sheep, I had to use every method to cultivate those barren and fragmented cornfields on the hillside, but all those efforts were fruitless," Gao said.
As part of the local authorities' poverty alleviation efforts, many such hillside lands have been turned into pastures for the villagers to breed their own sheep or cattle.
"I feel much more relaxed now than in the past," Gao said. "We used to plant corn but could only fill our stomachs without saving a cent."
Raising sheep not only frees his family from laborious work in the cornfields, but also brings in 30,000-40,000 yuan ($4,878-6,504) a year to the four-member family. Such a household income is high enough to lift Gao's family out of poverty.
By the end of 2010, China had managed to reduce the impoverished rural population, which lacked food and clothing, from 250 million to 26.88 million, which in turn lowered the percentage of rural residents in poverty from 30.7 percent to 2.8 percent, according to a paper released by the Chinese Academy of Social Sciences (CASS) in 2011.
The country has also made outstanding contributions to global poverty alleviation efforts, accounting for 76.88 percent of the total reduction in the number of people living in poverty globally between 1990 and 2005, according to statistics from the UN Development Program.
"China's economic success is the key factor in reducing the country's poverty population during the past 30 years," said Li Xiaoyun, a professor with Beijing-based China Agricultural University.
He said increasing agricultural productivity resulted in a rise in farmers' incomes, and the development of small and medium-sized enterprises prompted the migration of rural labor forces to cities, where salaries also increased income for families left behind in rural areas.