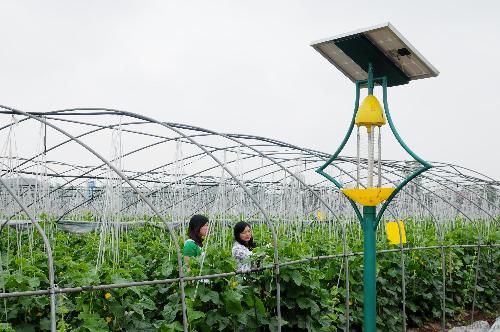 ENVIRONMENT-FRIENDLY: A solar-powered insect killer protects crops at Changjiang Modern Agriculture Demonstration Garden in Neijiang, southwest China's Sichuan Province (CFP)
Rural people valued
In the past, the construction of new countryside paid far more attention to infrastructure and living conditions than local culture and ecological civilization. As the flooding out of rural labor force leaves behind more and more "hollow villages" and unattended women, seniors and children, the conception of the "people's new countryside" was put forward, representing that the Chinese Government has set higher requirements for the construction of new rural area.
Cheng Guoqiang, a research fellow with the Development Research Center of the State Council, argued that "people's new countryside" should be put into reality in three ways. First, a service system should be established to take care of seniors, women and children who have been left behind. The system should also improve public services such as education and medical treatment. Second, local folk culture needs to be preserved, preventing rural areas from becoming deserted villages or villages of left-behind groups. Third, the protection and improvement of ecological environment need to be intensified in rural areas.
In the past, agricultural modernization focused more on simple mechanization, said Liu Xiaochuan, a professor from the School of Public Economics and Administration of Shanghai University of Finance and Economics. "The modernization of rural people now receives equal attention," said Liu. Though rural income and regional economy have experienced rapid growth in some areas, people don't see their living conditions improved, because the development of basic public infrastructure still lags behind.
Liu said it's not a simple process of urbanization or just increasing farmers' income; rather, it's letting urban areas support rural areas to quicken the steps of agricultural modernization. "More importantly, rural public services including medical treatment, education, physical activities and healthcare can make improvements in the process," he said.
Agricultural modernization also deals with the training of farmers' technological quality and the efficient utilization of agricultural capital, said Zhang Zhenghe, a professor from the School of Economics and Management at the China Agricultural University.
Since people engaged in the agricultural industry are universally at a lower level of technological quality, advanced agricultural development modes must first be set up through technological demonstration areas, said Zhang.
"When agriculture becomes a high-value industry, the quality of operators has to be improved to conduct capital operation and carry out technological innovation. In this way, they will become new agricultural operating entities," said Zhang.
Email us at: dengyaqing@bjreview.com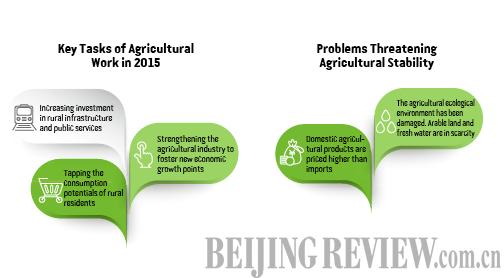 --