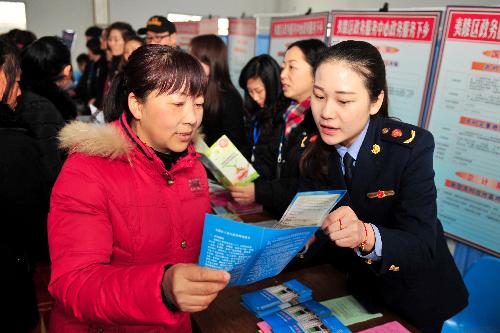 STREAMLINED FORMALITIES: Administrative staffs explain the one-stop convenience services to local farmers in Yiling District, Yichang, Hubei Province on March 6, 2014 (CHINA NEWS SERVICE)
Nevertheless, the imbalance of agricultural production also grows more and more evident. Because of irrational regional layout and different resource advantages, north-to-south grain transportation is concurrent with the south-to-north water diversion. While stocks of some types of agricultural products pile up, others have to be imported from the overseas market. In addition, as the consumption of chemical fertilizer keeps increasing and land capacity keeps declining, animal waste has not yet been efficiently applied in farming.
"China's agricultural production is now strained by rising costs and decreasing financial subsidies. It's squeezed by deteriorating environment and resource scarcity. If these problems fail to be solved in days to come, they will undermine the sustainable agricultural development," said Li Wei.
So how can China surmount these obstacles? Zhu Lizhi, a researcher with the Institute of Agricultural Economics and Development under the Chinese Academy of Agricultural Sciences, believes the answer lies in agricultural modernization. "By speeding up the transformation of agricultural development model, China's agricultural industry will shake off heavy dependence on resource consumption and the sacrifice of ecological environment, and shift its focus to quality and efficiency," said Zhu.
Scale management
In November 2014, the State Council released the Opinions on Guiding the Orderly Transfers of Management Rights of Rural Land and Promoting Moderate Scale Management, proposing to separate the ownership, contracting and management of rural land.
"Now, a rural household owns no more than half a hectare on average, and such a pattern of small-scale management has severely dragged down efficiency," said Han, suggesting that a diversity of moderate scale management should be applied to boost the orderly transfers of management rights of rural land, especially toward people skilled at farming, and that efforts should be made to foster new agricultural entities such as large-scale grain growers, family farms and cooperatives.
Bian Quanshui, an agricultural analyst with China International Capital Corp. Ltd., also agrees that moderate scale management is an inevitable stage leading to agricultural modernization.
"Compared with developed countries, China now lags far behind in terms of agricultural productivity and mechanization, partly because land management is carried out in a loose and dispersed way," said Bian, who holds developing moderate scale management will give full play to the economies of scale, elevate labor productivity and liberalize more labor for the manufacturing and service industries.
Beyond that, a consensus was reached at the conference to introduce modern industrial organization models such as industry chain and value chain into the agricultural sector, in order to facilitate the integration of the agricultural, manufacturing and service industries. In other words, it means expanding the agricultural industry from simple grain production to include the processing and circulation of agricultural products and the leisure industry, prolonging the industry chain in an effort to boost added value and farmers' income.