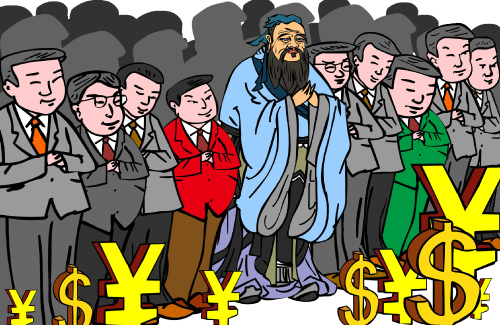 (LI SHIGONG)
The past decade or so has seen an ever-rising enthusiasm in China for Confucius (551-479 B.C.), a great ancient philosopher, and his philosophy that is widely known as Confucianism. Every day, almost 3,000 people come to commemorate Confucius in his hometown Qufu in east China's Shandong Province, with grand memorial ceremonies held frequently.
Realizing this opportunity, the local government has begun to invest large amounts of money and time in the development of Confucianism. This year, it decided to promote Confucian studies in each of its 405 villages. It is hoped that the enhancement of Confucianism will help raise social morals.
Meanwhile, schools and training centers related to Confucius and Confucianism are being set up at a fast pace. These institutions usually charge high tuition fees to make big profits. In Qufu, there are more than 1,000 investment companies engaged in Confucius-related cultural industries.
This kind of craze is to some extent helping make Confucianism better understood by more ordinary people. However, some people doubt the result of promoting Confucianism in this way, afraid that the craze is mostly commercially motivated, and thus it will do little to boost Confucianism in the authentic sense. Also, the local government's decision to set up Confucian studies in villages under its jurisdiction triggered controversy, a deed seen by some as a waste of taxpayers' money. People from different sectors of society expressed their views on this phenomenon.
Commercial interests
Mao Jianguo (China Youth Daily): China's traditional culture manifests as important in modern times in different ways. A lot of problems posed these days need treating through the application of traditional culture. We are thus glad to see that Confucianism is being embraced by more and more people in China. However, we must make it clear whether the flare-up of Confucianism is out of cultural significance or commercial objectives.
The current prosperous picture in Qufu is to a large extent due to commercial reasons.Investors keep flowing into the city; a certain tourism program will invest 10 billion yuan ($1.6 billion) in Qufu, which will make the highest statue of Confucius in the world and the largest Confucian-themed holiday resort. Meanwhile, the craze for researching Confucius and publishing Confucian-related books—or even some researchers' lecture-giving tours around the country—are undoubtedly motivated by commercialism.
Culture is not born to be an enemy of business. Culture can develop into profit-making industries while economic development can help promote cultural progress. Commercial participation helps ancient culture mingle better with modern society. Meanwhile, we have to admit that "cultural prosperity" is not equal to "economic prosperity" and vice versa.
I'm not opposed to the rise of Confucian-related economy. I'm more interested in the rise of the Confucian culture itself. True enthusiasm with the Confucian culture will encourage people to absorb the essence of Confucianism and practice it in daily life. As a result, individuals' personal moral standards will keep rising, potentially improving the country's sociocultural environment.
As the current drive to promote Confucianism can't be read as society's real enthusiasm for this culture, it's important to prevent Confucianism from getting lost in the haze of economic development. There is still a long way to go before we see the prosperity of the Confucian culture in the real sense, and it will never be achieved by simple event programming. It is a time-consuming process.
I believe Chinese society needs to make good use of the Confucian culture to relieve itself of modern pains. However, the culture will make a positive impact only when its development is not subject to commercial interests.