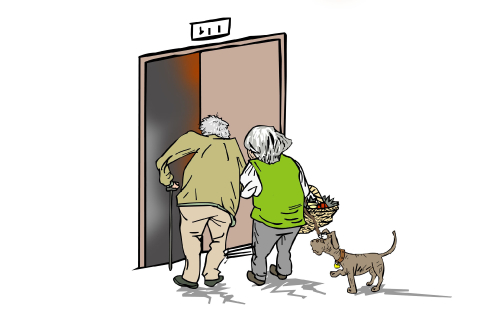 (LI SHIGONG)
Recently, Mr. Chen left Shanghai, where he lives and works, and returned to his hometown in Jiaxing of east China's Zhejiang Province. He had intended to visit his elderly parents, who had failed to answer his phone calls for three weeks running, only to find that both had died at home behind closed doors.
His father had died of an electric shock, and his mother, who suffered from senile dementia, had died of dehydration and hunger with no one to take care of her. Chen had not returned to visit during the three-week period because he was simply too busy to leave his job.
Although extreme, this case is by no means an isolated incident. With a lack of care for the elderly becoming an increasingly apparent problem in Chinese society, the issue of how best to take care of one's parents while living and working far away poses a challenge not only to the children in question, but also the whole of society.
While some have blamed Chen and other children struck by such tragedy for these misfortunes—arguing that the current generation has failed to show filial piety to their parents—others also point out that the communities and society as a whole should do their part in remedying this pressing social problem.
Improving social security
Yuan Guangkuo (Xinhua Daily Telegraph): Sometimes, it's not that children are not good to their elderly parents, but rather that they have difficulties of their own. They have to work hard to make money to support their families, which forces them to leave their parents at home. At the same time, owing to the same financial pressures, they can't afford to bring their parents to the cities to live with them.
Although the tragedy concerning Chen's parents was an extreme case, it is indicative of the increasingly significant quandary of how to take care of senior empty nesters in an aging society, an issue encompassing financial support as well as spiritual comfort and care in daily life.
Children undoubtedly should be the first in line to care for their elderly parents. However, when they are genuinely unable to stay with their parents owing to their circumstances, we must turn to society to show more care for the elderly in their stead.
Since there are home owner committees and property management companies in most urban residential communities, might it perhaps be possible for them to do something to care for seniors living by themselves? For example, they could pay daily visits to the elderly and if the seniors are found to be seriously sick or in need of help, the children may be contacted at the first available opportunity. If committees or companies are not able to afford to provide such a service free of charge, they could adopt a fee-paying system. It is almost certain that the majority of children of elderly people in this situation would not resent the expense.
Successful attempts to resolve these issues could prove instructive. For instance, some communities recruit volunteers to take care of elderly people. When the day arrives that those volunteers need care and help from others, they'll be offered the same service in turn.
In most cases, children do not mean to neglect their elderly parents, but owing to various complications, they are unable to fulfill their duties as well as expected. Therefore, while children should try to overcome obstacles and care for their parents, it's also important for the whole of society to do something to help seniors living on their own.
Wang Chuantao (Jinan Daily): This is not the first time that we have heard such news: senior citizens who live alone being found dead after days or even months by their returning children, their neighbors or even thieves. These stories highlight the ever-growing number of seniors and the many gaps in China's current social security system for the elderly. If no large-scale changes are made to the current system, such tragedies can be expected to repeat themselves over and over again.
At a time when the parents of the first generation of only children born under the family-planning policy are now reaching old age, more and more seniors will be left living by themselves, while their children go to big cities seeking education and employment.
In the modern age, it's impossible for children to always stay together with their parents. In many cases, individuals have to move around to make a better living for themselves and for their parents. These young people in their 20s and 30s hope to do better in their jobs, and thus they usually don't have enough time to visit their elderly parents. In many cases, visiting frequently can also cost a lot of money, which remains a problem for a number of families.
In order to better accommodate senior people, local governments have done a lot. However, so far these efforts seem to have been unable to fundamentally resolve this issue. There are still not enough nursing homes, welfare institutes or social workers for the elderly left by themselves at home. Social services focus on taking care of seniors have not yet reached a sufficient level of professionalism.
The old tradition of raising children to ensure being looked after when one reaches one's twilight years is fast becoming outdated and obsolete, and this behooves the government to undertake more responsibility in supporting the elderly by creating more reasonable and effective mechanisms to take better care of senior empty nesters.