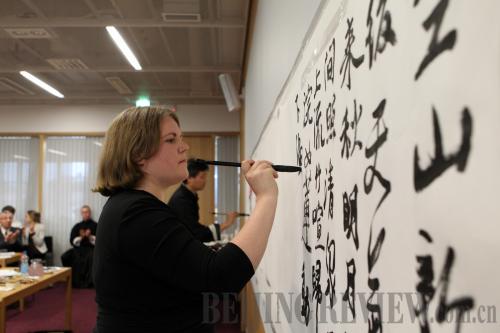 BEAUTY OF ART: A student performs Chinese calligraphy at a celebration event held by the Confucius Institute at the University of Helsinki, Finland, on September 26 (LI JIZHI)
On September 27, the first Confucius Institute Day, all Confucius Institutes and Confucius Classrooms worldwide, along with Hanban, the Confucius Institute Headquarters in Beijing, held events to celebrate the 10th anniversary of the institutes' establishment through providing cultural experiences to millions of local people.
The institutes, named after ancient Chinese philosopher Confucius (551-479 B.C.), serve as non-profit entities designed to provide a better understanding of Chinese culture through language tuition and cultural events in overseas universities. The first such institute was established in Uzbekistan in 2004.
To date, China has opened 472 Confucius Institutes in universities and 730 Confucius Classrooms in elementary and secondary schools in 123 countries and regions. Fifty-thousand teachers and volunteers have been dispatched abroad, educating a combined total of approximately 850,000 students around the globe.
In a letter of congratulation to the institute on its 10th anniversary, Chinese President Xi Jinping said that Confucius Institutes have taught the Chinese language over the past decade, which has played a key role in promoting positive relations with other countries.
"Confucius Institutes belong to the whole world, not just China," Xi wrote. "Let us continue to promote the civilization and cultures of all people, enhance communication and create a brighter future together."
A bridge between cultures
The institute at Victoria University in Wellington, New Zealand, east of the international dateline, was the first to kick off the celebrative activities, while the one at the University of Hawaii was the last.
In the east of the United States, Confucius Institutes at Bryant University, the University of New Hampshire, the University of Massachusetts, the University of Rhode Island, and Central Connecticut State University held a Chinese Culture Night in Providence, Rhode Island. They also held a series of Chinese cultural events in the Waterfires Festival of Providence, attracting both local people and tourists.
Students from Bryant University and China's Zhejiang University preformed Chinese dragon dancing, a Kungfu show, Peking Opera and Chinese traditional music.
The Waterfires Festival is a widely attended event in New England, attracting tens of thousands of people every year.
Zhang Meifang, Chinese Deputy Consul General in New York City, said Confucius Institutes enrich the festival and serve as a bridge connecting various cultures and a path leading toward a harmonious and diversified community.
Established in October 2006, the Confucius Institute at Bryant University was the first China-funded institute in southern New England dedicated to the promotion of Chinese language and culture. Each year, some 2,000 people study the Chinese language as well as Chinese culture and arts here.
"We've worked very hard in the past eight years. [Everyone agrees] it has been a very great way to promote cultural exchanges," said Ronald K. Machtley, President of Bryant University.
Currently, the United States hosts 100 Confucius Institutes and 358 Confucius Classrooms, providing Chinese language instruction to as many as 220,000 American students in 2014, according to Hanban.
Susan Pertel Jain, Executive Director of the Confucius Institute at the University of California, Los Angeles (UCLA) and a professor of art, has allowed her own passion in Chinese art to be absorbed into the institute's programs.
"People need to be inspired. Chinese art often provides the strongest impetus to learn the language," said Jain who holds degrees in Chinese language and Asian theater.
She emphasized that her institute is not only a place for learning the Chinese language, but also provides a space for local professionals in art to improve their interactions with Chinese counterparts during their work.