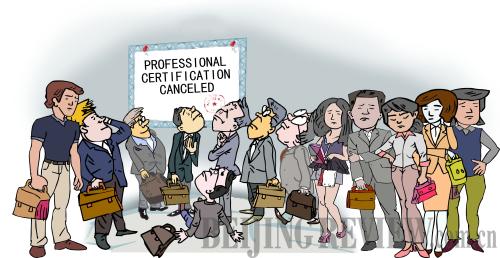 (LI SHIGONG)
In September, the Central Government announced the abolishment of mandatory professional qualification certification in 11 areas, including certificates for real estate brokers, tax agents and land registration agents. This November will see even more professional qualification certificates nullified.
By the end of 2013, the number of professional qualification certificates established by various Central Government departments and local governments had amounted to more than 1,000. On the one hand, the fact shows that labor division is becoming increasingly specific; yet on the other, it shows the messy situation professional verification is now facing.
The existence of qualification certificates is inarguably necessary, and this system of accreditation is widely practiced around the world. As a benchmark for certain occupations, professional certificates can help to improve the efficiency of a number of industries and sectors. However, in some cases, the so-called qualification verification has become a tool for a few to simply boost their economic interests. Is it necessary to reassess the professional qualification certification system and make further cuts? The public weighs in:
Gao Chen (Qianjiang Evening News): The system of professional qualification certification was introduced to China as an advanced method in the 1990s, and was subsequently written into China's Labor Law. Before the system was adopted across China, if people wanted to take certain posts in certain sectors, they might have to rely on their social network or background. With the certification system, it became possible for more people to get these posts by first verifying their professional qualification. In this sense, the system is a big step forward for career competitiveness.
However, the issue nowadays is that government departments in charge of certification are able to make money by selling training course textbooks, offering training classes, organizing tests, and so on. Private training agencies have also gotten in on the scheme. Moreover, when someone sees that his or her colleagues are taking examinations to obtain professional qualification certificates, there is a strong sway to take these tests as well, regardless of whether these certificates are useful for future career development.
Lessening this preoccupation with certification will relieve job hunters of heavy economic burdens and give employers a wider variety of choices when recruiting new workers, as they won't be restricted by a rule that job applicants must have this or that certificate.
Zhang Weibin (www.cnhubei.com): Behind this fevered push for professional qualification certificates is a huge chain of moneyed interests. In the name of providing these certificates, authorities, industry associations and training agencies often charge examinees all kinds of fees. In some extreme cases, people can receive a certificate so long as they pay money and take the training, bypassing the need to take any sort of exam. Here, authority is used to make money. Many suspect that's why related departments and associations are so interested in keeping the certification trend going.
While increasing economic and time-investment burdens on people wishing to obtain certificates, the process also gives birth to corruption. To abolish unnecessary certificates not only reduces these burdens, but also regulates what the authorities can do.
Lian Jianming (Xinmin Evening News): Nowadays, many posts require job applicants to first provide professional qualification certificates before they can be admitted. This practice has been going on for years—the 11 certificates currently on the chopping block have existed in China since 1995.
While most people have gotten used to the examinations, no one has bothered to ask whether these certificates are really helpful for one's career development or if they are necessary. Take the real estate broker certificate, for example: It is not a hi-tech, sophisticated job, but everyone in that line of work is required to first get the certificate. Can this certificate ensure that the person holding it will do a good job? Conversely, are those without the document unable to do the job well? Certificate-oriented examinations encourage people to learn professional knowledge outside the office. Without the certificate, however, people engaged in this line of work can spend time being educated while on the job.
Certificates have given rise to a lucrative market in China over the past two decades or so. In some sectors, examinees can easily get professionally verified, so long as they pay the fees. Especially when certificates are bought without taking any exams, related departments stand to make a lot of money by issuing the offer. Of course, this does not mean that all certificates should be abolished. For those working in law, medicine, accounting and other highly technical lines of work, qualification certification is still absolutely necessary.
Abolishing the first batch of professional certificates is a signal that useless certificates will be given no space in the future, as they are a waste of time and money on the part of the applicant. At the same time, useful certificates will be preserved to continue maintaining professional quality in certain sectors.
Hong Ji (Yangcheng Evening News): The professional qualification certification system was written into China's Labor Law 20 years ago, and as a result, all kinds of professional certificates have popped up. To some extent, these certificates have played a key role in improving professionals' technical competence and standardizing skill sets across industries over the years. However, after decades of development, this has mushroomed into far more certificate examinations than we need.
Nowadays, almost no industry or sector can escape their sway. Even some emerging professions, with no rigid standards in the early stages of development, will eventually be in the throes of the qualification certification system.
It is estimated that China has a multibillion-yuan "certificate economy." Thus, it's not difficult to see why so many agencies are competing for the authority to issue these documents; sometimes, even certificates issued within one sector come from different agencies, which damages the seriousness and credibility of the entire professional qualification system.
Standardizing the certificate market does not mean abolishing it. It makes it clear which certificates are necessary and which are not. Equally important is making the eradication of unnecessary certificates legally based, so as to mitigate resistance from those who are taking advantage of these exams and certificate issuance.
As for those necessary ones, their mode of operation must be changed. The government should play a less central role and a third party should be trusted to conduct the certification, thereby tempering the government's total control over the procedures of training, examination and certificate issuance. The messy certificate market will be cleaned up when no authorities are able to take advantage of the system to make money.
Wen Feng (Changsha Evening News): Many jobs do not require professional certificates. Property selling, for example, is not a technical job: Those who are good at communication and are honest and credible will find no difficulty doing this sort of work. In some extreme cases, even cleaners are required to get accredited. That is patently ridiculous.
Whether a person is capable of doing a job should be judged by his or her experience and performance, not based on a certificate. Certificate holders are not necessarily good at their work; those who do not have these documents are not automatically unqualified. Too many requirements for professional certificates have managed only to block the full realization of people's capability and talents.
Si Hanhan (www.gmw.cn): Nowadays, it is not uncommon to find several or even dozens of professional qualification certificates available for a single line of work. The craze for professional verification is most notable among younger generations, but regardless of the number of certificates they hold, many still can't find a job due to lack of experience. The process of obtaining these documents is a waste of their time and money, not to mention a big waste of social resources.