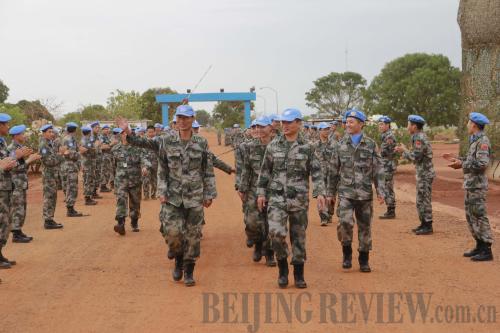 FORCE FOR PEACE: Chinese peacekeepers welcome the arrival of their colleagues at a UN base in Wau, South Sudan, on April 4 (XINHUA)
In just a few short weeks, 51 African heads of state will descend on Washington, D.C. for a historic U.S.-Africa Leaders Summit. With the theme of "investing in the next generation," the White House has announced that the event will "focus on trade and investment in Africa, and highlight America's commitment to Africa's security, its democratic development, and its people." The first of its kind, the summit offers an unprecedented opportunity to strengthen U.S. diplomatic, commercial, and security ties with an increasingly important region of the world.
Some have argued that at heart, the summit is a U.S. response to China's growing role in Africa. In January 2014, after the details were announced, an AFP article appeared with the headline "U.S. to host Africa summit amid concern over China's influence." Just last week, a Foreign Policy article suggested that the underlying reason for the event be to "narrow the growing gap between America's economic ties with African countries and those of China." Undoubtedly, in the weeks leading up to the summit on August 4-6, many journalists and pundits will likely continue to describe it as an attempt to challenge China's increasing presence in Africa.
This framing may make for good headlines, but it also dramatically overemphasizes the grounds for competition between the United States and China in Africa. Framing the summit in this way misrepresents both current geopolitical realities and commercial opportunities in Africa. A more sober analysis of two areas of focus for the U.S.-Africa Leaders Summit—trade and investment, and security—shows just how much U.S., Chinese, and African interests align in key policy areas.
Trade and investment
The reality is that China is just one of many international players that have broadened their attention to Africa in recent years. Largely due to Africa's growing reputation as a region for commerce, over the past few years China, India, Japan, and the European Union all have hosted regional meetings similar to the U.S.-Africa Leaders Summit. Africa's fractional share in global foreign direct investment (FDI) is on the rise, and trade between Africa and a multitude of nations is also increasing rapidly.
Of course, China is the most conspicuous among these actors. China's first Forum on China-Africa Cooperation occurred in 2000, with large conferences taking place every three years since then. And while China's official FDI is only 25 percent of that of countries like the United States and France, its trade dwarfs the figures of other nations. Up from just $10 billion in 2000, Chinese-African trade came to nearly $200 billion in 2012, double that of the United States, the continent's second largest trading partner.
The increases in trade and FDI underscore the fact that growing economic activity from China (and others) in Africa does not represent America's loss in a "zero sum" game; it means that the overall economic pie is getting bigger as Africa becomes more closely tied into the global economy. In fact, President Barack Obama made this same point during his Africa trip last summer, telling reporters, "I actually welcome the attention that Africa is receiving from countries like China and Brazil, and India, and Turkey."