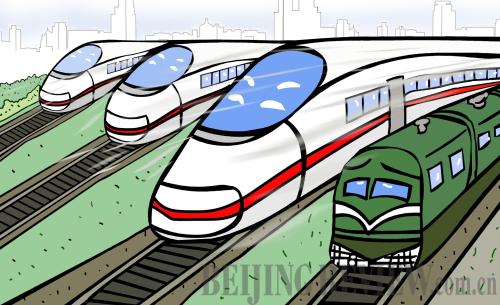 (LI SHIGONG)
China's railway system has recently adopted a new operation plan, in which high-speed bullet trains account for more than half of all passenger trains in use across the country. As China enters the high-speed transportation era, many welcome the replacement of its time-worn green trains, which are infamous for their slow speeds and lack of air conditioning.
However, not everyone is excited about this news. Though bullet trains far outpace their older counterparts in terms of speeds, comfort and punctuality and are even able to compete with airlines for distances under 1,000 km, at present, the higher ticket price is unaffordable for low-income earners. With the development of China's railway system, bullet trains will cover an expanding area, including remote towns and villages. Yet for those who live there, the disappearance of cheaper green trains will undoubtedly reduce their means of and access to travel, forcing them to pay more to ride the same rails.
Is this modernization of China's trains for the better, or should widely accessible mass transportation be the goal of the nation's railway system?
Social progress
Chu Jie (www.chnrailway.com): The country's green trains are known for their distinctively slow pace, outdated and worn facilities, poor air quality and uncomfortable spaces. Due to the lack of air conditioning, they are extremely uncomfortable in China's hot summers. Additionally, such trains cannot operate at the same high speeds as their newer counterparts, and thus take much longer to cover the same distance. This leaves passengers feeling exhausted after a simple train journey. With the turn toward technological advancement, passengers will see a vast improvement in the train travel environment as a whole—at an increased price. But despite this heightened cost, trains are still more affordable than many other modes of transportation.
The safety of a train journey is of paramount importance, particularly for riders on long-distance routes running through different provinces. From this perspective, it's apparent that green trains have been in service for too long to make them reliable, with many parts in the trains getting worn down and rusted. When given the choice between riding in these train cars or in the belly of a sleek bullet train, who would choose the former?
As Chinese people's living conditions improve, they begin to pay more attention to safety, convenience and speeds, and old trains can no longer meet most passengers' demands. To shorten travel time and improve the travel environment, it's high time China's railway system moved in the direction of development.
Wu Ce & Fen Ni (www.china.com.cn): For decades, with green trains as the only available long-distance option, people reluctantly have grown used to all of the inconveniences endured while riding them. Now with a variety of choices, like trains with air-conditioning and lightning-fast bullet trains, who would hesitate to pay the higher price for a more pleasant ride? This is the biggest reason behind phasing out green trains: All of the discomforts and inconveniences are no longer necessary.
With a clean and comfortable carriage environment and fast speeds, riding on a modern train will make returning to their green counterparts almost unbearable. Yet some argue that the disappearance of old trains will reduce traveling options for low-income earners. The so-called "low-income earners" mainly refers to migrant workers. However, as the number of air-conditioned trains and bullet trains increases, green trains will be needed only temporarily during crowded holidays. During the annual Spring Festival, or Chinese Lunar New Year, for example, when many migrant workers return to their hometowns for the celebration, there is a sharp rise in the number of passengers on the country's trains. When tickets for these modern trains become unavailable, people will have no other choice but to ride green ones. These passengers will not necessarily be low-income earners; the sheer number of people traveling simply necessitates extra space.
Thus, concerns over ticket prices for low-income earners are not a solid enough reason to keep green trains in operation. As society moves forward, outdated things unsuitable for the modern world should retreat into history.