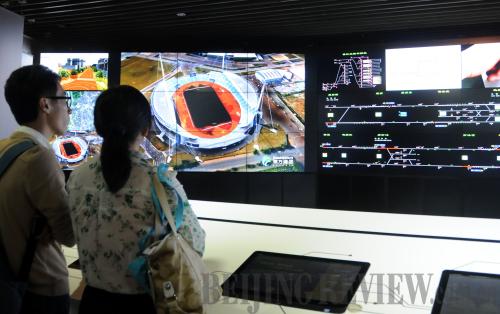 THE FUTURE IS HERE: Visitors to an expo on smart cities look at a design of a comprehensive operation platform for such cities in Beijing on September 28, 2013 (WANG ZHEN)
"We have used our technologies to build a nervous system for the community," said Hao Guoqiang, who heads the Enterprise Business Department of Huawei's branch in Yunnan. Hao said that the company is determined to make the community into a model smart city the rest of the country can emulate.
IBM invented the idea of smart cities in 2008 and made it a reality for the first time in Dubuque, Iowa, in September 2009. "We have provided the Guangfucheng project with technological infrastructure, a cloud computing center and other state-of-the-art technologies, which will benefit property owners, shop owners and residents," said Liu Wenchao, a senior executive with IBM Global Technology Services.
Pilot programs
Starting from last November, bus passengers in Fuyang, the most populous city of east China's Anhui Province, can check how long they have to wait for their buses using their cellphones. Telecom giant China Mobile's local branch has cooperated with Fuyang's bus company to embed every bus with a network-enabled GPS module so that local residents can check the real-time positions of all buses using a free application for smartphones and other devices.
The application is planning on adding functionality to enable its users to pay their water and electricity bills, review their traffic violations, purchase cinema tickets and reserve a doctor's appointment.
Fuyang became a city for experimental smart city programs designated by the Ministry of Housing and Urban-Rural Development (MOHURD) last August. Subordinate programs include the installation of traffic control and intelligent bus command centers.
"Building smart cities is integral for China's goal of building a society that is moderately prosperous in all aspects," said Lu Yongxiang, former President of the Chinese Academy of Sciences. He said that in smart cities, people would be able to enjoy more opportunities to create a better future and pursue their personal dreams, which will in turn provide these cities with inexhaustible drive for development.
Now the MOHURD has designated a total of 193 locations to undertake pilot programs for smart technology, including cities, counties and towns.
Ma Hong, an official with the MOHURD, said that the ministry is compiling a national standard for smart city evaluation. "As the first standard of its kind in China, it will regulate the construction and management of smart cities, unify the models and indexes for their construction and management and serve as the only criterion for measuring their construction progress, levels and efficiency," she said. The standard is expected to be completed by the end of this year and subsequently filed for review.
Despite the lack of a standard, cities with trial smart city programs have reached a consensus that efforts should not only be focused on the application of intelligent technologies, but also the participation of ordinary people and the capacity of sustainable innovation.
"The pilot programs in Beijing prioritize satisfying the needs of city dwellers and urban development," noted Tong Tengfei, Deputy Director of the Beijing Municipal Commission of Economy and Information Technology.