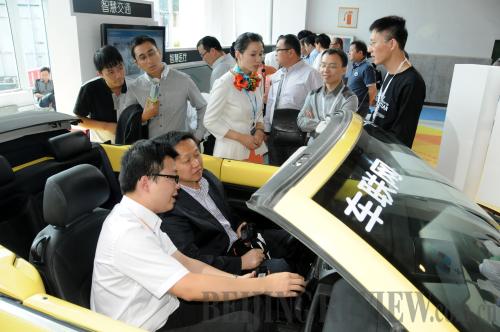 SMART MOBILITY: Visitors in Beijing check a new generation of cars where the driver can access web-synced traffic information in September 2013 (WANG ZHEN)
Imagine the following: texting an order into cellphone on your way home from work, your windows open to let fresh air into your apartment; you can also remotely control your air conditioner, fridge and TV set from anywhere. You can check the news while at dinner by activating your table, which is also a giant screen. You can contact a doctor to discuss your symptoms instead of having to travel across town to a hospital. Doctors from other cities can also contribute to your diagnosis and treatment if needed.
What may seem like the distant future is becoming a reality in Guangfucheng, a community in Kunming, capital city of China's southwest Yunnan Province. Though not yet complete, the commercial properties in the community will be handed over to their owners in August. Cloud computing and big data will be put into use at this mega-community with its own office buildings, shopping mall, residential area, parks and schools. It is widely regarded as the first "smart city" project in China.
Featuring the next generation of IT technologies, smart cities are designed to integrate all their existing resources and maximize their value so that urban residents can live a more efficient, convenient and environmentally friendly life.
The development of smart city projects in China has been mainly driven by increasingly open access to information, the integration of different technologies and ongoing changes in project management. Another important driving force is the rapid urbanization China is experiencing. Since China launched its reform and opening-up policy in 1978, China's urbanization rate has been twice the global average. Half of China's total population lived in towns and cities in 2011, finally meeting the world average. Now 700 million Chinese people are urban residents. The accelerated urbanization has also caused problems such as environmental degradation, traffic jams and shortage of public services. Smart city projects have been proposed as a possible solution.
Almost all large and medium-sized cities in China are either developing or planning their own smart city projects. The plan for China's new urbanization (2014-20) issued by the State Council in March specifically requires local governments to promote the smart city campaign.
Incomplete statistics show that the total government investment into smart city projects in China has reached 100 million yuan ($16.1 million). Beijing-based Guodu Securities predicts that the figure will rise to 500 billion yuan ($80.6 billion) by the end of 2015, which would in turn support new industries with total investments worth 2 trillion yuan ($322.6 billion). A list of projects supported by the Central Government's funds for the development of the "Internet of Things," a core technology underlying the smart city concept, was publicized earlier this year. The government has earmarked a total of 1.5 billion yuan ($241.9 million) to support such projects. Internet of Things related industries saw revenue grew by 36.9 percent to 500 billion yuan ($80.6 billion) in 2013, a figure that is expected to reach 700 billion yuan ($112.9 billion) in 2015.
Building smart cities can also lead to improved public services and more sustainable development. According to a recent report from the market research company MarketsandMarkets, global investment in smart city infrastructure will total $3 trillion to $4 trillion over the next two decades. The same report said that the global smart city market was $526.3 billion in 2011 and is expected to double in the year 2016.
While the government is promoting this concept, a large group of multinationals have also shown their enthusiasm in building up smart city infrastructure.
Cisco, who celebrated their 20th anniversary of entering the Chinese market on June 25, announced the establishment of its Chinese headquarters in Hangzhou, east China's Zhejiang Province, as a part of the company's plan to participate in developing the country's smart-connected industries.
The company will expand into areas including healthcare, education, information and transportation in Hangzhou as part of the city's plan to establish a smart-connected platform for the general public.
Guangfucheng in Kunming is backed up in technology by IBM and Huawei Technologies.