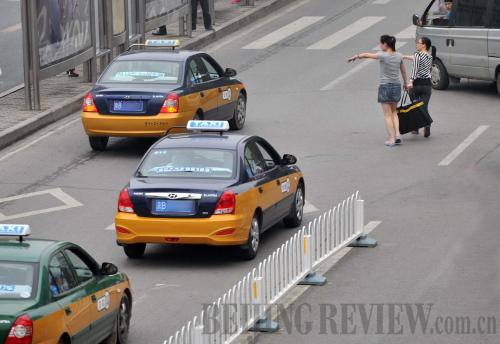 HARD TO HAIL: Two pedestrians try to wave down an available taxi in Beijing (XINHUA)
Need a taxi? There's an app for that. More and more cab drivers in China are using app-based taxi booking to supplement their business. Popular applications used include Didi Dache and Kuaidi Dache, which are owned by Chinese Internet giants Tencent and Alibaba, respectively. According to iResearch, the number of customers using these taxi-calling apps numbered 100 million in the first quarter of this year.
Due to their popularity, the government is stepping up efforts to rein in the applications. The Ministry of Transport is now considering creating a unified cab-booking platform integrating taxi-finding apps, phone services and websites. The platform will be able to transfer all the call requests from various sources to one terminal in a taxi.
Such a decision drew wide attention from the public. Some say the transport ministry is interfering too much while others say such strengthened management and oversight is necessary to prevent taxi drivers from refusing customers service.
Furthermore, in regards to complaints about taxi drivers checking apps to receive orders while driving, the ministry maintained that they are not allowed to use phones or devices while operating a vehicle. This constitutes endangering the safety of others on the road. Also mentioned was that those drivers who accept customers' orders but fail to pick them up would be disciplined for refusing service.
As for the constantly changing subsidy policy of taxi-calling app companies, the statement says these companies should inform the city transport department 10 days before modifying a subsidy standard, and should alert the public five days ahead.
The ministry has solicited public opinions on this move and suggestions and comments were encouraged to be submitted to the ministry. The following are excerpts of the opinions:
Gang Feng (www.gmw.cn): An integrated service such as that suggested by the ministry would only impede technological innovation and progress. In recent years, smartphones, intelligent glasses, watches and these terminals have developed quickly and can now be used for services like booking taxis. A unified platform would hinder the development of such devices and therefore reduce China's competitiveness in the international market.
A unified platform would also threaten fair competition. At present, the government manages the service which uses phones to call taxies. Should the unified platform be established, taxi-booking apps and the cab-calling phone platform would be competing on the same system—making the fair competition principle hard to be observed, as the government would be more likely to favor phone services.
From the customers' standpoint, the unified platform weakens the user experience, stripping it of the convenience of taxi-calling apps. Integrating all these services would transform the original C-to-C platform to a C-to-G-to-C platform, reducing the efficiency of taxi-calling apps.
Finally, this unified system also runs the risk of leaking personal information. It amasses customer data into one giant collection, meaning any loophole or digital weakness could result in large-scale personal information leakage, irreparably damaging user privacy.