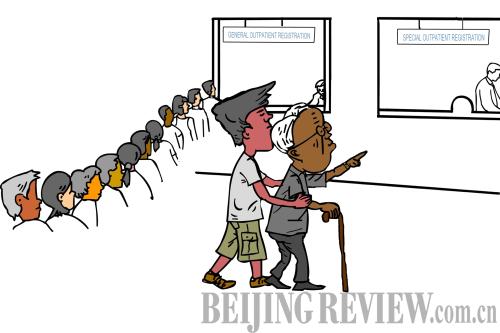 (LI SHIGONG)
In the 1990s, special medical services targeting foreigners and high-ranking officials were first offered in China's public hospitals. Benefits such as retaining specialty doctors for operations, full-course hospital care, access to experts' outpatient clinic services and more were all offered at a higher price. Today, these high-end services are no longer limited to VIPs and the well-off. Ordinary people who can afford the expenses can also request such services, bringing huge revenues to public hospitals.
As part of China's ongoing medical industry reform, the Beijing Municipal Commission of Health and Family Planning has recently decided to reduce access to special medical services in public hospitals, while plans are also underway in Shanghai to do the same.
When Beijing announced its decision, however, many in the medical industry and beyond questioned whether this much-debated luxury should be completely removed from public hospitals or continue uninterrupted. The following are excerpts of opinions:
Mao Qun'an (www.cnfol.com): Many local public health institutions are proposing a narrowing of special medical services. Yet numerous reasons remain for public hospitals to offer these services, the least of which is a current state requirement to make them available. Today, China's medical and health service sectors are developing fast. It's thus hoped that social organizations will become increasingly involved in the provision of special medical care, too. When this happens, public hospitals should be able to downsize the scale and breadth of their niche medical services. In places where quality, socially funded care is readily available, public hospitals could do away with these services entirely. This will be one of the key questions debated in the upcoming medical industry reforms: When special medical services are no longer within the sphere of their work, can public hospitals afford to spend more time improving basic medical and healthcare services?
Wang Guoqiang (www.cnfol.com): As such a large and populous nation, it cannot be expected of our public hospitals alone to provide the wide variety of services needed by the public; it's necessary for social groups to get involved as well. Public hospitals are set up to meet the requirements to cover basic medical needs, while special medical services are intended for socially organized or privately owned health care institutions. Yet the whole country's medical resources should be distributed in such a way that people with different demands are provided easy and equal access to corresponding medical services.
Currently, the level of basic care available at clinics open to the public is entirely dependent on the country's financial capability. Healthcare needs are infinitely diversified, however, and can sometimes require a whole network of different medical institutions to effectively treat. The pertinent approach now is to create the proper conditions—in terms of policies, legislation, and organizations—to set up a multi-layer medical service system that can provide affordable care across the entire spectrum of medical needs.
Liao Xinbo (Economic Information Daily): First answer these questions: For whom are public hospitals are set up? Are they not state assets, created to ensure equal access to medical services across the whole of China? If the latter is true, it's improper for these public facilities to provide luxury services to a minority of wealthy patients. As per the first query, if limited high-end medical resources are reserved for a small few, it goes against the very tenet of public hospitals to serve the people. Special medical services are actually harming the interests and well-being of the vast majority of the society.
The government's responsibility in medical industry reform is to make hospital treatment available and accessible to a wider slice of society and to relax control on private medical sectors. It is not to stand idly by while economic status continues to decide who can afford which doctor or surgeon. The time has come to cut special medical services in public hospitals.