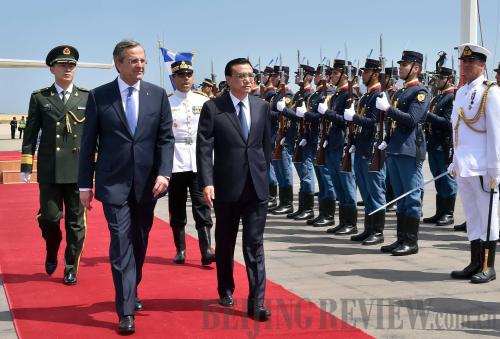 HOSPITALITY: Greek Prime Minister Antonis Samaras (left front) holds a welcoming ceremony for visiting Chinese Premier Li Keqiang in Athens on June 19 (LI TAO)
Cui said the information given by Premier Li was in response to the concerns of the outside world over China's economic situation as it faces considerable downward pressure. The economic fluctuation of China, a powerhouse of the global economy, would certainly affect the economic prospects of nearly the whole world. Li's remarks on the Chinese economy could help inspire confidence among an international audience.
Pressing forward
Despite obstacles, China-Britain economic cooperation has seen substantial progress. At present, Britain is China's third largest trading partner and second largest investment source in the EU as well as a major destination for China's overseas investment. Annual two-way trade surged from $20 billion a decade ago to $70 billion last year. China's investment in Britain has amounted to $13 billion over the past two years alone, surpassing the total of the previous 30 years. Statistics show that China has a stock of investments in Britain worth around $19 billion. That compares with $9.2 billion in France and $5.6 billion in Germany.
Most observers believe that the economic cooperation achievements did not happen by accident. As the economies of China and Britain are highly complementary to each other, the two countries enjoy a sound cooperative foundation in trade and economy.
Ma Zhengang, former Chinese Ambassador to Britain, said that China, with a well-developed manufacturing industry, and Britain, which boasts highly developed finance and service sectors and advanced technology, have massive potential for cooperation.
"When I started my term as ambassador in London in 1997, bilateral trade volume was just around $6 billion. Last year the figure reached $70 billion. The progress has not been made by chance," Ma said.
In addition, the two countries have set up various high-profile exchange mechanisms in recent years to facilitate bilateral cooperation, including the prime ministers' annual meeting as well as economic, financial and strategic dialogues.
Now, Li's latest trip to London has injected new momentum into the China-Britain comprehensive strategic partnership, which celebrates its 10th anniversary this year.
The trip harvested a series of trade and investment deals worth over $30 billion, the highest in recent years, with cooperation areas covering finance, technology, education, energy and infrastructure. Premier Li also proposed that China and Britain expand two-way trade to reach a target of $100 billion by 2015, further consolidate the political foundation of bilateral relations, and promote common growth and inclusive development, so as to speed up the development of Sino-British ties.
Beyond all doubt, the mutually beneficial cooperation deals meet the practical needs of both sides.
Cui at the CIIS noted that the rich experience of Britain in industrialization and urbanization offers very valuable lessons for China. Meanwhile, China's further opening up provides British firms as well as China-Britain strategic cooperation with more opportunities.
Professor Wang Yiwei at the Beijing-based Renmin University of China echoed Cui, saying that seeking the opportunity of China's deepening reform and opening up might be very helpful for the economic recovery of Britain. Meanwhile, Britain's relatively aging infrastructure offers great opportunities for Chinese investors and exporters.
"China's low-cost and efficient high-speed rail technology and infrastructure construction technology can help Britain promote its urban development," Wang said. "London's willingness to develop itself into an offshore renminbi business center would be also conducive to enhancing its status as an international financial hub."