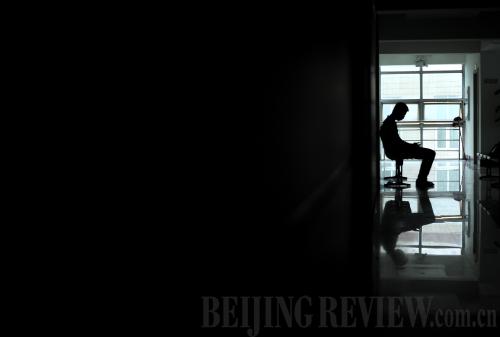 ALONE: A patient with depression waits in the corridor of Fuzhou Psychological Center for treatment on May 11 (CFP)
A series of suicides by employees of media outlets in China over the past few months have shocked the public. Most of the deceased have been confirmed to have been suffering from depression.
Song Bin, Editor in Chief of Xinhua News Agency's Anhui Bureau, was found dead on April 28, with a suicide note by his side.
Xu Xing, the 35-year-old Deputy Editor in Chief of Dushi Kuaibao daily in Hangzhou, east China's Zhejiang Province, had been suffering from depression for years according to Xu's family and friends and eventually committed suicide on May 4.
Zhang Jingwu, head of the Shenzhen Press Group Circulation Co., was found dead on May 8 in what appeared to be a suicide. Zhang had served at the newspaper for 20 years. One of his former coworkers said that he suspected Zhang had been suffering from depression.
People's Daily, a leading newspaper in China, reported on May 10 that the number of people with depression had exceeded 90 million in the country. Figures from the Beijing Suicide Research and Prevention Center also revealed that 287,000 people in China commit suicide every year and 40 percent of them are suspected of suffering from depression.
Familiarity
In 2005, Cui Yongyuan, a famous talk show host with state broadcaster CCTV, admitted to have been suffering from depression, bringing the illness into the limelight and helping many in China to better understand it.
In 2006, while Cui was on stage as part of a comedy sketch for the CCTV Spring Festival Gala, an entertainment show broadcast on the Chinese Lunar New Year's Eve that has billions of viewers, his partner for the performance Song Dandan jokingly remarked to Cui "I heard you've got depression," making the word even more familiar to the public by approaching it light-heartedly.
"Till now, people's knowledge of depression has been very limited," Cui said in an interview with Art Life, a CCTV program.
Cui said that his depression might result from the high-pressure work environment being a TV host puts him under. The long, extended periods under stress make it difficult for him to get sleep, he commented. "I spent those nights awake, from darkness to sunrise," Cui said.